These 13 People Could Become 'Britain's First Ever Climate Prisoners'
Later this month, a judge in the UK is set to jail 13 non-violent protestors who occupied one of the runways at London Heathrow in July last year.
The protest, the first ever on a Heathrow runway, lasted six hours and caused the delay or cancellation of some 25 flights.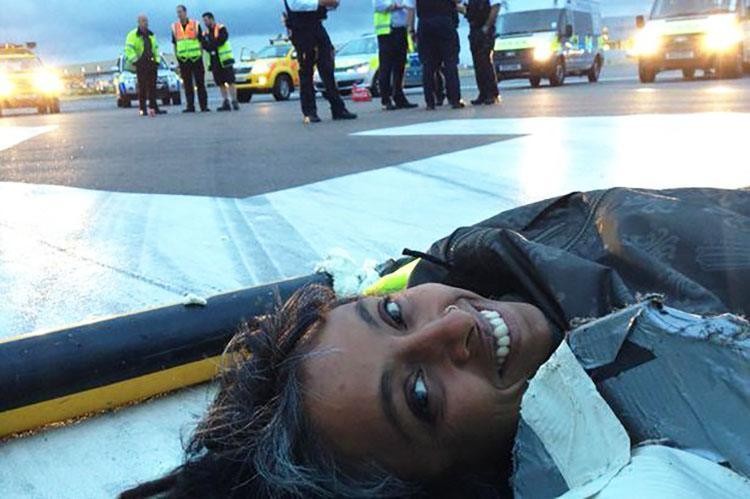 It was carried out by activists from Plane Stupid, who are opposed to airport expansion.
In their trial last month the activists—known as the Heathrow 13—tried to argue the "necessity defense" in that their actions were necessary due to the "airport's contribution to life-threatening climate change."
It is the same defense that the so-called Delta 5 used recently in the U.S. after they blocked a crude by oil terminal in Washington State.
But whereas the judge in the Delta 5 trial praised the defendants for being "part of the solution to the problem of climate change" and "quite frankly, the kind of tireless advocates we need in this country," the judge in the Heathrow 13 trial sees it very differently.
At the end of last month, the judge convicted the 13 of aggravated trespass and being airside without lawful authority. She asked them to return in three weeks on Feb. 24 for sentencing. The defendants have been told to prepare for immediate custodial sentences.
They could spend up to three months in prison.
In response to their convictions, the Heathrow 13 issued a statement:
"Today's judgement demonstrates that the legal system does not yet recognize that climate defense is not an offense. We took action because we saw that it was sorely needed. When the democratic, legislative and processes have failed, it takes the actions of ordinary people to change them."
There is now a growing campaign to urge the judge to reconsider: Today's Independent newspaper reports how the judge is being "urged not to act on her threat to jail 13 peaceful environmental protesters—as campaigners warn that the British legal system's long-standing tolerance towards non-violent direct action is under threat."
The article points out that if the "Heathrow 13" are jailed, it would be the first time peaceful environmental protesters have gone to prison for the offense of aggravated trespass since the law was passed two decades ago.
The oldest of the Heathrow 13 is Dr. Rob Basto, a retired atmospheric physicist. He admits to being "apprehensive" about jail, "because of my family situation. My mother is ill and she's 94."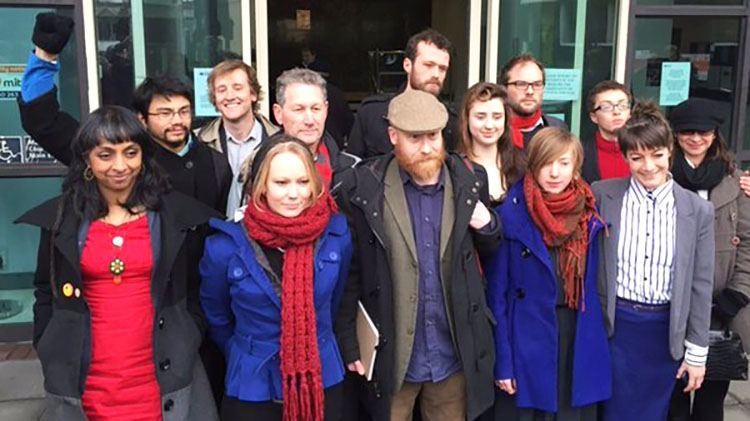 Another protestor, Danielle Pafford, 28, said she was shocked "by the judge's comments. It was really galling to hear her say she understands the serious impact of climate change—but that we made some people late and that's unacceptable."
It is no surprise that many of them are being represented by Mike Schwarz, a lawyer from Bindmans, who tells the Independent: "A custodial sentence would be excessive and wrong because there is a long history of recognition by senior judges that an allowance should be made on sentencing for peaceful protests of public importance."
Schwarz has often represented those fighting for a just and ecologically sustainable future.
More than 20 years ago, I interviewed Schwarz for the book, Green Backlash. He was then worried about how the government and establishment were clamping down on people protesting against road building.
He warned that the British Government was "trying to kill the messenger, rather than address the real issues. This is very worrying, because it is a blinkered way of dealing with issues."
Schwarz added, "it is a sign of a healthy democracy that new issues are put on the agenda and by clamping down on new issues or those that try to put new issues on the agenda, then we are negating democracy."
Then the establishment was trying to crush the anti-roads movement and now it is trying to crush climate change campaigners.
We cannot carry on building airports and expanding aircraft travel is we are going to address climate change.
As Leo Murray, one of the co-founders of Plane Stupid, points out: "If a third runway is built at Heathrow we will have no hope of meeting our legally binding carbon targets."
Murray adds that if the judge does jail the Heathrow 13, they will be "Britain's first ever climate prisoners."
If you are concerned about this, there is a petition which can be signed here.
YOU MIGHT ALSO LIKE
Wrongful Death Lawsuit Filed as SoCalGas Faces Criminal Charges Over Porter Ranch Gas Leak
FBI Joins Flint Drinking Water Investigation
These 3 Women Attend Monsanto's Annual Shareholder Meeting Demanding Answers
This Kid Warrior Is Assembling a Teen Army to the Save the Planet
Katahdin Woods and Waters. National Parks Conservation Association.
Looks like you'll have to trust your map if you want to find the newly designated Katahdin Woods and Waters National Monument in Maine.
Gov. Paul LePage has refused to put up any official signs along the four main roads to the 87,500-acre preserve, which is on the list of 27 national monuments under Interior Sec. Ryan Zinke's review.
Keep reading...
Show less
Keep reading...
Show less
More than 58 percent of Swiss voters supported a measure to phase out nuclear power in favor of renewable energy.
The plan provides billions in subsidies for renewable energy, bans the construction of new nuclear plants and decommissions Switzerland's five aging reactors. There is no clear date when the plants will close.

Keep reading...
Show less
iStock
By Alex Kirby
An ambitious scientific expedition is due to start work on May 22 on Bolivia's second-highest mountain, Illimani. The researchers plan to drill three ice cores from the Illimani glacier, and to store two of them in Antarctica as the start of the world's first ice archive.
Keep reading...
Show less
CC-BY-SA-2.5 and GNU FDL
Although not on most people's radar here, New York is one step closer to becoming the first state to have genetically modified, non-sterile insects released outside without cages.

Keep reading...
Show less
Photo credit: Michael Fujiwara/YouTube
The viral video of a young girl snatched off a Richmond, British Columbia dock by a sea lion is another reminder that people shouldn't get too close to wild animals.
Port officials in Canada have sharply criticized the family for putting themselves at risk for feeding the large animal, especially since there are several signs in the area warning people not to do so.
Keep reading...
Show less
Bears Ears National Monument. Tim Peterson
An anti-public lands official in Utah said Interior Sec. Ryan Zinke has already made up his mind to repeal Bears Ears National Monument, a move experts say could be against the law.
Keep reading...
Show less
The Crop Trust
Flooding breached a supposedly impregnable Arctic "doomsday" vault containing a collection of seeds stored for an apocalypse scenario last week, after warmer-than-average temperatures caused a layer of permafrost to thaw.
Keep reading...
Show less