Ten Years After Katrina
Hurricane Katrina killed more than 1,800 people, devastated a great American city and caused more than a hundred billion dollars of damage. An enormous natural disaster was amplified by governmental incompetence and indifference into a human tragedy that shocked the world. Today, a full decade later, aftershocks of Katrina are still being felt, particularly in New Orleans, which has never completely recovered.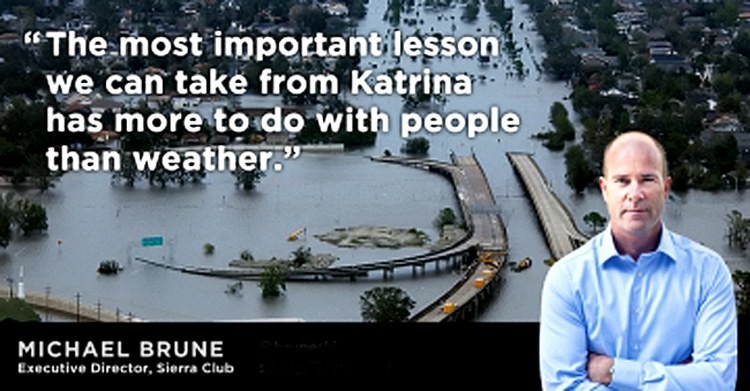 Photo credit: Sierra Club
Although the events of 10 years ago were certainly momentous enough in and of themselves to warrant commemoration, Katrina is also a harbinger of our future. We know that climate disruption threatens to increase the frequency of extreme weather events, from droughts to heat waves to hurricanes. Extreme storm surges like those from Katrina and Superstorm Sandy will become 10 times more frequent, even if we succeed in limiting global temperature increase to 3.6 degrees Fahrenheit. That works out to a Katrina every other year.
But the most important lesson we can take from Katrina has more to do with people than weather. The storm itself was only partially responsible for the extensive damage and suffering in New Orleans. When the levees failed, it was because no one cared enough to ensure that they were properly engineered and constructed. When thousands of people found themselves caught in the storm's path, it's because no one cared enough to help them evacuate. Even after the storm had passed and survivors were sickened by the formaldehyde in FEMA trailers ... well, you get the idea.
When it comes to disasters caused by climate disruption and extreme weather, there's nothing fair about which people will end up being hurt the most. Low-income communities and communities of color are not only the first in the line of fire but also the last when it comes to getting help. In New Orleans, for Katrina, it was the Lower 9th Ward. In New York, for Sandy, it was the outer boroughs. But look almost anywhere and you'll find people living in frontline communities that are both more vulnerable to disasters and less able to recover in the aftermath.
In fact, the same kind of injustice applies on a global scale—many of the poor and developing nations that have been the least responsible for climate disruption will nevertheless be the hardest hit by its effects.
That is why we cannot tackle climate disruption without also addressing climate justice. That means dismantling the racial and economic injustice that leaves some people, through no fault of their own, at much greater risk from the effects of climate disruption.
"Most important Katrina lesson: Can't tackle climate change without addressing climate justice" @bruneski http://t.co/8W1wvko2oX #Katrina10
— Sierra Club (@sierraclub) August 27, 2015

Although clean energy doesn't guarantee climate justice, it's a key ingredient. The beautiful thing about growing a clean-energy economy is that, when done right, it not only cuts the pollution that causes climate disruption but also leads to healthier, more prosperous and stronger communities. You can already see this happening in the Lower 9th Ward, where residents are five times as likely to have solar as elsewhere in New Orleans.
Climate justice will definitely be on my mind as Sierra Club President Aaron Mair and I join the 10th Annual Katrina Memorial March and Second Line this Saturday in New Orleans. Because although no one can prevent future storms like Katrina, there's no excuse for forcing entire communities to suffer disproportionately from the consequences.
YOU MIGHT ALSO LIKE
Sea Level Rising Faster Than Expected, NASA Warns
Historic Wildfire Season Has Burned More Than 7.5 Million Acres (That's Larger Than Massachusetts)
Katahdin Woods and Waters. National Parks Conservation Association.
Looks like you'll have to trust your map if you want to find the newly designated Katahdin Woods and Waters National Monument in Maine.
Gov. Paul LePage has refused to put up any official signs along the four main roads to the 87,500-acre preserve, which is on the list of 27 national monuments under Interior Sec. Ryan Zinke's review.
Keep reading...
Show less
Keep reading...
Show less
More than 58 percent of Swiss voters supported a measure to phase out nuclear power in favor of renewable energy.
The plan provides billions in subsidies for renewable energy, bans the construction of new nuclear plants and decommissions Switzerland's five aging reactors. There is no clear date when the plants will close.

Keep reading...
Show less
iStock
By Alex Kirby
An ambitious scientific expedition is due to start work on May 22 on Bolivia's second-highest mountain, Illimani. The researchers plan to drill three ice cores from the Illimani glacier, and to store two of them in Antarctica as the start of the world's first ice archive.
Keep reading...
Show less
CC-BY-SA-2.5 and GNU FDL
Although not on most people's radar here, New York is one step closer to becoming the first state to have genetically modified, non-sterile insects released outside without cages.

Keep reading...
Show less
Photo credit: Michael Fujiwara/YouTube
The viral video of a young girl snatched off a Richmond, British Columbia dock by a sea lion is another reminder that people shouldn't get too close to wild animals.
Port officials in Canada have sharply criticized the family for putting themselves at risk for feeding the large animal, especially since there are several signs in the area warning people not to do so.
Keep reading...
Show less
Bears Ears National Monument. Tim Peterson
An anti-public lands official in Utah said Interior Sec. Ryan Zinke has already made up his mind to repeal Bears Ears National Monument, a move experts say could be against the law.
Keep reading...
Show less
The Crop Trust
Flooding breached a supposedly impregnable Arctic "doomsday" vault containing a collection of seeds stored for an apocalypse scenario last week, after warmer-than-average temperatures caused a layer of permafrost to thaw.
Keep reading...
Show less