Teflon's Toxic Legacy: DuPont Knew for Decades It Was Contaminating Water Supplies
By Sharon Kelly
Almost two decades ago, Carla Bartlett, a then 41-year -old West Virginia secretary and mother of two, was first diagnosed with cancer—what her surgeon later labeled a "garden variety" type of kidney cancer.
"I was scared to death," Bartlett, now 59, told an Ohio federal jury this fall during hearings in the first of more than 3,500 personal injury and wrongful death suits by West Virginia and Ohio residents against the chemical giant DuPont. "And all I could think of was not being there, not being able to be there for my family."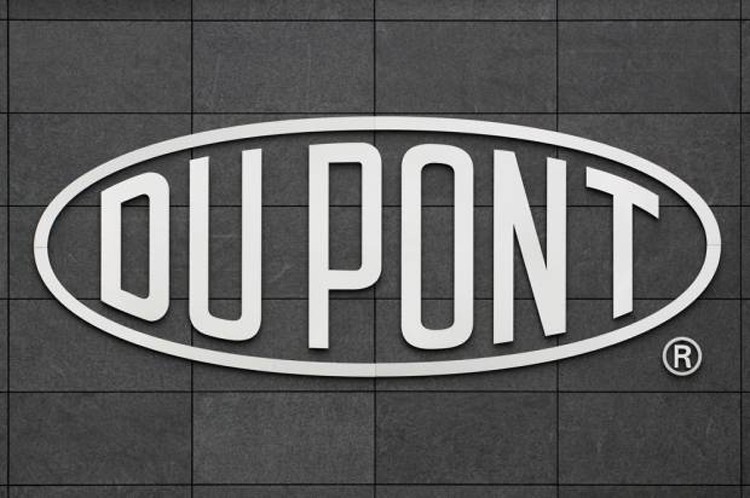 Photo credit: Shutterstock
Bartlett's tumor and part of her rib were removed in a surgery in 1997 that, she said, involved cutting her "virtually in half." Though the cancer hasn't recurred since, for Bartlett, the harm, both physical and emotional, has lingered. "It's never out of my mind, because you worry constantly about it," she said. "And then I have the reminder of the scar, every day, that, you know, this … this is … this was cancer; this could come back."
On Oct. 7, 2015, after less than a day of deliberations, the jury found DuPont liable for Bartlett's cancer, agreeing with the defendant that the company had for years negligently contaminated her drinking water supply in Tuppers Plain, Ohio with a toxic chemical formerly used to make its signature brand of nonstick coating: Teflon.
What makes the verdict remarkable is that unlike, say, mesothelioma—a form of lung cancer almost exclusively linked to asbestos exposure—the renal cell carcinoma that struck Bartlett is not usually considered the calling card of a specific carcinogen. So it was difficult for her doctors to definitively say what had first made Bartlett sick—it could have been virtually anything. The $1.6 million the jury awarded to Bartlett—the product of decades' worth of legal battles that unearthed reams of secret DuPont studies and internal emails—came despite the extreme difficulty of connecting common ailments to a specific chemical under the current U.S. legal system.
Proving that DuPont was legally culpable for Bartlett's kidney cancer required years of extraordinarily innovative lawyering—and at times some plain dumb luck. The very improbability of that verdict demonstrates much that is flawed about the way this country regulates potentially dangerous chemicals. With no mandatory safety testing for the vast majority of the tens of thousands of chemicals used daily in America, doctors and public health officials have little information to guide them as they seek to identify potential health hazards—including the chemical, called C8, that DuPont knowingly allowed to pollute Bartlett's drinking water. Bartlett's travails are also a cautionary tale about C8, which has become so pervasive today that it's found in virtually every American's blood.
"Part of a diagnosis is: Well, tell me what you've been around," one of Bartlett's attorneys, Mike Papantonio, told the jury in opening arguments in the case. "Well, I drank my water. That doesn't sound like a problem. It was a problem"
Teflon was first created, as many miracle chemicals were, in a laboratory accident. In 1938, Roy J. Plunkett, a DuPont chemist, was experimenting with refrigerants when he discovered a white waxy material that seemed very slippery. The material turned out to be an inert fluorocarbon—Polytetrafluoroethylene (PTFE)—that had superior nonstick properties. In 1945, the company patented the chemical and registered it under the trademark "Teflon," touting it as "the most slippery material in existence." By 1948 DuPont was producing about 2 million pounds of Teflon a year at its Washington Works plant in Parkersburg, West Virginia. For DuPont, Teflon, which was used to coat pots and pans, proved to be a gold mine, with sales peaking at roughly a billion dollars a year in 2004, according to the company's SEC filings.
Starting around 1951, DuPont began using another laboratory-formed chemical known as Perfluorooctanoic (PFOA) acid, or C8 (so called because it contains eight carbon molecules), to smooth out the lumpiness of freshly manufactured Teflon. An unusually durable chemical, C8 first entered the world in 1947 and due to its nonstick and stain-resistant properties its use as a "surfactant" spread with extraordinary speed. The white, powdery compound, often said to look like Tide laundry detergent, would ultimately be used in hundreds of products including fast food wrappers, waterproof clothing, electrical cables, and pizza boxes. (DuPont used to purchase C8 from another chemical company called 3M until 2002, when the company phased it out. DuPont then started manufacturing C8 on its own at a factory in Fayetteville, North Carolina).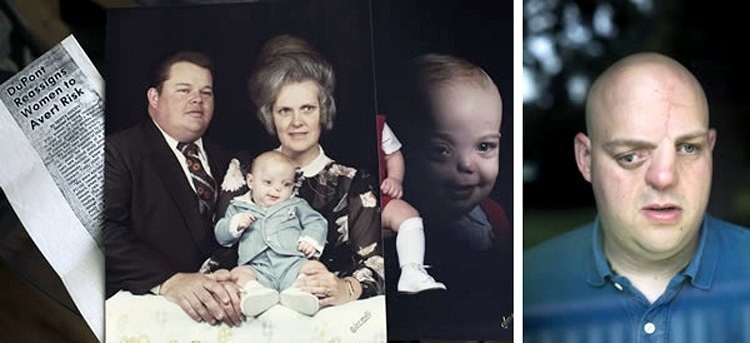 The trouble was that the compound—which has since been linked to a variety of health risks including cancer, liver disease, developmental problems and thyroid disease—escapes into the air easily. In fact, C8 was often shipped to factories pre-mixed with water to keep the dust from worker's lungs.
Because it's an extremely stable chemical, C8 does not biodegrade. Instead, it bioaccumulates, building up in people's blood over time if they continue to drink water or breathe air laced with the substance. Due to its ubiquitous use, the chemical can now be found in trace amounts in the bloodstream of more than 98 percent of Americans, and even in umbilical cord blood and breast milk, according to the Centers for Disease Control. It's also been found in the blood of seals, eagles, and dolphins around the world, including in animals living in a remote wildlife refuge in the middle of the North Pacific. The chemical is expected to stay in the environment for thousands of years.
Concerns about the hazards posed by Teflon and C8 began to garner public attention only about 15 years ago. By 2003, DuPont had dispersed almost 2.5 million pounds of C8 from its Washington Works plant into the mid-Ohio River Valley area, according to a peer-reviewed study. The company's most egregious disposal practices occurred before U.S. environmental laws were first written in the 1970s and included burying toxic waste in drums along the banks of the Ohio River and dropping barrels of it out into the open ocean (where it once caused a scandal when a local fisherman dredged a barrel up in his nets), and, in more recent decades, burying it in local "non-hazardous" landfills.
Now, information emerging from millions of pages of internal company reports reveals that several DuPont scientists and senior staff members had for many years either known, or at least suspected, that C8 was harmful. Yet DuPont continued to use the chemical, putting its own workers, local residents, and the American public at risk.
The documents show that signs of C8's toxicity began to emerge very quickly as DuPont scaled up its Teflon production in the 1950s. The company funds its own safety-testing laboratory—the Haskell Laboratory of Industrial Toxicology—in part to screen workers for signs of illnesses that might be tied to DuPont products. In 1961, company lab tests linked C8 exposure to enlarged livers in rats and rabbits. DuPont scientists then conducted tests on humans, asking a group of volunteers to smoke cigarettes laced with C8. "Nine out of 10 people in the highest-dosed group were noticeably ill for an average of nine hours with flu-like symptoms that included chills, backache, fever and coughing," the researchers noted.
"Concerns about the potential toxicity of C8 had been raised internally within DuPont by at least 1954, leading DuPont's own researchers to conclude by at least 1961 that C8 was toxic and, according to DuPont's own Toxicology Section Chief, should be 'handled with extreme care,'" Bartlett's February 2013 suit against DuPont alleged.
But it wasn't until the 1970s that DuPont's researchers began to understand that C8 was building up in the bloodstreams of workers, and soon after, they began to see troubling signs that the chemical could pose serious health risks. The stakes were high: The Washington Works plant where Teflon is manufactured was one of the biggest employers in the region. The plant currently employs more than 2,000 people—3,000 if you include sub-contractors—in a sparsely populated Appalachian community alongside the Ohio River separating West Virginia from Ohio.
In 1981, the company ordered all female employees out of the Teflon division after two out of seven pregnant workers gave birth to children with birth defects. One of those children, Bucky Bailey, was born with just one nostril and other facial deformities that required many painful surgeries to fix.
"I've never, ever felt normal. You can't feel normal when you walk outside and every single person looks at you. And it's not that look of he's famous or he's rich," he told ABC News in 2003. "It's that look of he's different. You can see it in their eyes."
In 1984, DuPont began to secretively collect local tap water, asking employees to bring in jugs of water from their own homes, schools, and local businesses, and discovered that C8 was making its way into public drinking water supplies in both Ohio and West Virginia at potentially dangerous levels. Minutes recorded at a meeting at DuPont's corporate headquarters in Delaware that year suggest a high level of concern regarding how this could affect the company's image and bottom line. "Legal and medical will likely take the position of total elimination," notes from the meeting read. The company executives present, however, concluded the available methods for cutting pollution were not "economically attractive."
In the years following that meeting, instead of slashing its use of C8, DuPont escalated production, while keeping much of what it knew about the chemical's dangers secret. The company's Washington Works factory continued with its usual practice of dumping C8-laden sludge in unlined landfills, allowing it to enter the Ohio River, and pumping out C8-laced vapors from its smokestacks.
None of this would have come to light had it not been for a West Virginia cattle rancher named Wilbur Tennant who, along with four other members of his family, sued DuPont in 1998 claiming he had lost hundreds of head of cattle because of pollution from a landfill next to his farm. DuPont had purchased the patch of land, which included a creek that ran directly into the Ohio River, from Tennant in the 1980s, telling him that it would be used as a non-hazardous landfill.
But soon after the landfill got underway, the creek started to turn black and smelly. Sometimes there would be a layer of foam on the water. Within a few years, about 280 of Tennant's cattle, which drank water from the creek, had died. When the Tennants cut open a cow to investigate the cause of its death, they discovered that its internal organs had turned bright, neon green, video footage recorded by the rancher shows. Tennant and his family members, too, suffered breathing difficulties and cancers.
Tennant's attorney, Robert Bilott, forced DuPont to turn over tens of thousands of pages of internal company documents as part of the legal process. Buried in those materials was a single mention of a chemical Bilott had never heard of before: PFOA (C8). The chemical sounded similar to another one, called PFOS, which had just been pulled off the market by its maker 3M (which, if you recall, supplied C8 to DuPont for decades). So Bilott made another request to DuPont. This time he asked the company to turn over all documents related to C8.
"I did not immediately recognize the significance [of C8]," Bilott told Earth Island Journal, "but we came to."
The trove of documents ultimately uncovered during the ensuing legal battles offered up incriminating evidence about the company's decades-long cover-up. In addition to research findings, copies of internal emails and documents included in this cache were especially illuminating. One 2001 email describes a scientist warning that when airborne, C8 is so hard to deal with that "it might require the public to wear 'gas masks.'"
Another, by DuPont's in-house counsel, Bernard Reilly, shows that company officials planned to push regulators to allow the public to be exposed to higher levels of the chemical than DuPont itself had recommended. In an October 2001 email to his son, Reilly wrote:
"So far DuPont has been saying there are safe levels, we need to have an independent agency agree, we are hoping that it will agree to higher levels than we have been saying. If for no other reason than we are exceeding the levels we say we set as our own guideline, mostly because no one bothered to do air monitoring until now, and our water test has been completely inadequate."
Reilly's personal emails, written mostly to family members between late 1999 and mid-2001 using his work email address, give an unfiltered insight into the company's legal efforts to cover up C8's risks. In one August 2000 email he writes: "The shit is about to hit the fan in WV. The lawyer for the farmer finally realizes the surfactant issue. He is threatening to go to the press to embarrass us to pressure us to settle for big bucks. Fuck him."
This information not only helped the Tennant case—which DuPont settled in 2001 for an undisclosed amount—it would eventually lead to one of the most significant class-action lawsuits in the history of environmental law (which culminated in the landmark October ruling in Carla Bartlett's case). Sadly, Tennant didn't live to see the ripple effect of his lawsuit. He died of cancer in 2009 at age 67.
By 2001, while still working on the Tennant case, Bilott came to realize that the C8 contamination wasn't isolated to the Tennant property, but extended across a large swath of the mid-Ohio River Valley. The chemical had seeped into the water supply of at least six public water systems in West Virginia and Ohio. That year, Bilott filed a class action lawsuit against DuPont, Leach, et al. v E.I. du Pont de Nemours and Co., on behalf of about 80,000 people in the six water districts. He also reported his findings to the US Environmental Protection Agency and sent along copies of some 900 pages of DuPont's internal documents, after which the agency launched a "priority review" of C8.
In 2004 the U.S. Environmental Protection Agency (EPA), too, filed a lawsuit against DuPont, charging it with concealing evidence about C8's risks for more than two decades. In 2005 the company agreed to pay $16.5 million as part of a settlement agreement with the EPA—the largest civil penalty ever in the agency's history. But environmental groups argue that the fine was little more than a slap on the wrist to a company where a single division sold more than that amount in a single day.
"Under the terms of the settlement, the company wasn't even obliged to pull C8 from the market … the best the agency could negotiate was a voluntary phase-out by 2015," the watchdog organization Environmental Working Group says in its May 2015 report "Poisoned Legacy."
The same year, DuPont settled the class-action suit filed by Bilott's firm for over $100 million—plus another $235 million if research funded by the settlement turned up evidence that people might be getting sick. Under the settlement, DuPont promised to install filtration systems in contaminated water districts and put $70 million into a community health and education project. And, in a rather unusual move, the company also agreed to fund a multimillion dollar health study, overseen by independent, court-appointed scientists, to determine whether exposure to C8 had actually harmed people. Moreover, DuPont agreed that if the study did prove that the C8 had caused certain diseases, those who suffered from diseases connected to C8 would be entitled to sue individually for personal injury.
It's not quite clear why DuPont agreed to the independent study. Perhaps it was the knowledge that most medical monitoring programs fail to attract enough participants, which usually makes it almost impossible to draw reliable inferences about disease clusters. But in this case, nearly 80 percent of the surrounding community in West Virginia and Ohio showed up at makeshift medical clinics in trailers around the region to have their blood drawn and a health care questionnaire completed. Community members were, more often than not, drawn by the $400 checks (pulled from the DuPont settlement) that the enterprising team of medical researchers offered to each man, woman, and child who participated.
"We have families of five dragging their three kids kicking and screaming, and the parents are saying, 'Yes, you're going to get stuck in the arms—that's $2,000!'" one local resident told The Huffington Post.
The C8 science panel, which took seven years to complete its research, ultimately linked C8 exposure to six diseases: ulcerative colitis; pregnancy-induced hypertension; high cholesterol; thyroid disease; testicular cancer; and kidney cancer. The panel's findings, published in several peer-reviewed journals, were remarkable because they proved that the chemical pretty much affected the entire body, even at low exposure levels. The researchers concluded that C8 posed health threats at just 0.05 parts per billion in drinking water for people who drank that water for a single year. They found that the average C8 level in blood samples from the mid-Ohio Valley was 83 parts per billion. The average C8 level for those living closest to the plant—whose drinking water came from Ohio's Little Hocking water district—was more than 224 parts per billion compared to 4 parts per billion for average Americans.
Once the connection between C8 exposure and the diseases was established, more than 3,500 Ohio Valley residents, including Carla Bartlett, filed personal injury cases against DuPont. Bartlett's case was the first to go on trial this past September. The court's verdict in her favor might just set the tone for the rest of cases that will come to trial.
Still, there are many who feel the company will keep trying to wriggle its way out of its responsibilities. (During Bartlett's trial, for instance, DuPont attorneys argued that her cancer was triggered by her obesity rather than C8, even though, as per terms of the class action suit settlement, DuPont isn't permitted to dispute the fact that C8 can cause the kind of cancer she endured).
"I've been at it 16 years, if that tells you anything," Joe Kiger, a local gym teacher and lead plaintiff in the original 2005 class action suit, told the Journal. "When this all started, I did not think it would get out of hand like it has, but we kept finding out more and more of what DuPont did, what the cover-ups were, them knowing full well that this stuff was toxic." Kiger—who suffers from numerous kidney and liver problems and and had to have surgery following a heart attack in May—is a member of Keep Your Promises DuPont, a community-based organization working to hold the company accountable for its actions. "Our biggest faith and trust we have is in our utilities," he said. "We flip that light switch on, we expect it to come on. We don't think anything about it. You turn on your tap to get water, you expect that water to be clean and not have all these chemicals in it. I think now, people are starting to find out that someone has lied to them."
To understand how C8 managed to remain in use for so long requires a look back at the history of chemical regulation in the U.S., and the role that DuPont itself played in crafting those laws.
Since the early 1970s, pressure had been growing to regulate the rising use of chemicals in almost every aspect of post-World War II American life. And few companies were as responsible for—or as dependent on—that expansion as DuPont.
In 1930, DuPont created Freon, making mass-market refrigerators and air conditioners possible for the first time. In 1935, a DuPont scientist invented nylon, a synthetic fiber that proved invaluable during World War II. Cellophane, Mylar, Tyvek, Rayon, Lycra—household names to this day—were all developed by DuPont in the past century. The company also made artificial fertilizers, fungicides, pesticides, plastics and paints.
"We have been proud to publicize the fact that more than 60 percent of our sales in 1950 resulted from products that were unknown, or at least were only laboratory curiosities, as recently as 1930," a DuPont rep told a group of financiers in 1955. But as thousands of new chemical innovations entered the daily lives of Americans, pressure was also rising to find out what health risks many of them posed.
One of the first acts of the White House Council on Environmental Quality, after it was established in 1969, was to highlight the need for federal chemical controls—a system that would let regulators figure out which substances could pose public health risks before people got sick.
"The Council's study indicates the high-priority need for a program of testing and control of toxic substances," it said as it released a 1971 report calling for new chemical rules. "We should no longer be limited to repairing damage after it has been done; nor should we continue to allow the entire environment to be used as a laboratory."
For several years, the Manufacturing Chemists Association, an industry trade group that counted DuPont as a core member (known as the American Chemistry Council today), managed to block any attempt to regulate the industry. But as a growing list of chemicals like PCBs, asbestos and vinyl chloride began to be linked to illness, so did the demand to regulate them. Foreseeing the inevitable, many chemical companies decided that it would be better to be involved in the drafting process than to risk the type of bans that barred the use of the notorious pesticide DDT in 1972.
DuPont had a key seat at that drafting table.
Robert C. Eckhardt, a progressive Texas politician from a north Houston district packed with chemical and oil companies, is often described as the chief craftsman of the legislation that came out of this drafting process—the Toxic Substances Control Act (TSCA), which even today is the primary law regulating chemicals used in the U.S. First elected in 1966, Congressman Eckhardt was known for riding a bicycle to work at the Capitol—carrying his legislative files in a whisky case strapped to his bike—a habit that put him far ahead of the curve as an environmentalist and gained him support from early conservationists, especially after the 1970s' energy crisis. During his career in DC, which ended in 1980, the Democratic congressman championed civil rights, fought to tax oil and gas companies, and helped ensure that core environmental statutes like the Clean Air Act and Superfund laws passed.
TSCA, as it stands today, was the product of an unlikely collaboration between the iconoclastic Eckhardt and DuPont.
Early meetings between Eckhardt and DuPont had gone so badly that Eckhardt stormed out of the room during a March 1976 negotiation. But as a draft chemical control bill passed the Senate, DuPont reluctantly returned to the table. One of the biggest sticking points was whether safety tests should be required before companies were allowed to put new chemicals on the market—an effort that the industry successfully blocked. "No mandatory testing was a huge compromise," Rena Steinzor, University of Maryland School of Law professor and president of the Center for Progressive Reform, told the Earth Island Journal.
The bill that "Bicycle Bob" Eckhardt ultimately produced was so packed with compromises that some of his early supporters opposed the law's final version. "I mean, it was [called] the Heckert-Eckhardtbill," Steven D. Jellinek, the EPA's first-ever assistant administrator for toxic substances, told the Chemical Heritage Foundation's Oral History Project, referring to Richard Heckert, then a DuPont vice-president and the chair of the Manufacturing Chemists Association. "It was written by industry."
Eckhardt's good intentions might have been undermined by the fact that he was on the Senate Commerce Committee rather than the Environment and Public Works Committee.
"The Senate Environment and Public Works Committee was composed of people who believed in the EPA's mission and knew a great deal about it," Steinzor says. "The Senate Commerce Committee, like its name, was focused on other concerns and not knowledgeable about toxic chemicals."
Under the toothless TSCA law that DuPont helped write, industrial chemicals—unlike pharmaceuticals or pesticides—do not have to be tested before they are put on the market. The law does require that the EPA keep a current list of all chemicals used commercially in the U.S., but it does not require that the chemicals be tested for environmental or human health impacts. Additionally, TSCA allows manufacturers to claim some information, including the chemical's identity, as a trade secret.
Though the law also requires manufacturers give the EPA some information necessary to assess a new chemical's safety, roughly 60,000 chemicals that were in use at the time TSCA was enacted were exempted from this rule. These chemicals include bisphenol A (BPA), formaldehyde and several flame retardants—all of which have since been found to present significant risks to human health and the environment. Today, there are more than 85,000 industrial chemicals in commercial use in the U.S.—roughly 2,000 new chemicals are introduced every year in the U.S.—but federal regulators have so far required only a tiny percentage of these to undergo any safety testing. You can literally count on one hand the number of chemicals that EPA has banned or widely restricted under TSCA: asbestos, PCBs, dioxin, CFCs and hexavalent chromium (made famous in the movie Erin Brockovich). That's only five chemicals in nearly 40 years.
"In many ways, C8 is a poster child for the failures of U.S. toxic chemical law," says Bill Walker, one of the authors of the Environmental Working Group (EWG) report on C8. "Between 3M and DuPont you have a increasingly damning cover-up. And yet the law is so toothless that neither company was really concerned about being caught by the EPA."
The lack of safety testing helps explain why, back in 1998 when the Tennants first contacted Bilott, virtually no one outside of DuPont and 3M—not EPA field inspectors, OSHA chemists, or state environmental testing laboratories—had ever heard of C8. The two companies essentially had a monopoly on information relating to this chemical. DuPont used that monopoly to illegally cover up its own research that showed that C8 was making its workers ill.
"But for the lawsuit, it is very likely that the EPA would be completely unaware of this chemical as well its toxicological profile," says Ned McWilliams, another plaintiff's attorney. "This lawsuit quite literally blew the whistle on this still unregulated chemical."
DuPont, unsurprisingly, plans to appeal the court's verdict. "The knowledge base around [C8], its environmental footprint, and its health profile has evolved," company spokesperson Dan Turner told the Earth Island Journal. "Over the same period, the chemical industry and its regulators have also learned a great deal about how to operate more safely, sustainably and to reduce emissions." The company has, in the meantime, spun off its Teflon-related operations into another company, called Chemours, in a move that could limit the amount of compensation that plaintiffs can recover.
Over the past few years, DuPont, 3M, and other chemical firms have begun marketing C8-free Teflon, and recent studies show that the levels of C8 in most people's blood are dropping. Unfortunately, the new chemicals that have replaced C8 are also raising concerns. "These next generation PFCs [perfluorinated chemicals] are used in greaseproof food wrappers, waterproof clothing and other products," the EWG's "Poisoned Legacy" report says. "Few have been tested for safety, and the names, composition and health effects of most are hidden as trade secrets."
On a positive note, efforts to strengthen TSCA, which is the only major environmental law that has not been updated since it was first enacted, have gained steam in recent months. This fall, Congress was on the verge of passing TSCA reform measures. The House and the Senate introduced separate TSCA reform bills this year and while the House passed its bill (HR 2576) in June, and the Senate was yet vote on its bill (S 697) as this story went to press. Reforms proposed by these bills include speeding up the pace of the EPA's chemical assessments, changing how the agency prioritizes chemicals for safety review, and amending TSCA's definition of chemicals that may pose an "unreasonable risk" of harmful exposure.
Still, critics say these efforts fall short of what's needed and may be at risk of repeating the errors of the past.
"Neither bill provides the EPA with the resources to act quickly enough on reviewing and regulating the use of chemicals that can cause cancer and other serious health problems," Scott Faber, the Environmental Working Group's senior vice-president for government affairs told the Earth Island Journal. "Neither clears away the legal hurdles that prevent the EPA from banning chemicals like asbestos, which we already know are dangerous." Faber is also concerned that the reforms might interfere with regulatory laws introduced by states and other local governments to make up for the lack of effective federal oversight of chemicals. (There are about 172 individual laws regulating chemicals in 35 U.S. states, and another 100 or so similar bills have been under consideration in 28 states this year.)
In the end, it all comes down to the need for a strong political push that can override industry influence and introduce laws to regulate chemicals before they cause the kind of harm that C8 has wreaked. The history of C8, still unfolding, offers many lessons for those battles.
Ahead of the People's Climate March, Senators Jeff Merkley, Bernie Sanders and Ed Markey stood beside movement leaders to introduce legislation that will completely phase out fossil fuel use by 2050. The "100 by '50 Act" outlines a bold plan to support workers and to prioritize low-income communities while replacing oil, coal and gas with clean energy sources like wind and solar.
"100 is an important number," said 350.org co-founder Bill McKibben. "Instead of making changes around the margins, this bill would finally commit America to the wholesale energy transformation that technology has made possible and affordable, and that an eroding climate makes utterly essential. This bill won't pass Congress immediately—the fossil fuel industry will see to that—but it will change the debate in fundamental ways."
The "100 by '50 Act" would put a halt to new fossil fuel infrastructure projects like Keystone XL and the Dakota Access pipeline, and fracked gas pipelines facing opposition from tribes and landowners. Instead of new fossil fuel infrastructure, the bill invests hundreds of billions of dollars per year in clean energy—enough to create four million jobs. These large-scale clean energy investments prioritize black, brown and low-income communities on the frontlines of the climate crisis.
"While fossil fuel billionaires supporting Trump's administration put profits before people, we now have a legislative roadmap to phase out this dirty industry once and for all," said 350.org Executive Director May Boeve. "This bill deploys clean energy in communities that need it most and keeps fossil fuels in the ground. From Standing Rock to the Peoples Climate March, movement leaders have been calling for these solutions for years. This bill is proof that organizing works, and it's the beginning of an important conversation."
The issues covered by the bill reflect the demands of the climate movement, from Standing Rock to the fossil fuel divestment campaign, to the fight to keep fossil fuels in the ground. The content stands in bright contrast to Trump's vision of a more polluted America where fossil fuel billionaires profit at the public's expense. While this precedent setting bill is unlikely to pass during the Trump administration, similar bills are being considered at the state and local level in California, Massachusetts, New York and elsewhere across the country.
At a press conference held by Senators Merkley and Sanders, speakers included representatives from climate and environmental justice groups, progressive organizations and more. A crowd of supporters carried banners and signs reading "100% Clean Energy For All," and, "Keep Fossil Fuels In The Ground." The event was part of an ongoing week of action leading up to the People's Climate March on April 29, when thousands of people are converging in DC and around the country to march for jobs, justice and the climate.
Keep reading...
Show less
By Kelly Levin
Thousands of people are expected to attend the People's Climate Movement march in Washington, DC and sister cities around the world this coming weekend. They are marching because actions taken to date by governments and others are not commensurate with the scale of climate impacts—both those already borne and those projected in the years to come.
It's a good moment to reflect on the facts. What do we know about global climate change and what impacts can we expect in the future? The following graphics speak volumes.
1. What is Climate Change?
Climate change is a long-term change in Earth's weather patterns or average climate, including temperature and precipitation. While the climate has changed in the past, we are now seeing it change at an unprecedented rate. As a result of the build-up of heat-trapping greenhouse gases in the atmosphere—due to our burning of fossil fuels, cutting down trees and other activities—global average temperature is now changing at a faster rate than at least over the past 1,000 years.
NASA
2. What's Causing Climate Change?

When models only include natural drivers of climate change, such as natural variability and volcanic eruptions, they cannot reproduce the recent increase in temperature. Only when models include the increase in greenhouse gas emissions due to human activities can they replicate the observed changes.
U.S. Enviromental Protection Agency, adapted from Huber and Knutti, 2012
3. How Have Global Emissions Changed?

Emissions have been climbing since the Industrial Revolution, but the rate of annual emissions increase during the first 10 years of this century was almost double the rate between 1970 and 2000.
Global Carbon Project
Emissions from fossil fuels and industry have seen a staggering increase in recent years—63 percent since 1990.

4. Who Are the Biggest Emitters?
From 1850 to 2011, the five major emitters—the U.S., European Union, China, Russian Federation and Japan— together contributed two-thirds of the world's CO2 emissions.
Now, China has emerged as the top emitter and China, the EU and the U.S. are the world's top three emitters. Together they emit more than half of total global greenhouse gases. In contrast, the 100 smallest-emitting countries collectively add up to only 3.5 percent of global emissions. Almost three-quarters of global emissions come from only 10 countries.
5. How Much Should We Limit Global Warming?
The Paris agreement on climate change sets a target for countries to collectively limit global temperature rise to 2 degrees C (3.6 degrees F), with a goal of sticking to 1.5 degrees C (2.7 degrees F) in order to prevent some of the worst effects of climate change. The amount of carbon emissions we can emit while still having a likely chance of limiting warming to 2 degrees is known as the "carbon budget." As of 2011, the world had already blown through nearly two-thirds of the carbon budget and is on track to exceed it by 2033 if emissions continue unabated.
6. Where is the Temperature Headed?
In the absence of countries' recent emissions-reduction commitments, known as intended nationally determined contributions or INDCs, we would see 4-5 degrees C of warming. Even if these INDCs are fully implemented, the average global temperature is still on track to increase 2.7-3.7 degrees C by 2100, according to a range of studies. That's far short of the global goal to limit warming to 1.5- 2 degrees C.
7. What Have Been Some of the Impacts of Climate Change to Date?

The impacts of climate change are already occurring and occurring everywhere. For example, climate change has already led to: more negative than positive impacts to crops, such as wheat and maize; coral bleaching and species range shifts; more frequent heat waves; coastal flooding; increased tree die-off in various regions; and a significant loss of ice mass in places like Greenland and Antarctica.
For example, as a result of ice melting on land, such as from glaciers and ice sheets, as well as thermal expansion of the ocean, we have seen sea level rise 3.4 millimeters per year from 1993-2015, which puts coastal communities at risk of flooding and infrastructure damage.
8. What Impacts Do We Expect in the Future?

The impacts we see in the future will be determined by our emissions pathway and resultant level of temperature increase. The warmer it gets, the greater the impacts—and the lower our ability to adapt.
9. Are There Signs of Progress?

Recently, we've seen signs of "decoupling." According to the International Energy Agency, energy-related carbon dioxide emissions stayed flat for three years in a row even as the global economy grew. This flattening of emissions was due to the growth of renewable power generation, fuel switching from coal to natural gas and energy efficiency gains, among other changes.
This decoupling can also be seen at the country level in 21 nations from 2000-2014. Whether these are indicative of long-term shifts remains to be seen. We will need to see a deep decline if we are to limit dangerous climate change and even with existing emissions-reduction commitments, global emissions are not expected to decline until at least after 2030.
20. Are We Investing in Solutions?

Global investments in renewable energy have been growing in recent years to an all-time high of $285.9 billion in 2015, a 5 percent rise compared to the previous year. In 2015, renewable energy (excluding large hydro) made up the bulk (54.6 percent) of new installed generating capacity for the first time.
REN21 Renewables 2016 Global Status Report
That being said, we need to shift away from fossil fuels much more quickly if we are to have a fighting chance of limiting warming to 1.5-2 degrees C.

Marching for Action
Let's hope that as people take to the streets, it will wake leaders up to the scale of the climate change challenge and the task ahead. Avoiding the most dangerous of climate change impacts—which necessitates phasing out emissions in the second half of the century—will require sustained action well beyond this weekend's activities.
Keep reading...
Show less
The Woodlands, Texas-based oil and gas giant said in press release it was shutting more than 3,000 producing vertical wells, which produce about 13,000 barrels of oil per day, "in an abundance of caution."

Mark Martinez and his brother-in-law Joseph William Irwin III, both 42, were killed in the April 17 explosion. Mark's wife, Erin Martinez, was injured as well her 11-year-old son. A GoFundMe page is currently raising funds for the family.
In its statement, Anadarko acknowledged that the blast occurred approximately 200 feet from the family's recently built two-story home on Twilight Ave., where the company operates an older vertical well drilled by a previous operator.
The tragedy has sparked concerns from local anti-fracking activists over the risks of oil and gas production in Colorado and are calling for a statewide emergency moratorium as officials and regulators investigate the cause of the explosion.
The Frederick-Firestone Fire Protection District and the Colorado Oil and Gas Conservation Commission (COGCC) are involved with the investigation.

"While the well in the vicinity is one aspect of the investigation, this is a complex investigation and the origin and cause of the fire have not been determined," Frederick-Firestone Fire Protection District Chief Theodore Poszywak said.

The Colorado Independent reported on the possible link between the Anadarko-operated gas well and the Firestone house explosion:

A source has told The Independent that personnel and trucks bearing Anadarko's logo responded soon after the explosion, and that company personnel at and near the scene over the following days came in unmarked vehicles and clothes. They were apparently paying special attention to a feeder line that may have been severed near the home.

Furthermore ...
News stories after the explosion reported that Irwin, a master plumber, was helping Mark Martinez install a hot water heater, apparently at or near the time of the explosion. The insinuation was that their work may have led to their deaths.
But that narrative sounded immediately curious to those who knew Irwin and his work, and became less plausible when Colorado's Public Utilities Commission passed the investigation on to the COGCC, which regulates the oil and gas industry.
Anadarko spokesman John Christiansen would not respond to the Independent's report or questions about the company's possible involvement.
Anadarko is one of the world's largest private oil and natural gas exploration and production companies and the largest oil and gas producer in Colorado. The state is the seventh-largest oil and gas producing state in the country.

"Our teams will remain actively engaged with residents in the Firestone community," said Brad Holly, Anadarko senior vice president of U.S. Onshore Exploration and Production.
"Colorado residents must feel safe in their own homes, and I want to be clear that we are committed to understanding all that we can about this tragedy as we work with each investigating agency until causes can be determined."
In response to the incident, Boulder, Colorado-based climate change activist Xiuhtezcatl Martinez is calling for immediate halt on drilling activity.

"Our thoughts and best wishes go to Martinez and Irwin families, no one should have to lose a family member before their time," Martinez, who is the youth director of Earth Guardians, told EcoWatch. "We must fight to make sure that Anadarko is held accountable, if its shown their reckless behavior played a part in their deaths, so we can ensure this is the last time a tragedy like this occurs."
"Unfortunately this is likely the result of a state that has completely failed to protect it's citizens from the impacts of fracking," Martinez added. "Based on the explosive danger coming from this industry and the proximity to homes, schools and hospitals we are calling for a statewide emergency moratorium, until it can be demonstrated that fracking can be done safely."
In March, the Colorado Court of Appeals sided with Martinez and other youth plaintiffs that the Oil and Gas Conservation Act required it to strike a balance between the regulation of oil and gas operations and protecting public health, the environment and wildlife resources.
Martinez said that the appellate court's decision "clearly states that health and safety must be prioritized with regards to oil and gas industry in the state."
"Based on that decision and [the Firestone house explosion] it's clear that all drilling activity should be halted immediately and the danger of fracking should be investigated in full," Martinez said.
A source pointed out to EcoWatch that "Fractivist" Shane Davis, a biologist who started the fracking resistance in Colorado several years ago, happened to live in Firestone and "literally moved out of the town for this very reason."
Incidentally, Davis detailed in a January blog post about the dangers of living nearby drilling operations.
One landowner's decision to lease their minerals to the fracking industry "can place hundreds, if not thousands, of innocent people at risk from the dangers of the fracking industry's toxic air, groundwater contamination, fugitive emissions, failed equipment, human error, and even a blowout which is the most dangerous to communities that are close by," Davis wrote on Fractivist.org.
Anadarko said the wells will remain shut in until the company's field personnel can conduct additional inspections and testing of the associated equipment, such as facilities and underground lines associated with each wellhead. The wells will not be restarted until each has undergone and passed these additional inspections. Anadarko currently anticipates the process will take two to four weeks.

Keep reading...
Show less
A new Global Wine Index outlines the most at-risk wine regions according to natural disasters, rising temperatures and other climate change factors. Unfortunately, some of the world's finest grapes are unlikely to survive.
The index was created by a multidisciplinary European-Australian research team of engineers, seismologists, meteorologists, scientists and wine lovers, who analyzed 110,000 wineries in 131 countries that produce a combined total of 26 billion liters of wine a year.
At the top of the list is Argentina's Mendoza region, which experiences a smorgasbord of obstacles for growing grapes.
"We see that Mendoza in Argentina, which has earthquakes, hail, floods, the whole gamut of natural hazards... is number one," said James Daniell of the Karlsruhe Institute of Technology in Germany and co-author of the research.
Just behind Argentina, the most at-risk regions are in the following order: Kakheti and Racha regions in Georgia, the southern Cahul region in Moldova, northwestern Slovenia in fourth place, and tied for fifth are the Yaraqui Valley in Ecuador and Nagano, Japan. All in all, wine contributes a staggering $300 billion to the world economy every year.
Most at-risk wine regions.
So wine is kind of a big deal, but is it enough to send a message about climate change? The new site offers enlightening advice on some of the most common risks associated with our most beloved wine regions. Italy, which contributes 4.9 billion liters annually, is facing hail, frost and earthquakes as the number one threats to vino. In France, it's frost, hail and storms. And in Spain, it's hail in the northwest, frost and heat. As for American wine, since most of it comes from California, one of the biggest threats is earthquakes.

According to the site, by looking at climate models, wine regions will generally shift both southward and northward. Southern Italy and southern Spain, therefore, will see the biggest losses. This data is meant to help winemakers make better decisions about their grapes to stave off any effects of climate change.
"This uses data going back from 1900 onwards," said Daniel. "They can at least identify that they are at risk and... do something about it to mitigate it."
Some of those methods are using anti-hail nets for the vineyards, tying up stored wine bottles to withstand the shock of an earthquake, using a "hail cannon" as France's Burgundy region is doing to seed clouds with stone-shrinking silver iodine or by simply just taking out some old-fashioned crop insurance.
Keep reading...
Show less
That finally changed this week.
Apple announced this week it has signed a power purchase agreement to buy wind energy from a soon-to-be-built Oregon wind farm. It will power an in-state data center about 130 miles away from the wind farm and Apple said the project is its largest renewable energy investment to date.
Apple plans to hit its 100 percent renewable energy goal by sourcing renewables through a combination of direct project ownership and long-term contracts with new renewable energy projects and preferably from projects in the same state as their facilities. When it can't do either of those, it procures renewable energy from "newer projects in nearby markets … through available utility green energy programs … or [through] strong renewable energy credits (RECs) tied to recently constructed renewable energy projects."
In 2016, Fortune 500 companies and other non-utility customers signed 39 percent of the capacity contracted through wind power purchase agreements and their strong interest in wind has continued into 2017.
Companies like Apple choose to power their operations using renewables like wind not just because it's good for the environment, but also because it helps their bottom lines.

"This pursuit of renewable energy benefits our customers and communities through cleaner air while strengthening our business through lower and more stable energy costs," said GM Chairwoman and CEO Mary Barra, speaking about her company's 100 percent renewable pledge.
Check out this video to hear straight from the source about why some of the world's largest companies want to make more of their products using wind power:
Keep reading...
Show less
By Courtney St. John
In case anyone doubts the death of coal, experts just issued the autopsy.
A new report from the Center on Global Energy Policy at Columbia University looks at exactly what's causing coal's demise. It finds that cheap natural gas is responsible for roughly half the decline in U.S. coal consumption. Falling demand for electricity and cheap wind and solar account for most of the rest. Adding insult to mortal injury, falling demand for coal from China put a dent in U.S. exports.
Environmental regulations—a frequent scapegoat of coal companies—did accelerate coal plant retirements, but the effect was small. Overall, the report finds that President Trump's efforts to roll back environmental protections will do little for coal country.
Employment across the coal sector has declined. Today, coal employs just 160,000 workers nationwide while the solar industry employs some 375,000. Even in the heart of Appalachia, businesses are turning away from coal.
This week, Charleston, West Virginia-based utility Appalachian Power said that it won't be building any new coal plants and will instead look at building out solar and wind to bring companies like Amazon and Google to West Virginia—companies that want to source their power from renewables. And in an ironic twist, the Kentucky Coal Museum is going solar to save money on power.
While there is little that the president or lawmakers can do to rescue the coal industry, they can throw a lifeline to coal workers. Congress has until the end of the week to ensure that more than 22,000 retired miners continue to have access to federally funded healthcare. Coal companies that declared bankruptcy in recent years were relieved from contributing to the fund.
Coal is on its deathbed. And while Washington can't revive the industry, it can revive Appalachia.
Reposted with permission from our media associate Nexus Media.
Keep reading...
Show less
By Nancy LaPlaca
For the gas industry and some utilities that are racing to build as much gas infrastructure as possible, there's a lot riding on a shale gas "play" known as the Marcellus. For those who aren't buried in natural gas minutiae, a "play" is an area where there's lots of fracking for natural gas.
U.S. shale gas production (i.e. from hydraulically fractured wells) has grown steeply over the past 17 years and is now 67 percent of total U.S. natural gas.
Gas prices have historically been extremely volatile, but gas companies and utilities are saying that it will stay low for a long time—almost indefinitely—and they base much of that argument on the Marcellus, the largest source of fracked gas in the U.S.
The Cost of Natural Gas is Extremely Volatile
The cost of natural gas has always been volatile and its price has been a roller-coaster ride for the past decade. Duke Energy's former CEO, Jim Rogers, famously called it the "crack cocaine" of the power industry. And because the cost of fuel is what's known as a "pass-through," electricity customers reimburse the utility for its fuel costs. This means that utilities and their shareholders, don't really have skin in the game when it comes to fuel costs. And in 2014 alone, electric utilities around the U.S. spent $42.4 billion purchasing natural gas for electric power plants (and another $39 billion for coal).
The chart below shows the volatility of natural gas since 1997. The two biggest spikes are Hurricane Katrina (August 2005) and the run-up in oil and gas costs which peaked in July 2008 with oil at $147/barrel and natural gas at $13/MMBtu.
EIA
Key to Understanding Natural Gas Price Volatility: It's Priced at the Margin and Utilities Only Hedge a Year or So in Advance

One of the keys to understanding natural gas pricing is that it's priced "at the margin." In plain language, this means that today's price reflects the immediate past and the immediate future. Due to the volatility of gas prices, prices for natural gas are usually only "hedged" (i.e. 'locked in') a year or less in advance. In Florida, utilities paid $6 billion too much for natural gas over a 15 year period after the price of gas crashed. So while hedging gas can save money over certain time periods, it can also be a big money-loser.
This means that beyond the one year when gas prices are hedged, consumers must pay whatever the gas costs, no matter what. And because fuel costs are "pass-throughs," if the utility's cost estimates are off, it's the customers who pay, not the utility or shareholders.
Despite the Volatility of Natural Gas Prices, EIA Assumes Natural Gas at $5/MMBtu from 2030 to 2040
Despite the extreme ups and downs of natural gas pricing, the U.S. Energy Information Administration's (EIA) 2017 Annual Energy Outlook projects that the cost of natural gas will remain at bargain-basement levels from 2030 to 2040 at $5.00 per MMBtu. This is 20 percent below what EIA forecast in its 2015 Annual Energy Outlook price forecast over the 2015-2040 period.
Average Decline Rate for Shale Gas Well is 75-85 Percent Over First Three Years
While the increase in U.S. shale gas production is stunning, so are the decline rates for individual wells, which average 75-85 percent decline over the first three years. As geoscientist David Hughes points out, a steep decline rate for each well means that 30-45 percent of a play's production must be replaced each year by more drilling. In some areas of the U.S., spacing of gas wells has dropped from 1 well pad per 240 acres to 1 well pad per 10 acres.
A good example is the Haynesville shale play, which started at nearly zero in 2006 and shot up quickly until peaking in early 2012. As of 2017, the Haynesville is down by 52 percent. Despite the obvious decline in production, the EIA recently predicted an ever-higher output from the Haynesville, so that it will nearly double its 2012 peak and continue producing gas past 2040.
What About the Marcellus?
The Marcellus shale play currently provides over a third of total U.S. shale gas produced and is mainly in Pennsylvania but also includes eastern Ohio, northern West Virginia and southern New York state. The top five shale-producing counties in Pennsylvania have accounted for 65 percent of cumulative production from the Marcellus play, demonstrating the fact that most gas is produced from a few "sweet spots."
The EIA's overblown estimate of future gas supplies is higher for the Marcellus shale than any other play.
The chart below, Figure 1 from Hughes' 2016 study, shows the estimated recovery for several plays from the EIA's Annual Energy Outlook for 2014, 2015 and 2016. The 2016 estimate for the Marcellus play, in red, shoots up higher than any other play in the U.S. and is in fact 76 percent higher than the Annual Energy Outlook 2014 estimate. Note that the short black bar on the right is actual gas recovery. The Annual Energy Outlook 2016 estimate is also triple the estimate by the U.S. Geological Survey.
One constraint that's seldom mentioned is geological: many sweet spots already have so many wells that it's impossible to drill more wells without draining gas from adjacent wells, known as "well saturation."

During 2014 "Polar Vortex" Wind Power Saved Customers $1 Billion Over Two Days
Can clean energy really save money compared to natural gas fuel costs?
In early January 2014, an event called the "Polar Vortex" plunged the Northeast and Great Lakes region into a bitter cold. During those two days, as the cost of natural gas on the spot market skyrocketed to meet the huge demand, wind energy saved customers a stunning $1 billion over two days.
A more recent study by Synapse Energy Economics reports that if the use of wind energy doubled in the PJM Interconnection beyond current requirements, 12 states would save customers $7 billion per year, in part because wind energy would displace the need to purchase fuel.

Where is the U.S. Today on Natural Gas Production?
The latest numbers from the EIA report that year over year, U.S. natural gas production—and oil production—decreased from 2015 to 2016. Whether this trend continues or is merely a temporary decline, is yet to be seen.
EIA
But it's certainly worth watching. Any decreases in production might signal higher prices down the road, calling into question all of the math utilities are using to justify their massive investments in gas pipelines and power plants.

Keep reading...
Show less
Grizzly bears venturing from dens in search of food this spring will face landscapes dominated by mines, roads, pipelines, clearcuts and ever-expanding towns and cities. As in years past, they'll also face the possibility of painful death at the hands of trophy hunters.
British Columbia's spring bear hunt just opened. Hunters are fanning across the province's mountains, grasslands, forests and coastline, armed with high-powered rifles and the desire to bag a grizzly bear, just to put its head on a wall or its pelt on the floor as a "trophy."
According to BC government statistics, they will kill about 300 of these majestic animals by the end of the spring and fall hunts. If this year follows previous patterns, about 30 percent of the slaughter will be females—the reproductive engines of grizzly populations.
Many grizzlies will likely be killed within BC's renowned provincial parks and protected areas, where trophy hunting is legal. Government records obtained by the David Suzuki Foundation in 2008 show trophy hunters have shot dozens of grizzly bears in places we would expect wildlife to be protected. We don't know the exact number of bears killed in BC's parks since 2008 because, in contravention of a BC's privacy commissioner's ruling, the government refuses to disclose recent spatial data showing where bears have been killed.
Much of this killing has occurred in northern wilderness parks, such as Height of the Rockies Provincial Park, Spatsizi Plateau Wilderness Park and Tatshenshini-Alsek Wilderness Park. Tatshenshini-Alsek Park forms a massive transboundary conservation zone with federal protected areas in the Yukon (Kluane National Park and Reserve) and Alaska (Glacier Bay National Park and Preserve and Wrangell-St. Elias National Park and Preserve). Trophy hunting is prohibited in most U.S. national parks and all Canadian national parks, but not in BC's provincial parks.
Wild animals don't heed political boundaries. Wide-ranging species like grizzly bears move in and out of neighboring jurisdictions. If a grizzly bear in Montana wanders a few kilometers north in search of a mate, it goes from being protected by the U.S. Endangered Species Act to being a possible trophy hunter target in BC.
But now, in response to intense pressure from the trophy hunting industry, the U.S. administration wants to strip grizzly bears of federal protection. President Trump also recently signed into law rules allowing trophy hunters to target grizzly bears around bait stations and from aircraft and to kill grizzly mothers and their cubs in Alaska's national wildlife refuges, where they've been protected from these unethical hunting practices.
Grizzly bears face an ominous political climate under the Trump administration, along with growing human threats across their North American range, from trophy hunting to habitat destruction, precipitous declines in food sources like salmon and whitebark pine nuts and climate change impacts.
In parts of Canada, mainly in sparsely populated areas of northern BC and the territories, grizzly bear numbers are stable. But in the Interior and southern BC and Alberta, grizzlies have been relegated to a ragged patchwork of small, isolated and highly threatened habitats—a vestige of the forests and grasslands they once dominated. The BC government has ended grizzly hunting among highly threatened sub-populations in the Interior and southern parts of the province and, in response to pressure from local First Nations, has promised to do the same in the Great Bear Rainforest. But the slaughter of BC's great bears continues everywhere else.
That this year's spring hunt coincides with a BC election could bring hope for grizzlies, possibly catalyzing the first change in government wildlife policy in close to two decades. The May 9 election will give BC residents the opportunity to ask candidates if they will end the grizzly hunt if elected. So far, the BC New Democratic Party and Green Party say they would ban grizzly trophy hunting (but allow grizzly hunting for food), whereas the BC Liberals continue to defend and promote the trophy hunt as "well-managed," despite scientific evidence to the contrary.
The fate of BC's grizzlies is too important to be a partisan issue. All politicians should support protection. Rough-and-tumble politics this election season might finally end BC's cruel and unsustainable grizzly bear trophy hunt. It's time to stop this grisly business.
Keep reading...
Show less