Stop the War Against the Colorado River

"Disarmament, with mutual honor and confidence, is a continuing imperative." —Dwight D. Eisenhower
As we head into 2015, the health of Colorado River is at extreme risk as is the economies of states in the lower part of the river in Arizona, Nevada and California that depend on flows in the river. Drought continues in the Southwest U.S., climate change is predicted to decrease river flows an additional 10 to 30 percent, and the level of Lake Mead—the reservoir that holds water for much of Nevada, Arizona and Southern California—continues to fall with no end in sight.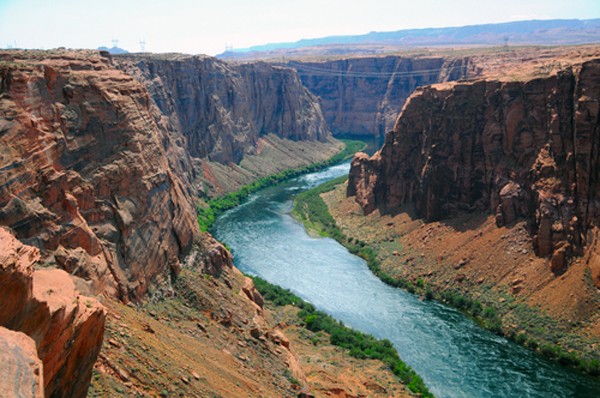 Photo credit: Shutterstock
2014 saw one important event in Colorado River management to address these issues—a historic agreement between water agencies in the three states noted above to dramatically escalate their conservation and water-sharing programs. But this won't be enough to stave off the continually falling levels of Lake Mead. Further, and even worse, the biggest threat to the Colorado River is coming from the upstream states—Utah, Colorado, Wyoming and New Mexico are proposing to take even more water out of the river.
Specifically, in recent water planning processes in the upstream states, Colorado proposed $20 billion worth of dam and reservoir projects, Utah proposed $15 billion, Wyoming proposed "10 dams in 10 years" and New Mexico endorsed a bill-dollar water project, most of which in all four states would take even more water out of the Colorado River before it gets to Lake Mead.
Statements made by water officials in the upstream states highlight this escalating water war. Colorado's lead water official recently said, "If anybody thought we were going to roll over and say, 'OK, California, you're in a really bad drought, you get to use the water that we were going to use,' they're mistaken." And the lead water official in Utah recently stated, "It's necessary to put dams on all rivers in Utah." Thus, the upstream states have declared war on the river and war against the downstream states.
We need multilateral disarmament on the Colorado River.
The health of the river including its endangered fish and vast recreational economy cannot support more diversions, nor can Lake Mead and the water supply needs of the downstream states. All told, the Colorado River has about 5 trillion gallons flowing in it in an average year. People—farms, cities, industries from Denver to Los Angeles and beyond—take out every single drop such that the river no longer reaches the Gulf of California. The upstream states may think they are legally entitled to more water out of the river, but common sense and environmental stewardship dictate otherwise.
The Colorado River is a patient in the emergency room. If the patient is bleeding out, you don't cut open a new artery to heal it, and that's what the proposed projects by the upstream states would do.
Just like how multilateral nuclear disarmament is the only sane and responsible policy to address our political wars, multilateral river disarmament is the only sane and responsible water policy for the states in the Colorado River basin in 2015.
Colorado, Utah, Wyoming and New Mexico need to put their water engineers on other types of work—instead of building more dams that destroy the river, a new water ethic that focuses on conservation and river health must move forward.
Gary Wockner, PhD, is executive director of the Save The Colorado River Campaign. Gary@SaveTheColorado.org
YOU MIGHT ALSO LIKE
Protecting the Galapagos Islands
8 Shocking Facts About Water Consumption
Katahdin Woods and Waters. National Parks Conservation Association.
Looks like you'll have to trust your map if you want to find the newly designated Katahdin Woods and Waters National Monument in Maine.
Gov. Paul LePage has refused to put up any official signs along the four main roads to the 87,500-acre preserve, which is on the list of 27 national monuments under Interior Sec. Ryan Zinke's review.
Keep reading...
Show less
Keep reading...
Show less
More than 58 percent of Swiss voters supported a measure to phase out nuclear power in favor of renewable energy.
The plan provides billions in subsidies for renewable energy, bans the construction of new nuclear plants and decommissions Switzerland's five aging reactors. There is no clear date when the plants will close.

Keep reading...
Show less
iStock
By Alex Kirby
An ambitious scientific expedition is due to start work on May 22 on Bolivia's second-highest mountain, Illimani. The researchers plan to drill three ice cores from the Illimani glacier, and to store two of them in Antarctica as the start of the world's first ice archive.
Keep reading...
Show less
CC-BY-SA-2.5 and GNU FDL
Although not on most people's radar here, New York is one step closer to becoming the first state to have genetically modified, non-sterile insects released outside without cages.

Keep reading...
Show less
Photo credit: Michael Fujiwara/YouTube
The viral video of a young girl snatched off a Richmond, British Columbia dock by a sea lion is another reminder that people shouldn't get too close to wild animals.
Port officials in Canada have sharply criticized the family for putting themselves at risk for feeding the large animal, especially since there are several signs in the area warning people not to do so.
Keep reading...
Show less
Bears Ears National Monument. Tim Peterson
An anti-public lands official in Utah said Interior Sec. Ryan Zinke has already made up his mind to repeal Bears Ears National Monument, a move experts say could be against the law.
Keep reading...
Show less
The Crop Trust
Flooding breached a supposedly impregnable Arctic "doomsday" vault containing a collection of seeds stored for an apocalypse scenario last week, after warmer-than-average temperatures caused a layer of permafrost to thaw.
Keep reading...
Show less