Stop Feeding the Beast and Start Feeding the People

Have you ever wondered how anyone makes any money on a $2 bag of nacho-cheese flavored corn chips or a .25¢ apple? Economists and policy wonks have been talking about how we privatize profits and socialize loss here in the U.S. for at least a decade. If your eyes glazed over when you read that, you're not alone. Unfortunately, we can't afford to ignore how this big picture idea affects each and every one of us. What does it mean for Main Street America?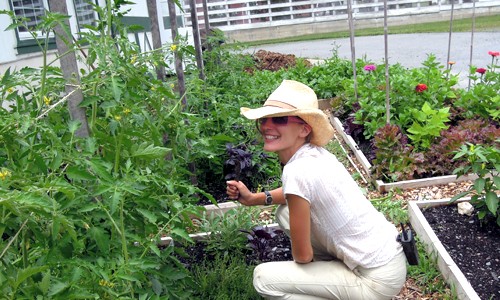 How we grow our nation's food is the perfect snapshot. Organic activists and locavores have also been talking about the same concept for just as long, if not longer: The hidden costs of cheap, industrial food.
We have a system of predatory agriculture in which corporations (aka Big Ag) pursue private gain relentlessly regardless of the social consequences. To bring it closer to home, social consequences can be defined as anything from polluting our water, land and air to impacting the health of our families to making the business of farming economically unsustainable.
Costs such as environmental degradation, declining health and economic insecurity aren't reflected in the price tag because they aren't included in corporate budgets. This is one big reason why there are plenty of profits to be made in toxic agricultural chemicals, junk food and GMOs. But these costs are a burden on us all. Like every parent tries to teach their children: Actions have consequences.
All the garbage that allows Big Ag to make obscene profits is left to our communities to clean up. Take, for example, the Chesapeake Bay and Gulf of Mexico dead zones. Although caused in part by the overuse of synthetic fertilizers and poorly-timed applications of raw manures and biosolids, the negative effects and the "bill" for clean-up go to the American public.
We are what we eat, and we are carrying the costs of corporate greed. In the private profit/social loss equation farmers lose, consumers lose and communities lose.
But life cycle or true cost accounting when it comes to our food system is a numbers nightmare. How do we weigh and measure things like erosion, chemical leaching and run-off, and loss of pollinators like the honeybee and other biodiversity? How do we make a solid connection between food production/consumption and the insidious health impacts of chronic, low-dose exposure to agricultural chemicals and our obesity epidemic?
In a global summit last December whose goal was to "investigate why our current economic system makes it more profitable to produce food in ways that damage the environment and human health, instead of rewarding methods of production that deliver benefits," world leaders recognized that not all agricultural systems are created equal. Farming that not only sustains status quo, but creates a healthier environment is possible. "Some farming methods have public benefit," wrote Dan Imhoff in his coverage of the summit.
Luckily, it doesn't take a global summit or a panel of researchers to figure out what to do: We need to support the organic farmers who are creating a public benefit. It isn't just about growing more, bigger, faster. It is about nourishing ourselves, our families, our communities and the farmers who choose to feed us rather than feeding the corporate beast.
Visit EcoWatch's FOOD page for more related news on this topic.

Katahdin Woods and Waters. National Parks Conservation Association.
Looks like you'll have to trust your map if you want to find the newly designated Katahdin Woods and Waters National Monument in Maine.
Gov. Paul LePage has refused to put up any official signs along the four main roads to the 87,500-acre preserve, which is on the list of 27 national monuments under Interior Sec. Ryan Zinke's review.
Keep reading...
Show less
Keep reading...
Show less
More than 58 percent of Swiss voters supported a measure to phase out nuclear power in favor of renewable energy.
The plan provides billions in subsidies for renewable energy, bans the construction of new nuclear plants and decommissions Switzerland's five aging reactors. There is no clear date when the plants will close.

Keep reading...
Show less
iStock
By Alex Kirby
An ambitious scientific expedition is due to start work on May 22 on Bolivia's second-highest mountain, Illimani. The researchers plan to drill three ice cores from the Illimani glacier, and to store two of them in Antarctica as the start of the world's first ice archive.
Keep reading...
Show less
CC-BY-SA-2.5 and GNU FDL
Although not on most people's radar here, New York is one step closer to becoming the first state to have genetically modified, non-sterile insects released outside without cages.

Keep reading...
Show less
Photo credit: Michael Fujiwara/YouTube
The viral video of a young girl snatched off a Richmond, British Columbia dock by a sea lion is another reminder that people shouldn't get too close to wild animals.
Port officials in Canada have sharply criticized the family for putting themselves at risk for feeding the large animal, especially since there are several signs in the area warning people not to do so.
Keep reading...
Show less
Bears Ears National Monument. Tim Peterson
An anti-public lands official in Utah said Interior Sec. Ryan Zinke has already made up his mind to repeal Bears Ears National Monument, a move experts say could be against the law.
Keep reading...
Show less
The Crop Trust
Flooding breached a supposedly impregnable Arctic "doomsday" vault containing a collection of seeds stored for an apocalypse scenario last week, after warmer-than-average temperatures caused a layer of permafrost to thaw.
Keep reading...
Show less