Stomach Contents of Seabirds Show that Marine Plastic Pollution Is out of Control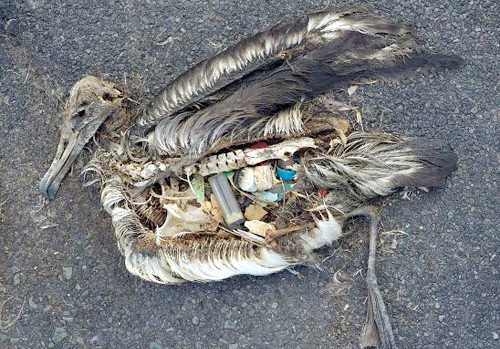 Plastic pollution off the northwest coast of North America is reaching the level of the notoriously polluted North Sea, according to a new study led by a researcher at the University of British Columbia (UBC).
The study, published online in the journal Marine Pollution Bulletin, examined stomach contents of beached northern fulmars on the coasts of British Columbia, Canada and the states of Washington and Oregon.
"Like the canary in the coal mine, northern fulmars are sentinels of plastic pollution in our oceans," says Stephanie Avery-Gomm, the study's lead author and a graduate student in UBC's Department of Zoology. "Their stomach content provides a 'snapshot' sample of plastic pollution from a large area of the northern Pacific Ocean."
Northern fulmars forage exclusively at sea and retain ingested plastics for a long period of time, making them ideal indicators for marine littering. Analysis of beached fulmars has been used to monitor plastic pollution in the North Sea since the 1980s. The latest findings, when compared to previous similar studies, indicate a substantial increase in plastic pollution over the past four decades.
The research group performed necropsies on 67 beached northern fulmars and found that 92.5 percent had plastics—such as twine, Styrofoam and candy wrappers—in their stomachs. An average of 36.8 pieces per bird were found. The average total weight of plastic was 0.385 grams per bird. One bird was found with 454 pieces of plastic in its stomach.
"The average adult northern fulmar weighs five pounds, or 2.25 kilograms," says Avery-Gomm. "While 0.385 grams in a bird may seem inconsequential to us, it's the equivalent of about five percent of their body mass. It would be like a human carrying 50 grams of plastic in our stomach—about the weight of 10 quarters."
"Despite the close proximity of the 'Great Pacific Garbage Patch,' an area of concentrated plastic pollution in the middle of the North Pacific gyre, plastic pollution has not been considered an issue of concern off our coast," says Avery-Gomm. "But we've found similar amounts and incident rates of plastic in beached northern fulmars here as those in the North Sea. This indicates it is an issue which warrants further study."
The researchers propose annual monitoring of trends in plastic pollution and the effectiveness of marine waste reduction strategies.
"Beached bird surveys are providing important clues about causes and patterns of sea bird mortality from oil spill impacts, fisheries by-catch and now plastic ingestion," says co-author Karen Barry with Bird Studies Canada, a not-for profit organization that helped facilitate the study.
Visit EcoWatch's BIODIVERSITY and WATER pages for more related news on these topics.
Katahdin Woods and Waters. National Parks Conservation Association.
Looks like you'll have to trust your map if you want to find the newly designated Katahdin Woods and Waters National Monument in Maine.
Gov. Paul LePage has refused to put up any official signs along the four main roads to the 87,500-acre preserve, which is on the list of 27 national monuments under Interior Sec. Ryan Zinke's review.
Keep reading...
Show less
Keep reading...
Show less
More than 58 percent of Swiss voters supported a measure to phase out nuclear power in favor of renewable energy.
The plan provides billions in subsidies for renewable energy, bans the construction of new nuclear plants and decommissions Switzerland's five aging reactors. There is no clear date when the plants will close.

Keep reading...
Show less
iStock
By Alex Kirby
An ambitious scientific expedition is due to start work on May 22 on Bolivia's second-highest mountain, Illimani. The researchers plan to drill three ice cores from the Illimani glacier, and to store two of them in Antarctica as the start of the world's first ice archive.
Keep reading...
Show less
CC-BY-SA-2.5 and GNU FDL
Although not on most people's radar here, New York is one step closer to becoming the first state to have genetically modified, non-sterile insects released outside without cages.

Keep reading...
Show less
Photo credit: Michael Fujiwara/YouTube
The viral video of a young girl snatched off a Richmond, British Columbia dock by a sea lion is another reminder that people shouldn't get too close to wild animals.
Port officials in Canada have sharply criticized the family for putting themselves at risk for feeding the large animal, especially since there are several signs in the area warning people not to do so.
Keep reading...
Show less
Bears Ears National Monument. Tim Peterson
An anti-public lands official in Utah said Interior Sec. Ryan Zinke has already made up his mind to repeal Bears Ears National Monument, a move experts say could be against the law.
Keep reading...
Show less
The Crop Trust
Flooding breached a supposedly impregnable Arctic "doomsday" vault containing a collection of seeds stored for an apocalypse scenario last week, after warmer-than-average temperatures caused a layer of permafrost to thaw.
Keep reading...
Show less