States Turn Blind Eye as Fracking Industry Routinely Violates Laws
By Amy Mall
A scathing new investigation from EnergyWire confirms the worst fears of citizens across the country who live near fracking sites: state regulators are not doing everything they can to prevent oil and gas companies from repeatedly violating the law. EnergyWire spent months analyzing state records.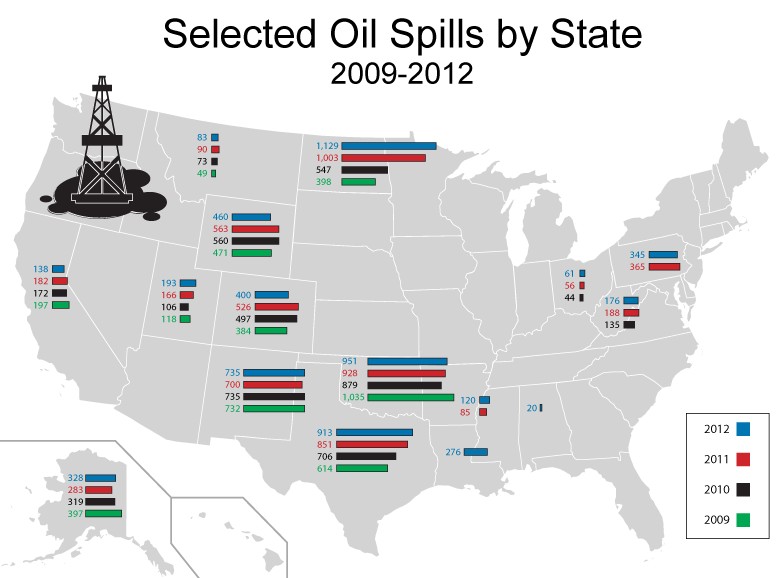 While the extensive investigation uncovers numerous violations, below are some of the most appalling findings:
Texas: In the last fiscal year there were 55,000 violations. If that weren't shocking enough, the state only sought enforcement for two percent of them.
Pennsylvania: In 2012, state regulators levied fines for only 13 percent of violations.
Wyoming: In 2012 there were 204 recorded oil and gas spills but only ten producers were fined. EnergyWire highlights a 2012 blow-out, where chemicals were spewed into the air near homes for three days with reported impacts to human health and the environment, but the operator was not fined one penny. One organic farmer reported that the air was so polluted that she couldn't see the barn from 200 feet away, there was a petroleum sheen in the water in their stock tank, and one of her daughters had nosebleeds for 29 straight days.
New Mexico: EnergyWire reports that regulators haven't issued one fine since 2009, when a judge ruled that the state doesn't have the authority to do so.
As EnergyWire summarized: many mishaps, few fines.
Local communities across the country are rightfully working to protect their citizens with rules, moratoria and bans that go beyond state standards. Industry fights these efforts with money and litigation, but it's no surprise that local governments want to take action when oil and gas companies are repeat offenders. Pro-industry regulatory systems need to be reformed, with stiff penalties to encourage meaningful changes in business practices. We also need stronger federal laws and enforcement, not only change at the state level.
Visit EcoWatch's FRACKING page for more related news on this topic.
——–

On the eve of World Turtle Day, the world's largest travel website—TripAdvisor—removed the sale of tickets to the Cayman Turtle Centre, where more than 5,000 endangered sea turtles live in horrific conditions.
Keep reading...
Show less
The Dakota Access Pipeline under construction. Photo credit: Flickr
The Dakota Access Pipeline (DAPL) system leaked more than 100 gallons of oil in two separate incidents in North Dakota in March.

This is the $3.8 billion project's third known leak. The controversial pipeline, which is not yet finished and not yet operational, also spilled 84 gallons of oil in South Dakota on April 4.

Keep reading...
Show less
Robin Loznak
After numerous legal efforts trying to get a federal district court in Oregon to throw out a climate lawsuit brought by 21 young people, a defeated National Association of Manufacturers (NAM) filed a motion Monday requesting the court's permission to withdraw from the litigation.
Keep reading...
Show less
Greenland ice sheet melt in action. Sara Penrhyn-Jones
The Department of Interior edited a news release on a study coauthored by government scientists to remove a mention of climate change, the Washington Post reported.
Keep reading...
Show less
Hurricane Sandy floods a street in Lindenhurst, Long Island. Jason DeCrow/CC BY SA/2.5
By Robert McSweeney
Billions of people across the world could see climates they've never experienced before by the middle of the century, a new study said.
Keep reading...
Show less
Buyers look through frozen tuna on sale at the fish market in Tokyo's Tsukiji district. Rob Gihooly
By Tony Long
Japan, one of the world's largest fish importers, has joined 47 other governments in ratifying the Port State Measures Agreement (PSMA)—an international treaty designed to stop illegal, unreported and unregulated (IUU) fishing.
Keep reading...
Show less
Katahdin Woods and Waters. National Parks Conservation Association.
Looks like you'll have to trust your map if you want to find the newly designated Katahdin Woods and Waters National Monument in Maine.
Gov. Paul LePage has refused to put up any official signs along the four main roads to the 87,500-acre preserve, which is on the list of 27 national monuments under Interior Sec. Ryan Zinke's review.
Keep reading...
Show less
Keep reading...
Show less


Get EcoWatch in your inbox