Starting Small Pays Big Dividends in the Urban Green Revolution

"Make no little plans. They have no magic to stir men's blood and probably will not themselves be realized." That was American architect Daniel Burnham's city-planning advice at the turn of the 20th century.
More than 100 years later, he couldn't be more wrong. Big, top-down building projects no longer stir the imaginations of North American city dwellers. Now people are excited about little changes to our urban fabric.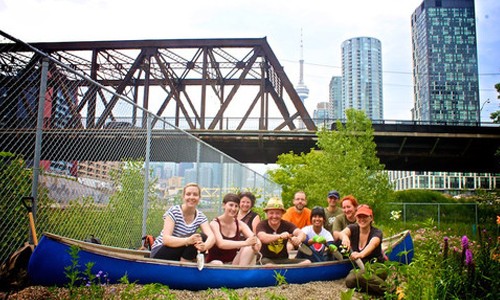 Small, creative projects that make cities more livable are popping up in unexpected places: alleys, front yards, vacant lots and parking spaces. Whether its yarn-bombed street furniture, roadway parking turned to mini-parkettes or guerrilla gardens in overlooked spaces, these often-unauthorized interventions are helping to transform properties and neighborhoods, one light, quick, cheap tweak at a time.
Last spring, residents of Toronto's Palmerston Square took note when an old chalkboard suddenly appeared on a tall, rusted schoolyard fence that runs along their quiet residential street—the first salvo from two participants in the David Suzuki Foundation's Homegrown National Park Project.
Passersby were encouraged to write their desires for green improvements. Neighbors began meeting. One family filled a perpetual pothole with flowers. Others put benches in their front yards to begin "parkifying" the block. Graffiti knitters yarn-bombed the chain-link fence. An artist and local kids created a DIY outdoor version of fridge magnet poetry with plastic pipes cut in half, painted with words and hung on the fence with simple S-hooks. Two garden planters were dug into spots where trees had perished.
This spring, residents successfully funded a project to replace the entire stretch of asphalt with a large pollinator-friendly garden. There's even talk of removing the fence. The ripple effect: People from nearby streets have started organizing their own interventions, like a pollinator garden at the neighborhood daycare and moss graffiti in an alleyway. As resident Anjum Chagpar said, "Inspiration breeds inspiration. Simple, fun interventions are contagious."
Replacing pavement with a pollinator garden on one small street won't solve the vast issues our communities face, but little spaces perhaps hold the greatest potential. To make our cities truly green, we must bring nature to the oft-neglected bits between parks and existing green areas. Streets and sidewalks alone account for about 80 percent of a city's public space. Private spaces like yards, rooftops and balconies cover more than half the urban landscape. Stretching our visions of urban green space to include these allows us to reimagine the city as a vibrant green mosaic.
Squeezing more nature into cities requires creativity. It also needs buy-in from homeowners, property managers and experts from fields like landscape architecture and urban planning.
That's why the David Suzuki Foundation and Workshop Architecture launched the Homegrown Design Challenge, an open competition that provides an opportunity to present ideas for low-cost, easy-to-implement landscape design solutions for front yards, backyards, balconies, schoolyards and laneways that provide environmental benefits, like capturing storm-water during severe weather events and providing habitat for birds, bees and butterflies.
"While we expect interest from architects, landscape architects, designers and planners, the competition is open to anyone with innovative green design ideas," said Helena Grdadolnik, Workshop Architecture competition organizer.
Daniel Burnham lived in a time when telegrams were cutting-edge. Today good ideas can spread from community to community across the globe almost instantaneously.
So it's no surprise that a growing number of design competitions and events are celebrating urban interventions, from PARK(ing) Day, which highlights the transformation of parking spots into temporary public spaces in 35 countries, to 100-in-1 Day, which will be held this year on June 7 in Toronto, Halifax and Vancouver to celebrate citizen-led initiatives that "raise awareness of urban and social issues, inspire ideas, and motivate leaders to consider new approaches to old problems."
If a project requires start-up dollars, crowd-funding websites help organizers raise money in mere days or weeks. Sites like Projexity.com enable groups and individuals to fund, design and build projects in their neighborhoods.
What can we take from this revolutionary wave of small, creative interventions? That residents can play an active, hands-on role in transforming the places they live, work, play and share. Making your community truly greener is a tall order. But starting small can pay big dividends.
——–
YOU ALSO MIGHT LIKE
Ranking the 10 Greenest Mid-Size Cities in the U.S.
Doing Nothing Isn't an Option: How to Avoid the Worst of Climate Change
5 'Green' Products That Aren't As Eco-Friendly As You Thought
——–
Katahdin Woods and Waters. National Parks Conservation Association.
Looks like you'll have to trust your map if you want to find the newly designated Katahdin Woods and Waters National Monument in Maine.
Gov. Paul LePage has refused to put up any official signs along the four main roads to the 87,500-acre preserve, which is on the list of 27 national monuments under Interior Sec. Ryan Zinke's review.
Keep reading...
Show less
Keep reading...
Show less
More than 58 percent of Swiss voters supported a measure to phase out nuclear power in favor of renewable energy.
The plan provides billions in subsidies for renewable energy, bans the construction of new nuclear plants and decommissions Switzerland's five aging reactors. There is no clear date when the plants will close.

Keep reading...
Show less
iStock
By Alex Kirby
An ambitious scientific expedition is due to start work on May 22 on Bolivia's second-highest mountain, Illimani. The researchers plan to drill three ice cores from the Illimani glacier, and to store two of them in Antarctica as the start of the world's first ice archive.
Keep reading...
Show less
CC-BY-SA-2.5 and GNU FDL
Although not on most people's radar here, New York is one step closer to becoming the first state to have genetically modified, non-sterile insects released outside without cages.

Keep reading...
Show less
Photo credit: Michael Fujiwara/YouTube
The viral video of a young girl snatched off a Richmond, British Columbia dock by a sea lion is another reminder that people shouldn't get too close to wild animals.
Port officials in Canada have sharply criticized the family for putting themselves at risk for feeding the large animal, especially since there are several signs in the area warning people not to do so.
Keep reading...
Show less
Bears Ears National Monument. Tim Peterson
An anti-public lands official in Utah said Interior Sec. Ryan Zinke has already made up his mind to repeal Bears Ears National Monument, a move experts say could be against the law.
Keep reading...
Show less
The Crop Trust
Flooding breached a supposedly impregnable Arctic "doomsday" vault containing a collection of seeds stored for an apocalypse scenario last week, after warmer-than-average temperatures caused a layer of permafrost to thaw.
Keep reading...
Show less