Staggering Rise in Fracking Earthquakes Triggers Kansas to Take Action
It seems unlikely that Kansas, known as one of the most conservative states in the U.S. and home to fossil fuel barons the Koch Brothers, would take action against the oil and gas industries. But in the face of a new wave of earthquakes attributed to the underground injection of fracking wastewater, its industry regulating body, the Kansas Corporation Commission (KCC), ordered a reduction of wastewater injection in two counties abutting Oklahoma, finding that increased earthquake activity correlated with increasing volumes of injected fracking water.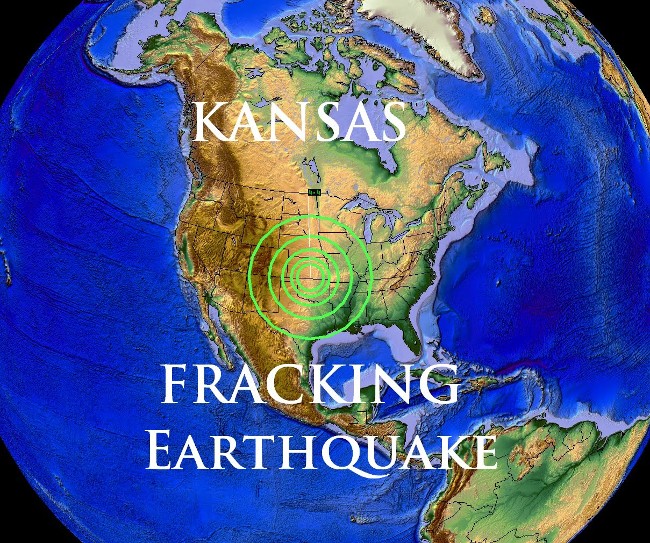 "Because individual earthquakes cannot be linked to individual injection wells, this order reduces injection volumes in areas experiencing increased seismic activity," said its official report. It added, "The commission finds increased seismic activity constitutes an immediate danger to the public health, safety and welfare. The commission finds damage may result if immediate action is not taken."
The commission's report pointed to findings by the U.S. Geological Survey (USGS) that the number of earthquakes in Kansas has risen over the past several years.
"USGS data shows from 1981 through 2010, Kansas experienced 30 recorded earthquakes," it said. "In 2013, there were four recorded earthquakes in Kansas. The number of recorded earthquakes reported in Kansas during 2014 increased to 127. From January 1, 2015, to March 16, 2015, Kansas has experienced 51 recorded earthquakes. The majority of the earthquakes have occurred in Harper and Sumner Counties. The increased number of recorded earthquakes in Kansas coincides with an increase in the number of injection wells and the amounts of injected saltwater in Harper and Sumner Counties."
As a result of this jump in earthquake activity, Kansas Governor Sam Brownback convened a task force last year which delivered its Seismic Action Plan in September. The commission issued its order a few weeks ago. While it doesn't ban injection wells, it limits them, imposing fines on companies that don't comply. It will no longer issue permits for certain types of high-volume injection wells in the two impacted counties.
The Tulsa World reports that the Kansas Corporation Commission's new order resulted from a complaint filed by a citizen, Frank Smith, who lives in the affected area. He said that earthquakes have damaged homes, businesses and a historic courthouse.
"Prior to the ruling, we had zero protection here in Kansas, and Oklahoma at least gave a bit more than lip service to looking out for the welfare of its residents," said Smith."The KCC has now taken a much more proactive stance than I feel Oklahoma has done."
In Kansas' heavily fracked neighbor to the west, regulators and scientists have been under pressure from its oil and gas industry to downplay the link between wastewater injection and its dramatic increase in earthquake activity.
A trove of state government emails obtained by media in response to a public records request revealed that Oklahoma state seismologist Austin Holland had been called into a meeting with Oklahoma City-based oil and gas tycoon Harold Hamm where Hamm expressed his "concern" that earthquakes were being linked to the fracking process. Holland called that meeting "intimidating."
The Tulsa World reported that, when asked at a recent town hall meeting whether Oklahoma is learning from other states how to stop man-made earthquakes, Holland nodded and said  "Earthquakes don't stop at state lines."
Apparently, aggressive action does. The paper said that, in contrast to Kansas, whose report and order are posted online, Oklahoma Governor Mary Fallin has convened an earthquake committee that is "holding meetings that are closed to the public. The committee does not plan to issue any reports or recommendations."
YOU MIGHT ALSO LIKE
Did Fracking Cause Oklahoma to Have 3 Times as Many Earthquakes as California in 2014?
Oil and Gas Billionaire Pressured Oklahoma Scientist to Ignore Fracking-Earthquake Link
States Fail to Properly Manage Fracking Waste, Says Groundbreaking Report
The Dakota Access Pipeline under construction. Photo credit: Flickr
The Dakota Access Pipeline (DAPL) system leaked more than 100 gallons of oil in two separate incidents in North Dakota in March.
This is the $3.8 billion project's third known leak. The controversial pipeline, which is not yet finished and not yet operational, also spilled 84 gallons of oil in South Dakota on April 4.
Keep reading...
Show less
Keep reading...
Show less
On the eve of World Turtle Day, the world's largest travel website—TripAdvisor—removed the sale of tickets to the Cayman Turtle Centre, where more than 5,000 endangered sea turtles live in horrific conditions.
Keep reading...
Show less
Robin Loznak
After numerous legal efforts trying to get a federal district court in Oregon to throw out a climate lawsuit brought by 21 young people, a defeated National Association of Manufacturers (NAM) filed a motion Monday requesting the court's permission to withdraw from the litigation.
Keep reading...
Show less
Greenland ice sheet melt in action. Sara Penrhyn-Jones
The Department of Interior edited a news release on a study coauthored by government scientists to remove a mention of climate change, the Washington Post reported.
Keep reading...
Show less
Hurricane Sandy floods a street in Lindenhurst, Long Island. Jason DeCrow/CC BY SA/2.5
By Robert McSweeney
Billions of people across the world could see climates they've never experienced before by the middle of the century, a new study said.
Keep reading...
Show less
Buyers look through frozen tuna on sale at the fish market in Tokyo's Tsukiji district. Rob Gihooly
By Tony Long
Japan, one of the world's largest fish importers, has joined 47 other governments in ratifying the Port State Measures Agreement (PSMA)—an international treaty designed to stop illegal, unreported and unregulated (IUU) fishing.
Keep reading...
Show less
Katahdin Woods and Waters. National Parks Conservation Association.
Looks like you'll have to trust your map if you want to find the newly designated Katahdin Woods and Waters National Monument in Maine.
Gov. Paul LePage has refused to put up any official signs along the four main roads to the 87,500-acre preserve, which is on the list of 27 national monuments under Interior Sec. Ryan Zinke's review.
Keep reading...
Show less