Solar Is Creating Jobs Nearly 20 Times Faster Than Overall U.S. Economy
All those senators currently debating in Washington D.C., calling the Keystone XL pipeline approval bill an urgent "jobs creation bill," are looking for jobs in all the wrong places.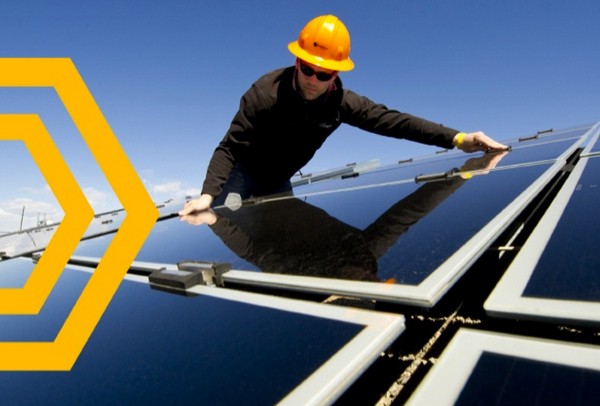 They should be perusing the National Solar Jobs Census 2014, the fifth annual such report compiled by the nonprofit Solar Foundation. What they'd find there puts the pipeline project to shame. Despite attacks on clean, renewable energy around the country, creating uncertainty in the sector,  job creation grew dramatically. It outperformed the slowly improving U.S. economy, creating jobs at nearly 20 times the rate of the overall economy.
Last year, jobs in solar increased by 21.8 percent, adding up to 31,000 new jobs in 2014 and bringing the total number of solar-related jobs in the U.S. to 173,800. That's an increase of 86 percent since 2010. The vast majority—approximately 157,500— work 100 percent on solar activities.
"The solar industry has once again proven to be a powerful engine of economic growth and job creation," said The Solar Foundation's president and executive director Andrea Luecke. "Our Census findings show that one out of every 78 new jobs created in the U.S. over the past 12 months was created by the solar industry—nearly 1.3 percent of all jobs. It also shows for the fifth consecutive year, the solar industry is attracting highly skilled, well-paid professionals. That growth is putting people back to work and strengthening our nation's economy."
And despite attacks in states like Ohio, which froze its renewable energy standards last June and is talking about permanently eliminating them, The Solar Foundation projects that growth will continue. Its employer survey, which collected data from more than 7,600 U.S. businesses, found that the next year solar is likely to see a similar increase of almost 21 percent, bringing the total number of workers in the industry to 210,060.
"Demand for clean renewable power is growing," said Robert Reich, former U.S. Secretary of Labor and Professor of Public Policy at the University of California at Berkeley. "Solar exists at the critical intersection between energy, the economy and the environment. As the nation's fastest growing energy source, solar is adding thousands of new jobs each year. Its growth will almost surely continue to be robust in coming years."
The survey also found that installation remains the largest source of domestic solar employment growth, more than doubling since 2010 and that those workers are more and more diverse, with more African-Americans, Hispanics, women and veterans than in the 2013 report. Solar installation jobs have already blown past employment in the shrinking coal industry, which is now down to only 93,185 jobs. And while the oil and gas pipeline construction and extraction added 19,217 jobs in 2014, the solar installation sector created almost 50 percent more jobs.
Those jobs are that can't be outsourced, won't disappear in two years like the Keystone XL construction jobs and don't come with negative health impacts or harmful impacts on the environment.
"The tremendous growth in the solar industry last year is further evidence that we can clean our air and cut climate pollution while also growing the economy," said former New York City Mayor Michael Bloomberg. "The more data we have about the renewable energy industry, the better positioned policymakers and investors will be to make informed decisions. The Solar Jobs Census has the potential to help make that possible."
And with jobs in the wind sector increasing  rapidly as well, supporting fossil fuel industries at the expense of renewables seems like bad economic as well as bad environmental policy.
"Americans want greater clean energy deployment, and conventional electricity generation is among the largest sources of air and water pollution in the U.S.," said Lyndon Rive, CEO of Solar City, the largest solar employer in the U.S. "As the Census underscores, solar is providing a tremendous boost to our economy while meeting public demand for choice, competition and cleaner, more affordable energy."
YOU MIGHT ALSO LIKE
Top 10 States Leading the U.S. in Solar Energy Growth
25 Top Companies Investing in Solar
The U.S. Environmental Protection Agency (EPA) budget will still be slashed by nearly a third, from $8.2 billion to $5.65 billion, under President Trump's fiscal 2018 budget proposal released Tuesday.
The EPA, which has long been targeted by the Trump administration, is the hardest hit federal agency under the new plan. Opponents say it "endangers Americans" and cripples an institution charged with protecting their health and safety.
Keep reading...
Show less
Frustrated by non-experts taking to the internet to dispute the science behind human-made climate change, North Carolina meteorologist Greg Fishel issued a challenge to climate deniers, urging them to "put up or shut up" and "submit your work the way real scientists do, and see where it takes you."
Keep reading...
Show less
The Dakota Access Pipeline under construction. Photo credit: Flickr
The Dakota Access Pipeline (DAPL) system leaked more than 100 gallons of oil in two separate incidents in North Dakota in March.
This is the $3.8 billion project's third known leak. The controversial pipeline, which is not yet finished and not yet operational, also spilled 84 gallons of oil in South Dakota on April 4.
Keep reading...
Show less
The Center for Biological Diversity sued the Trump administration Tuesday to uncover public records showing that federal employees have been censored from using words or phrases related to climate change in formal agency communications.
Keep reading...
Show less
Keep reading...
Show less
On the eve of World Turtle Day, the world's largest travel website—TripAdvisor—removed the sale of tickets to the Cayman Turtle Centre, where more than 5,000 endangered sea turtles live in horrific conditions.
Keep reading...
Show less
Robin Loznak
After numerous legal efforts trying to get a federal district court in Oregon to throw out a climate lawsuit brought by 21 young people, a defeated National Association of Manufacturers (NAM) filed a motion Monday requesting the court's permission to withdraw from the litigation.
Keep reading...
Show less
Greenland ice sheet melt in action. Sara Penrhyn-Jones
The Department of Interior edited a news release on a study coauthored by government scientists to remove a mention of climate change, the Washington Post reported.
Keep reading...
Show less


Get EcoWatch in your inbox