Solar Cooking Goes Mainstream
During this week's edition of the hit TV reality show Top Chef, the contestants were asked to cook with a technology they'd never used before: the sun. Deep in the Palm Springs desert, the chefs cooked with one of two industry-leading solar stove designs manufactured in the U.S., the SolSource and the GoSun. Of the SolSource, one chef called it "the coolest stove I've ever used," and cooking with the latter's innovative vacuum tube design was described by another as "light saber action."
Chef Jose Andres was the guest judge for this since he's so well known as a booster of solar cooking for the energy-impoverished—he brought solar stoves to Haiti after the earthquake to lend some relief to people whose normal cooking fuel options were rendered unavailable.
And lack of access to such clean cooking options is a huge issue globally: 3 billion people cook their daily meals over smoky biomass fires every day causing more than 4 million annual mortalities, mostly women and children, from smoke inhalation related diseases. Not only is it a human health issue, but forests and the climate suffer: most households that rely on smoky stoves burn 2 tons of biomass per year, about 730 million tons globally, which releases about a billion tons of carbon dioxide. The resulting particulate matter also traps heat in the atmosphere.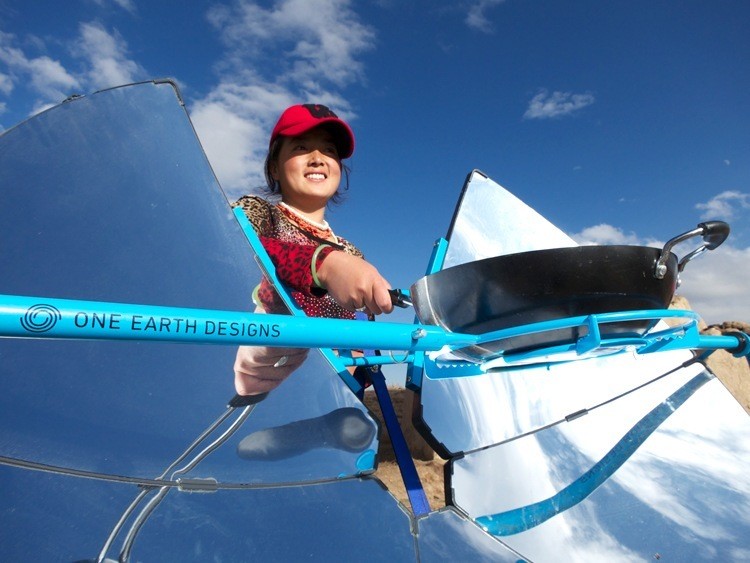 While there's a massive global underway led by the Global Alliance for Clean Cookstoves to get less smoky and biomass-intense options into the hands of people who need them, emission- and fuel-free solar stoves are routinely ignored by such efforts in favor of designs that still emit smoke. But events like this one just might boost its acceptance among NGOs and eco-conscious backyard cooks in the U.S. alike.
Both of the stove designs used by the show have great applicability in the developing world, especially in those countries which enjoy lots of sun. GoSun in particular is bullish about supplying cooks all over the world with smoke-free options, as I reported in The Guardian this fall.
Despite one contestant blowing up a GoSun because she added water to the vacuum tube, the stoves worked great and the contestants were overall pleased with the results despite having never used them, saying things like "The stove worked great," and "I thought it was awesome and would love to do it again."
Gourmet dishes of couscous, halibut, steak, cornbread and more were prepared in just 30 minutes with sunlight, and the winner was thrilled with his first experience cooking with the sun. But he wasn't the only winner: solar cooking got a big boost in visibility, and Chef Andres's humanitarian organization World Central Kitchen received a $10,000 donation on behalf of the winner.
YOU MIGHT ALSO LIKE
Starbucks, Wake Up and Smell the Coffee: Palm Oil Is Destroying Our Planet
Europe's Dirty Little Secret: Moroccan Slaves and a 'Sea of Plastic'
Aziz Ansari Blasts Factory Farming for Cruelty to Chickens
Katahdin Woods and Waters. National Parks Conservation Association.
Looks like you'll have to trust your map if you want to find the newly designated Katahdin Woods and Waters National Monument in Maine.
Gov. Paul LePage has refused to put up any official signs along the four main roads to the 87,500-acre preserve, which is on the list of 27 national monuments under Interior Sec. Ryan Zinke's review.
Keep reading...
Show less
Keep reading...
Show less
More than 58 percent of Swiss voters supported a measure to phase out nuclear power in favor of renewable energy.
The plan provides billions in subsidies for renewable energy, bans the construction of new nuclear plants and decommissions Switzerland's five aging reactors. There is no clear date when the plants will close.

Keep reading...
Show less
iStock
By Alex Kirby
An ambitious scientific expedition is due to start work on May 22 on Bolivia's second-highest mountain, Illimani. The researchers plan to drill three ice cores from the Illimani glacier, and to store two of them in Antarctica as the start of the world's first ice archive.
Keep reading...
Show less
CC-BY-SA-2.5 and GNU FDL
Although not on most people's radar here, New York is one step closer to becoming the first state to have genetically modified, non-sterile insects released outside without cages.

Keep reading...
Show less
Photo credit: Michael Fujiwara/YouTube
The viral video of a young girl snatched off a Richmond, British Columbia dock by a sea lion is another reminder that people shouldn't get too close to wild animals.
Port officials in Canada have sharply criticized the family for putting themselves at risk for feeding the large animal, especially since there are several signs in the area warning people not to do so.
Keep reading...
Show less
Bears Ears National Monument. Tim Peterson
An anti-public lands official in Utah said Interior Sec. Ryan Zinke has already made up his mind to repeal Bears Ears National Monument, a move experts say could be against the law.
Keep reading...
Show less
The Crop Trust
Flooding breached a supposedly impregnable Arctic "doomsday" vault containing a collection of seeds stored for an apocalypse scenario last week, after warmer-than-average temperatures caused a layer of permafrost to thaw.
Keep reading...
Show less