Satellite Map Shows Fracking Flares in Texas and North Dakota Equal to Greenhouse Emissions From 1.5 Million Cars
Earthworks, a nonprofit which works to protect communities from the impacts of mineral and fossil fuel extraction and promote sustainable energy development, has released a new report showing that the flaring of natural gas waste in just two shale plays, or exploration areas, is the equivalent of an additional 1.5 million cars on the road. The flares occur when natural gas is burned rather than captured.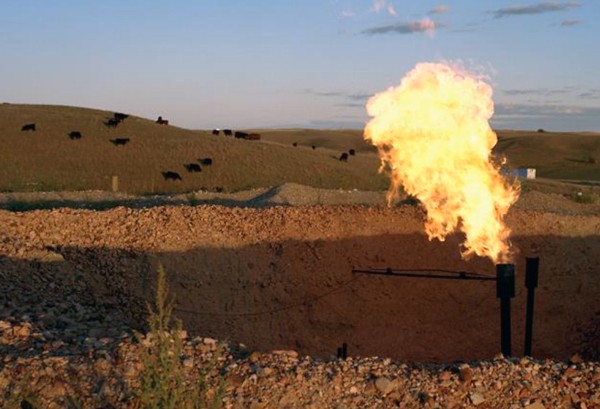 The report, "Up in Flames: U.S. Shale Oil Boom Comes at Expense of Wasted Natural Gas, Increased Carbon Dioxide," accompanied by an interactive map by SkyTruth, a group that provides aerial evidence of environmental impacts. This map allows people to track flaring activity in the U.S. and around the world based on nightly infrared data collected by a National Oceanic and Atmospheric Administration (NOAA) satellite.
SkyTruth's chief technology officer Paul Woods pointed to the potential impact of this map:
This new tool makes the scale and frequency of flaring more comprehensible and less abstract. Hopefully, enabling everyone to see where, when, and how often operators are flaring will create public pressure on government and industry to reduce the waste of this hard-won natural resource.
The report specifically looks at waste created in the North Dakota Bakken and Texas Eagle Ford development areas and how lax regulations and oversight enable this waste, a byproduct of fracking.
Among the study's findings:
130 billion cubic feet of natural gas burned in the Bakken and Eagle Ford Shale has produced the equivalent of 1.5 million cars' emissions of carbon dioxide.
$854 million in natural gas has been burned as waste in the Bakken shale play since 2010.
$854 million would pay for 5 kilowatt photovoltaic solar panel installations for almost every household in Fargo, North Dakota's largest city.
North Dakota neither tracks how much companies pay in taxes on flared gas, nor independently tracks the volume of flared gas.
Texas does not require producers to pay taxes on flared gas.
The study's author Dusty Horwitt said:
Burning natural gas as waste is costing taxpayers and the climate. States should enact tough new standards to prevent flaring, including requiring drillers to pay taxpayers the full value of any gas they flare.
Environmental watchdogs in North Dakota and Texas commented on the study's findings.
"This report shows that North Dakota regulators simply aren't doing their job," said Don Morrison, executive director of nonprofit grassroots group Dakota Resource Council. "Instead they're putting private profits ahead of the public interest. This isn't our first oil boom, we know how to do it better."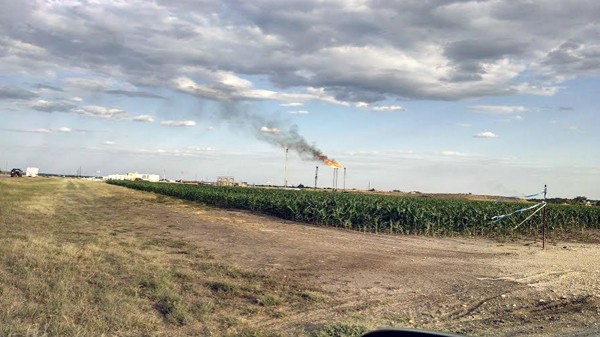 "The Railroad Commission is statutorily required 'to prevent waste of Texas's natural resources'," said Earthworks Texas organizer Sharon Wilson. "I don't see how the Railroad Commission isn't breaking the law by allowing drillers to waste natural gas by flaring it off rather than capturing it."
But Earthworks sees the wasteful burning of drilling byproducts as one part of the larger problem of fossil fuel exploration and extraction.
Earthworks energy program director Bruce Baizel said:
Flaring is just one of many problems associated with unconventional oil and gas development. Unfortunately, North Dakota and Texas's inadequate oversight of flaring is representative of state oversight of fracking across the country. The ultimate solution to these problems is to transition away from fossil fuels entirely and towards renewables like wind and solar.
YOU ALSO MIGHT LIKE
3 Fracking Facts That Gov. Perry Forgot to Mention
How Fracking Fuels Prostitution and Organized Crime in Bakken Shale Region
Katahdin Woods and Waters. National Parks Conservation Association.
Looks like you'll have to trust your map if you want to find the newly designated Katahdin Woods and Waters National Monument in Maine.
Gov. Paul LePage has refused to put up any official signs along the four main roads to the 87,500-acre preserve, which is on the list of 27 national monuments under Interior Sec. Ryan Zinke's review.
Keep reading...
Show less
Keep reading...
Show less
More than 58 percent of Swiss voters supported a measure to phase out nuclear power in favor of renewable energy.
The plan provides billions in subsidies for renewable energy, bans the construction of new nuclear plants and decommissions Switzerland's five aging reactors. There is no clear date when the plants will close.

Keep reading...
Show less
iStock
By Alex Kirby
An ambitious scientific expedition is due to start work on May 22 on Bolivia's second-highest mountain, Illimani. The researchers plan to drill three ice cores from the Illimani glacier, and to store two of them in Antarctica as the start of the world's first ice archive.
Keep reading...
Show less
CC-BY-SA-2.5 and GNU FDL
Although not on most people's radar here, New York is one step closer to becoming the first state to have genetically modified, non-sterile insects released outside without cages.

Keep reading...
Show less
Photo credit: Michael Fujiwara/YouTube
The viral video of a young girl snatched off a Richmond, British Columbia dock by a sea lion is another reminder that people shouldn't get too close to wild animals.
Port officials in Canada have sharply criticized the family for putting themselves at risk for feeding the large animal, especially since there are several signs in the area warning people not to do so.
Keep reading...
Show less
Bears Ears National Monument. Tim Peterson
An anti-public lands official in Utah said Interior Sec. Ryan Zinke has already made up his mind to repeal Bears Ears National Monument, a move experts say could be against the law.
Keep reading...
Show less
The Crop Trust
Flooding breached a supposedly impregnable Arctic "doomsday" vault containing a collection of seeds stored for an apocalypse scenario last week, after warmer-than-average temperatures caused a layer of permafrost to thaw.
Keep reading...
Show less