Results of Glyphosate Pee Test Are in 'And It's Not Good News'
Last month, Members of the European Parliament (MEPs) volunteered to take a urine test to see if glyphosate—the cancer-linked weedkiller—is in their system. Forty-eight MEPs from 13 different European Union countries participated in the test, and now the results are in.
According to ELISA test results from the accredited Biocheck Laboratory in Germany: "All participants excreted glyphosate by urine."
The experiment was spearheaded by the Green Party in the European Parliament, which wants a ban on the controversial herbicide in the European Union.
The group noted in a press release of their so-called "#MEPee" test:
On average, the MEPs had 1.7 micrograms/liter of glyphosate in their urine, 17 times higher than the European drinking water norm (0.1 microgram/litre). This means that everyone we tested was way above the limit for residues of pesticides in drinking water.
Of the 48 participants, EU-parliament members from Belgium, France and Germany made up more than 80 percent of the whole investigated participants. The test showed that EU-parliament members from Lithuania, Spain and Croatia had the highest concentrations of glyphosate. The lowest concentrations were in the urines of participants of from Italy, Finland and Ireland.
"Nevertheless all investigated EU-parliament members were glyphosate contaminated. This will show glyphosate is also in the food chain of members of the EU-parliament," the report states.
Glyphosate, which the World Health Organization's International Agency for Research on Cancer (IARC) declared a possible carcinogen last March, is the main ingredient in Monsanto's widely used weedkiller, Roundup. It is also found in herbicides manufactured by Syngenta and Dow.
The Greens conducted the test ahead of European Parliament's April 13 resolution that opposed the European Union's relicensing of glyphosate.
Despite fierce opposition from European Parliament, countries such as France, Sweden, Italy and the Netherlands, and the 1.4 million people who have signed a petition calling on an EU ban, the European Commission—the executive body of the European Union—reportedly plans to relicense glyphosate for nine years.
According to the Green Party, the European Commission's latest proposal, which will be voted on May 19, will "plough ahead with a full-fledged approval of glyphosate's license for nine years."
"It considers only symbolically if at all the European Parliament's resolution calling for a very limited scope of approval. Responsibility for the protection of operators and for multiple risks is discharged onto Member States in a non-legally binding manner," the party said. "We are pissed off that our governments want to allow this poison for another nine years! No politician should have this in his or her body, and not a single citizen either!"
Glyphosate approval in the EU expires at the end of June. The chemical has been the subject of incredible controversy in Europe especially after the European Food Safety Authority famously rejected the IARC's classification of glyphosate as a possible carcinogen in November.
Agri-business giant Monsanto has also vehemently denied glyphosate's health and cancer risks and demanded a retraction of the IARC report.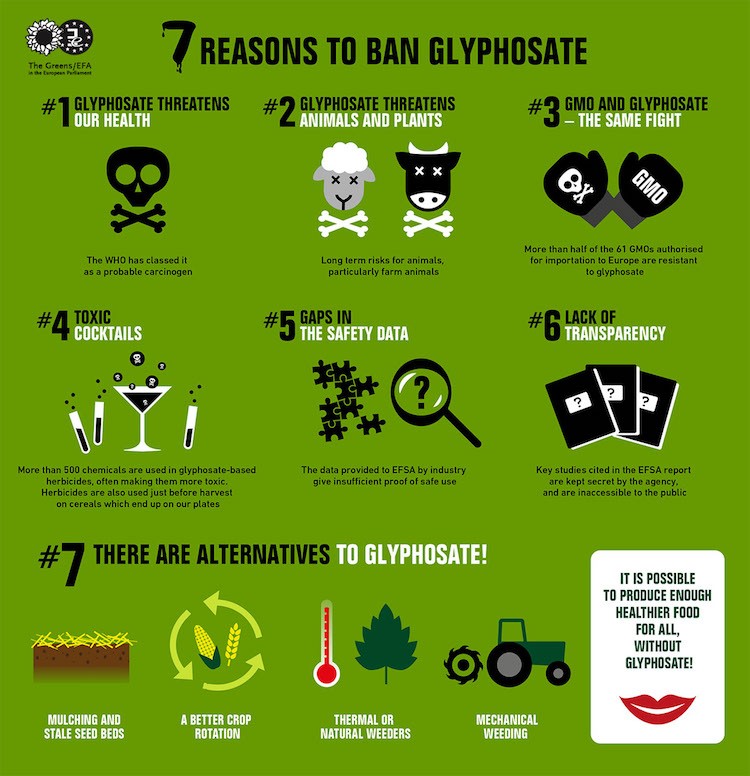 The Green Party's MEPee test was inspired by a German study "Urinale 2015," which sampled glyphosate concentrations in urine from more than 2,000 participants.
"The study found that the scale of the glyphosate problem is enormous, with detected concentrations in urine between five and 42 times over the maximum value of residues for drinking water in Europe," the Green Party pointed out. "No less than 99.6 percent of all citizens who took part in this survey had higher residue levels. This means that virtually all citizens are contaminated with glyphosate."
A number of other studies have detected glyphosate—the "most widely applied pesticide worldwide"—in feminine hygiene products, everyday food items and, yes, human bodies. A 2013 Friends of the Earth Europe study reported people in 18 European countries have traces of glyphosate in their urine.
YOU MIGHT ALSO LIKE
Monsanto Faces Rejection in U.S. Over GMO Soybean
'Mistaken' Release of Glyphosate Report Raises Questions Over EPA's Ties to Monsanto
On the eve of World Turtle Day, the world's largest travel website—TripAdvisor—removed the sale of tickets to the Cayman Turtle Centre, where more than 5,000 endangered sea turtles live in horrific conditions.
Keep reading...
Show less
The Dakota Access Pipeline under construction. Photo credit: Flickr
The Dakota Access Pipeline (DAPL) system leaked more than 100 gallons of oil in two separate incidents in North Dakota in March.

This is the $3.8 billion project's third known leak. The controversial pipeline, which is not yet finished and not yet operational, also spilled 84 gallons of oil in South Dakota on April 4.

Keep reading...
Show less
Robin Loznak
After numerous legal efforts trying to get a federal district court in Oregon to throw out a climate lawsuit brought by 21 young people, a defeated National Association of Manufacturers (NAM) filed a motion Monday requesting the court's permission to withdraw from the litigation.
Keep reading...
Show less
Greenland ice sheet melt in action. Sara Penrhyn-Jones
The Department of Interior edited a news release on a study coauthored by government scientists to remove a mention of climate change, the Washington Post reported.
Keep reading...
Show less
Hurricane Sandy floods a street in Lindenhurst, Long Island. Jason DeCrow/CC BY SA/2.5
By Robert McSweeney
Billions of people across the world could see climates they've never experienced before by the middle of the century, a new study said.
Keep reading...
Show less
Buyers look through frozen tuna on sale at the fish market in Tokyo's Tsukiji district. Rob Gihooly
By Tony Long
Japan, one of the world's largest fish importers, has joined 47 other governments in ratifying the Port State Measures Agreement (PSMA)—an international treaty designed to stop illegal, unreported and unregulated (IUU) fishing.
Keep reading...
Show less
Katahdin Woods and Waters. National Parks Conservation Association.
Looks like you'll have to trust your map if you want to find the newly designated Katahdin Woods and Waters National Monument in Maine.
Gov. Paul LePage has refused to put up any official signs along the four main roads to the 87,500-acre preserve, which is on the list of 27 national monuments under Interior Sec. Ryan Zinke's review.
Keep reading...
Show less
Keep reading...
Show less