Renewable Energy
25 June 2014
Researchers Look to Blizzards for Clues on Improving Efficiency of Wind Turbines
A first-of-its-kind study by researchers at the University of Minnesota (UMN) using snow during a Minnesota blizzard is giving researchers new insight into the airflow around large wind turbines. This research is essential to improving wind energy efficiency, especially in wind farms where airflows from many large wind turbines interact with each other.
The study by researchers at the UMN College of Science and Engineering's St. Anthony Falls Lab was published yesterday in Nature Communications, a major scientific journal.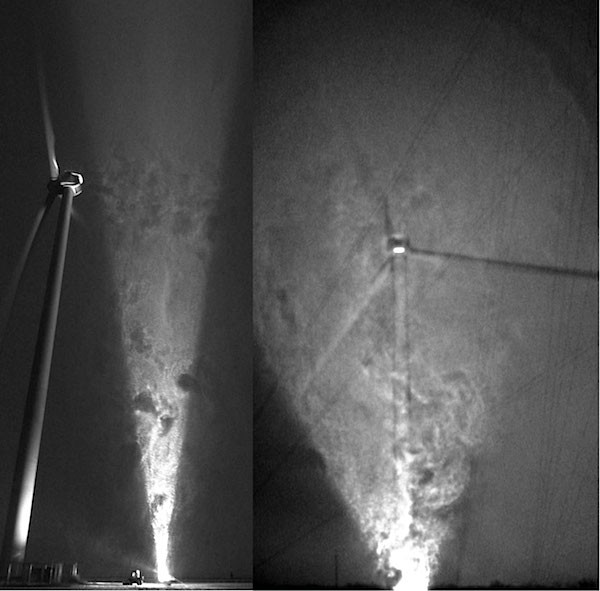 Wind energy is one of the fastest-growing renewable energy sources. The U.S. Department of Energy estimates energy losses in wind farms to be as high as 10-20 percent and identifies complex airflows created by the turbines as the major culprit for such losses. As wind turbines have grown to more than 100 meters tall, field research in real-world settings has become more difficult.
"In the lab we use tracer particles to measure airflows of wind turbine models in wind tunnels, but our research was extremely constrained by an inability to measure flows at the large scale," said Jiarong Hong, a UMN mechanical engineering assistant professor and lead researcher on the study. "Most researchers thought measurements of this kind at the real-world scale were impossible."
Hong, who grew up in southwest China, had only seen snow a few times growing up. When he moved to Minnesota in 2012, he wondered if snow might be the solution to their dilemma.
"We have everything we needed in Minnesota for this research," Hong said. "We have a fully-equipped large research wind turbine at the U.S. Department of Energy-funded Eolos Wind Energy Research Center run by the University. We also have snow to serve as the particulates to measure the airflows and committed researchers and engineers to carry out such an unprecedented effort."
After a number of previous attempts when the snow was poor quality or the instruments malfunctioned in the cold weather, researchers headed to the Eolos 2.5 KW wind turbine in Rosemount, MN, in the early morning hours of a snowstorm on Feb. 22, 2013.
They braved the harsh conditions in the middle of the night to set up a large searchlight with specially designed reflecting optics to generate a gigantic light sheet next to the 130-meter-tall wind turbine for illuminating the snow particles in a 36-meter-wide-by-36-meter-high area. The snow is easier to see in the light at night, much like the average person looks into a streetlight to see how much it is snowing during a snowstorm. Researchers videotaped the snow particles as the wind turbine spun to show airflow patterns. The video (below) was digitized and synchronized with wake flow and load data from the fully instrumented research wind turbine. 
Results of the experiment showed that this technique was successful in measuring the turbulence of the airflow structure around the wind turbine. It is a first step in showing significant differences in the patterns of airflows in the field at large scale compared to those measured in the lab.
"These measurements are extremely important in our efforts to improve the efficiency of wind energy that will reduce our reliance on fossil fuels," said Fotis Sotiropoulos, co-author of the study and director of the University's St. Anthony Falls Lab and the Eolos Wind Energy Research Center. "Who would have ever thought we'd use a Minnesota blizzard to help fight global warming."
In addition to Hong and Sotiropoulos, other University of Minnesota researchers who were part of this study include civil engineering assistant professor Michele Guala, mechanical engineering Ph.D. student Mostafa Toloui, civil engineering Ph.D. student Kevin Howard, mechanical engineering student Sean Riley, St. Anthony Falls Lab engineer James Tucker, and former post-doctoral researcher Leonardo Chamorro who is now at the University of Illinois at Urbana-Champaign.
Katahdin Woods and Waters. National Parks Conservation Association.
Looks like you'll have to trust your map if you want to find the newly designated Katahdin Woods and Waters National Monument in Maine.
Gov. Paul LePage has refused to put up any official signs along the four main roads to the 87,500-acre preserve, which is on the list of 27 national monuments under Interior Sec. Ryan Zinke's review.
Keep reading...
Show less
Keep reading...
Show less
More than 58 percent of Swiss voters supported a measure to phase out nuclear power in favor of renewable energy.
The plan provides billions in subsidies for renewable energy, bans the construction of new nuclear plants and decommissions Switzerland's five aging reactors. There is no clear date when the plants will close.

Keep reading...
Show less
iStock
By Alex Kirby
An ambitious scientific expedition is due to start work on May 22 on Bolivia's second-highest mountain, Illimani. The researchers plan to drill three ice cores from the Illimani glacier, and to store two of them in Antarctica as the start of the world's first ice archive.
Keep reading...
Show less
CC-BY-SA-2.5 and GNU FDL
Although not on most people's radar here, New York is one step closer to becoming the first state to have genetically modified, non-sterile insects released outside without cages.

Keep reading...
Show less
Photo credit: Michael Fujiwara/YouTube
The viral video of a young girl snatched off a Richmond, British Columbia dock by a sea lion is another reminder that people shouldn't get too close to wild animals.
Port officials in Canada have sharply criticized the family for putting themselves at risk for feeding the large animal, especially since there are several signs in the area warning people not to do so.
Keep reading...
Show less
Bears Ears National Monument. Tim Peterson
An anti-public lands official in Utah said Interior Sec. Ryan Zinke has already made up his mind to repeal Bears Ears National Monument, a move experts say could be against the law.
Keep reading...
Show less
The Crop Trust
Flooding breached a supposedly impregnable Arctic "doomsday" vault containing a collection of seeds stored for an apocalypse scenario last week, after warmer-than-average temperatures caused a layer of permafrost to thaw.
Keep reading...
Show less