Researchers Find Energy Efficient Way to Convert Plastic Bags Into Diesel Fuel
Plastic shopping bags, an abundant source of litter on land and at sea, can be converted into diesel, natural gas and other useful petroleum products, researchers report.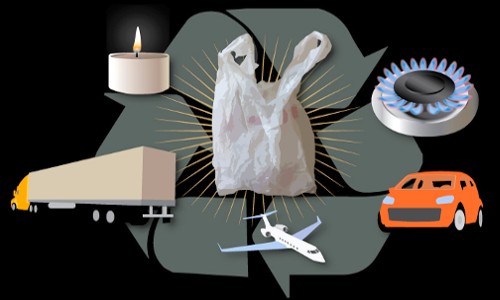 The conversion produces significantly more energy than it requires and results in transportation fuels—diesel, for example—that can be blended with existing ultra-low-sulfur diesels and biodiesels. Other products, such as natural gas, naphtha (a solvent), gasoline, waxes and lubricating oils such as engine oil and hydraulic oil also can be obtained from shopping bags.
A report of the new study appears in the journal Fuel Processing Technology.
There are other advantages to the approach, which involves heating the bags in an oxygen-free chamber, a process called pyrolysis, said Brajendra Kumar Sharma, a senior research scientist at the Illinois Sustainable Technology Center (ISTC) who led the research. The ISTC is a division of the Prairie Research Institute at the University of Illinois. 
"You can get only 50 to 55 percent fuel from the distillation of petroleum crude oil," Sharma said. "But since this plastic is made from petroleum in the first place, we can recover almost 80 percent fuel from it through distillation."
Americans throw away about 100 billion plastic shopping bags each year, according to the Worldwatch Institute. The U.S. Environmental Protection Agency (EPA) reports that only about 13 percent are recycled. The rest of the bags end up in landfills or escape to the wild, blowing across the landscape and entering waterways.
Plastic bags make up a sizeable portion of the plastic debris in giant ocean garbage patches that are killing wildlife and littering beaches. Plastic bags "have been detected as far north and south as the poles," the researchers wrote.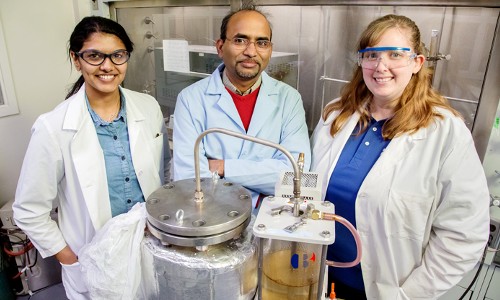 "Over a period of time, this material starts breaking into tiny pieces, and is ingested along with plankton by aquatic animals," Sharma said. Fish, birds, ocean mammals and other creatures have been found with a lot of plastic particles in their guts.
"Turtles, for example, think that the plastic grocery bags are jellyfish and they try to eat them," Sharma said. Other creatures can become entangled in the bags.
Previous studies have used pyrolysis to convert plastic bags into crude oil. Sharma's team took the research further, however, by fractionating the crude oil into different petroleum products and testing the diesel fractions to see if they complied with national standards for ultra-low-sulfur diesel and biodiesel fuels.
"A mixture of two distillate fractions, providing an equivalent of U.S. diesel #2, met all of the specifications" required of other diesel fuels in use today—after addition of an antioxidant, Sharma said.
"This diesel mixture had an equivalent energy content, a higher cetane number (a measure of the combustion quality of diesel requiring compression ignition) and better lubricity than ultra-low-sulfur diesel," he said.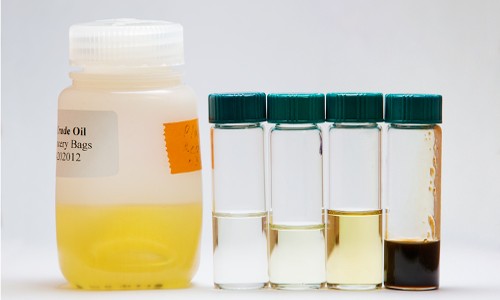 The researchers were able to blend up to 30 percent of their plastic-derived diesel into regular diesel, "and found no compatibility problems with biodiesel," Sharma said.
"It's perfect," he said. "We can just use it as a drop-in fuel in the ultra-low-sulfur diesel without the need for any changes."
The research team also included Bryan Moser, Karl Vermillion and Kenneth Doll, of the USDA National Center for Agricultural Utilization Research, in Peoria, IL, and Nandakishore Rajagopalan, of the ISTC at the University of Illinois. 
The Illinois Hazardous Waste Research Fund and the Environmental Research and Education Foundation supported this study.
Visit EcoWatch's ENERGY and BIODIVERSITY pages for more related news on this topic.

Katahdin Woods and Waters. National Parks Conservation Association.
Looks like you'll have to trust your map if you want to find the newly designated Katahdin Woods and Waters National Monument in Maine.
Gov. Paul LePage has refused to put up any official signs along the four main roads to the 87,500-acre preserve, which is on the list of 27 national monuments under Interior Sec. Ryan Zinke's review.
Keep reading...
Show less
Keep reading...
Show less
More than 58 percent of Swiss voters supported a measure to phase out nuclear power in favor of renewable energy.
The plan provides billions in subsidies for renewable energy, bans the construction of new nuclear plants and decommissions Switzerland's five aging reactors. There is no clear date when the plants will close.

Keep reading...
Show less
iStock
By Alex Kirby
An ambitious scientific expedition is due to start work on May 22 on Bolivia's second-highest mountain, Illimani. The researchers plan to drill three ice cores from the Illimani glacier, and to store two of them in Antarctica as the start of the world's first ice archive.
Keep reading...
Show less
CC-BY-SA-2.5 and GNU FDL
Although not on most people's radar here, New York is one step closer to becoming the first state to have genetically modified, non-sterile insects released outside without cages.

Keep reading...
Show less
Photo credit: Michael Fujiwara/YouTube
The viral video of a young girl snatched off a Richmond, British Columbia dock by a sea lion is another reminder that people shouldn't get too close to wild animals.
Port officials in Canada have sharply criticized the family for putting themselves at risk for feeding the large animal, especially since there are several signs in the area warning people not to do so.
Keep reading...
Show less
Bears Ears National Monument. Tim Peterson
An anti-public lands official in Utah said Interior Sec. Ryan Zinke has already made up his mind to repeal Bears Ears National Monument, a move experts say could be against the law.
Keep reading...
Show less
The Crop Trust
Flooding breached a supposedly impregnable Arctic "doomsday" vault containing a collection of seeds stored for an apocalypse scenario last week, after warmer-than-average temperatures caused a layer of permafrost to thaw.
Keep reading...
Show less