Rep. Pompeo to Introduce Koch-Funded, Monsanto-Backed, Voluntary GMO Food Labeling Bill
Rep. Mike Pompeo (R-KS) will introduce legislation this month backed by the Grocery Manufactures Association—including biotech giant Monsanto and Koch Industries—that would establish a voluntary labeling system for food made with genetically modified organisms (GMO), according to an industry insider.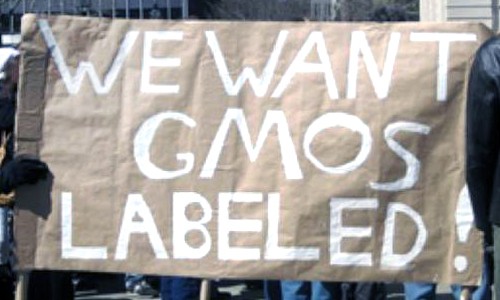 The bill includes a "prohibition against mandatory labeling," according to The Hill, and is designed to head off the many state bills and ballot initiatives that would impose more stringent labeling regulations on GMOs.
"Consumers should be outraged that Rep. Pompeo, or any member of Congress, would co-sponsor a bill written by industry, for the sole purpose of protecting corporate and shareholder profits, when 90 percent of Americans oppose the proposed legislation," said Ronnie Cummins, national director of the Organic Consumers Association.
Even though 64 countries have mandated the labeling of GMO foods, the U.S. has been slow to adopt such regulation.
Connecticut and Maine have passed labeling laws, but the rules do not go into effect until at least three other states establish the same requirement. In 2013, 50 bills were introduced to require labeling in 26 states. Rep. Peter DeFazio (D-OR) and Sen. Barbara Boxer (D-CA) recently introduced federal legislation that would require nationwide labeling of GE products.
"American consumers want the right to know what is in the food they eat, plain and simple," said Rebecca Spector, who spearheads Maine's GE labeling legislative efforts at Center for Food Safety.
Other states with pending legislation on GMO labeling include California, Missouri, Minnesota and Rhode Island. In Arizona, Colorado, Florida, Hawaii and Oregon efforts are in motion to put the question on the ballot.
Rep. Pompeo's plan to introduce voluntary GMO food labeling legislation follows on the heels of last week's comments by FDA Commissioner Margaret Hamburg that the U.S. Food & Drug Administration (FDA) plans to finalize guidance on the voluntary labeling of GMOs, despite the growing body of scientific evidence that GMOs, and the chemicals required to grow GMO crops, are potentially damaging to human health.
"More evidence surfaces every day implicating GMO-contaminated food in a long list of chronic illnesses," said Cummins. "Until further, comprehensive, independent safety testing is done on the impact of GMOs on human health, consumers should at the very least be able to avoid those foods by reading a label. This proposed bill would not only keep labels off of our food, but it is a direct attack on states' constitutional right to pass laws to protect public health." 
——–
YOU MIGHT ALSO LIKE
Maine Governor Signs GMO Food Labeling Bill
'Big Food' Ready for Costly Battle as States Consider GMO Labeling Bills
——–
Katahdin Woods and Waters. National Parks Conservation Association.
Looks like you'll have to trust your map if you want to find the newly designated Katahdin Woods and Waters National Monument in Maine.
Gov. Paul LePage has refused to put up any official signs along the four main roads to the 87,500-acre preserve, which is on the list of 27 national monuments under Interior Sec. Ryan Zinke's review.
Keep reading...
Show less
Keep reading...
Show less
More than 58 percent of Swiss voters supported a measure to phase out nuclear power in favor of renewable energy.
The plan provides billions in subsidies for renewable energy, bans the construction of new nuclear plants and decommissions Switzerland's five aging reactors. There is no clear date when the plants will close.

Keep reading...
Show less
iStock
By Alex Kirby
An ambitious scientific expedition is due to start work on May 22 on Bolivia's second-highest mountain, Illimani. The researchers plan to drill three ice cores from the Illimani glacier, and to store two of them in Antarctica as the start of the world's first ice archive.
Keep reading...
Show less
CC-BY-SA-2.5 and GNU FDL
Although not on most people's radar here, New York is one step closer to becoming the first state to have genetically modified, non-sterile insects released outside without cages.

Keep reading...
Show less
Photo credit: Michael Fujiwara/YouTube
The viral video of a young girl snatched off a Richmond, British Columbia dock by a sea lion is another reminder that people shouldn't get too close to wild animals.
Port officials in Canada have sharply criticized the family for putting themselves at risk for feeding the large animal, especially since there are several signs in the area warning people not to do so.
Keep reading...
Show less
Bears Ears National Monument. Tim Peterson
An anti-public lands official in Utah said Interior Sec. Ryan Zinke has already made up his mind to repeal Bears Ears National Monument, a move experts say could be against the law.
Keep reading...
Show less
The Crop Trust
Flooding breached a supposedly impregnable Arctic "doomsday" vault containing a collection of seeds stored for an apocalypse scenario last week, after warmer-than-average temperatures caused a layer of permafrost to thaw.
Keep reading...
Show less