Renewable Energy
06 June 2014
Protesters at UN Climate Talks in Bonn: We Choose Renewable Energy. Stand With Us or Step Aside.
More than 100 people held a demonstration in Bonn, Germany today, outside the venue where the ministers of environment are meeting for the United Nations (UN) climate negotiations.
Organizations from every continent—including trade unions, social movements, environmental groups, gender and youth groups, indigenous groups and NGOs—are demanding action by the more than 198 member governments of the UN Framework Convention on Climate Change (UNFCCC).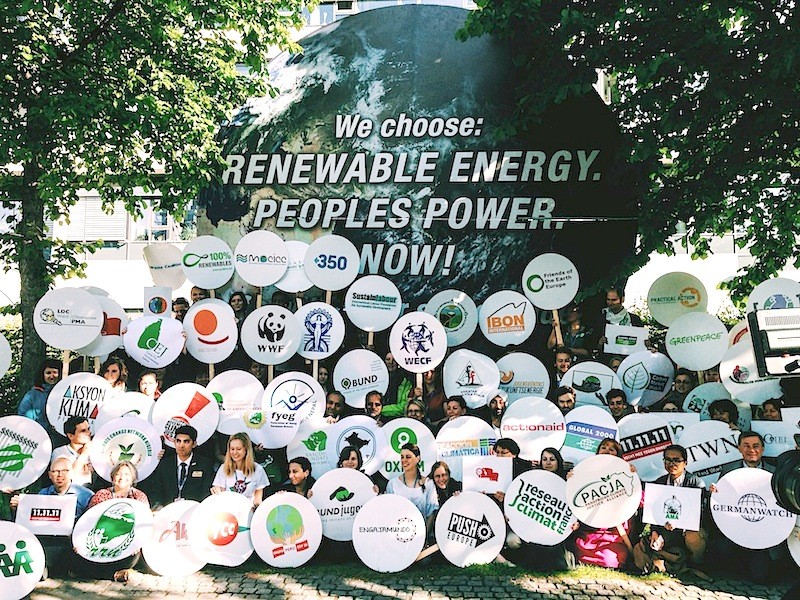 The below declaration was handed over to the Minister for the Environment for Peru, recently nominated special envoy for the French Foreign Affairs Minister, and Venezuela Vice-Minister for Foreign Affairs.
International civil society organizations demonstrated their rising dissatisfaction with the direction of the UN climate negotiations in Warsaw last November, staging an unprecedented mass walkout.
The demonstration in Bonn is intended to show the growing public support for climate action and a just energy transformation. The groups, including Action Aid, Oxfam, Greenpeace amongst others, held a banner that read: "We Choose: Renewable Energy. People's Power now!"
Across continents people are mobilizing and taking to the streets in bigger numbers and increasing intensity to stand up to vested interests and fight for their future and those of the next generations. 
This coming September, as heads of state go to New York City for the climate summit, we will be taking to the streets to bend the course of history with an unprecedented climate mobilization—in size, beauty and impact.
The Declaration: 
We are people who participated in the walk out of the Warsaw Climate Conference and those who supported and united with its call for more serious climate action. We have come together to reiterate to all "leaders" participating in the UN climate negotiations that they are dangerously off track in addressing the climate emergency. We call upon them to listen to the demands and solutions of people.
The walk out was an act of protest and indignation over governments' continued failure to take decisive and swift action against the biggest threat to both people and the planet, and an act of condemnation of continued domination and sabotage of the international climate talks by powerful corporate interests.
In the face of massive destruction, displacement and loss of lives caused by current levels of global warming and the certainty of much worse impacts in the near future, governments continue to choose to act in the interests of a wealthy few, and collude with big business to defend unsustainable consumption and production models ahead of the urgent need for a sustainable, ecological and just world.
We are more determined than ever to fight for the survival of our families, our communities and our peoples across the world—a survival that rests on nothing less than the fundamental transformation of a system that has generated massive impoverishment, injustices and a climate crisis that threatens all life on earth. People are waging this fight in various arenas in every corner of the globe, over every dimension of their lives: food, energy, health and security, jobs and livelihoods.
People are mobilizing everywhere and taking to the streets in bigger numbers and increasing intensity to stand up to vested interests and fight for their future and those of the next generations. People driven solutions, compatible with planetary limits are being created and asserted at local, national and global levels—aimed at meeting the needs of people rather than the relentless pursuit of profits for big business and wealthy elites.
We are back, far more strengthened in giving voice to those who are already acting with the urgency needed to avoid the worst impacts of climate change—the huge majority of civil society around the world that you, the ministers, represent and can not ignore any longer.
In the coming weeks and months, towards and during the Social COP in Venezuela, the People's Summit and the COP20 in Peru, and the COP 21 in France, we will be fighting harder than ever for governments to:
Commit to a global goal of limiting warming that recognizes the latest Intergovernmental Panel on Climate Change's warnings on the threats of tipping points, and to the right to food and food sovereignty, recalling that science suggests that 1.5 degrees Celsius of warming would be too much for many vulnerable peoples and countries.
Deliver a swift global transformation away from the use of dirty fossil fuel and destructive energy systems driving the crisis, towards a carbon-free and renewable energy economy that, primarily amongst others, is decentralized, community controlled, affordable, accessible to all people for their basic needs and well-being.
Urgently scale up targets for emissions cuts in the pre-2020 period, and set emission targets comparable to the scale of the emergency for 2020-2025.
Ensure equitable and fair sharing of efforts among all countries based on their historical responsibility, their capacities, and the urgency of the crisis.
Enable people to deal with climate impacts by protecting the rights of peoples and communities, building resilience, addressing loss and damage, and ensuring a just transition to climate resilient, low carbon, equitable and democratic economy and society.
Define and commit to concrete targets for the transfer of finance and technology to make global transformation possible.
Reject the damaging influence of corporate interests on climate policy and prevent their promotion of false solutions as the global response to the climate crisis.
The global climate movement is building its strength and power in every country of the world. We call on those who claim to represent us to either act in our interests or step aside.
--------
YOU MIGHT ALSO LIKE
U.S. Announces Ambitious Carbon Cutting Plan While Canada Confirms It Will Do Nothing
ExxonMobil Ignores IPCC Warning, Vows to Burn All Oil Reserves
13 Useful Tips for Climate Action From the IPCC Report
--------
Katahdin Woods and Waters. National Parks Conservation Association.
Looks like you'll have to trust your map if you want to find the newly designated Katahdin Woods and Waters National Monument in Maine.
Gov. Paul LePage has refused to put up any official signs along the four main roads to the 87,500-acre preserve, which is on the list of 27 national monuments under Interior Sec. Ryan Zinke's review.
Keep reading...
Show less
Keep reading...
Show less
More than 58 percent of Swiss voters supported a measure to phase out nuclear power in favor of renewable energy.
The plan provides billions in subsidies for renewable energy, bans the construction of new nuclear plants and decommissions Switzerland's five aging reactors. There is no clear date when the plants will close.

Keep reading...
Show less
iStock
By Alex Kirby
An ambitious scientific expedition is due to start work on May 22 on Bolivia's second-highest mountain, Illimani. The researchers plan to drill three ice cores from the Illimani glacier, and to store two of them in Antarctica as the start of the world's first ice archive.
Keep reading...
Show less
CC-BY-SA-2.5 and GNU FDL
Although not on most people's radar here, New York is one step closer to becoming the first state to have genetically modified, non-sterile insects released outside without cages.

Keep reading...
Show less
Photo credit: Michael Fujiwara/YouTube
The viral video of a young girl snatched off a Richmond, British Columbia dock by a sea lion is another reminder that people shouldn't get too close to wild animals.
Port officials in Canada have sharply criticized the family for putting themselves at risk for feeding the large animal, especially since there are several signs in the area warning people not to do so.
Keep reading...
Show less
Bears Ears National Monument. Tim Peterson
An anti-public lands official in Utah said Interior Sec. Ryan Zinke has already made up his mind to repeal Bears Ears National Monument, a move experts say could be against the law.
Keep reading...
Show less
The Crop Trust
Flooding breached a supposedly impregnable Arctic "doomsday" vault containing a collection of seeds stored for an apocalypse scenario last week, after warmer-than-average temperatures caused a layer of permafrost to thaw.
Keep reading...
Show less