Prize-Winning Activist Berta Cáceres Murdered in Honduras
By Friends of the Earth International
Berta Cáceres, 2015 Goldman Environmental Prize winner, was murdered last night in her home. Reportedly, her assassins waited until well after dark before breaking into the house where she slept. Her brother was also injured in the attack.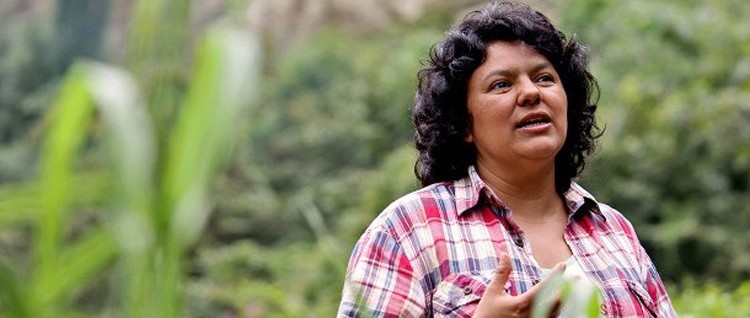 Our condolences to her family, friends and all who worked alongside her.
"This is a sad day for Honduras and the world," said Jagoda Munic, chair of Friends of the Earth International.
"Given the situation in Honduras, in which indigenous, environmental and human rights activists like Berta Cáceres are targeted by government and corporate security forces alike, international pressure is needed to bring the murderers to justice and protect those brave enough to speak out on behalf of their fellow citizens and the environment."
Cáceres rallied her fellow indigenous Lenca people of Honduras and waged a grassroots campaign that successfully pressured the world's largest dam builder to pull out of the Agua Zarca dam.
According to the Goldman Environmental Prize website:
Since the 2009 coup, Honduras has witnessed an explosive growth in environmentally destructive megaprojects that would displace indigenous communities. Almost 30 percent of the country's land was earmarked for mining concessions, creating a demand for cheap energy to power future mining operations. To meet this need, the government approved hundreds of dam projects around the country, privatizing rivers, land and uprooting communities.
Among them was the Agua Zarca Dam, a joint project of Honduran company Desarrollos Energéticos SA (DESA) and Chinese state-owned Sinohydro, the world's largest dam developer. Agua Zarca, slated for construction on the sacred Gualcarque River, was pushed through without consulting the indigenous Lenca people—a violation of international treaties governing indigenous peoples' rights. The dam would cut off the supply of water, food and medicine for hundreds of Lenca people and violate their right to sustainably manage and live off their land.
It's not yet known who is behind Cáceres assassination, but as a indigenous, environmental and human rights activist she knew well the risks she faced. In 1993, she co-founded the National Council of Popular and Indigenous Organizations of Honduras (COPINH) to address the growing threats posed to indigenous communities by illegal logging, fight for their territorial rights and improve their livelihoods.
The work of COPINH is still sorely needed. Honduras has been called, "the deadliest place for environmental activists," and is a country where corruption is a major problem. Twelve activists were killed last year alone for their efforts to defend land and the environment, according to a report by UK-based NGO Global Witness—more per capita than any other country (a record Honduras has held for the last five years).
At Friends of the Earth International, we have for a long time admired the work of Cáceres and COPINH, and at times worked together. In 2013, Friends of the Earth supporters joined voices around the world in support of Cáceres when she and other activists were facing prison sentences.
Here's a video of Cáceres when she accepted the Goldman Environmental Prize:
On threats to her own life, she said on Dec. 24, 2013:
"The army has an assassination list of 18 wanted human rights fighters with my name at the top. I want to live, there are many things I still want to do in this world but I have never once considered giving-up fighting for our territory, for a life with dignity, because our fight is legitimate. I take lots of care but in the end, in this country where there is total impunity I am vulnerable… when they want to kill me, they will do it."
On Dec. 9, 2015, Cáceres was interviewed about the death of a fellow activist, Tomás Garcia, who was shot at close range during a peaceful protest at the site of the same Agua Zarca hydro-electric dam. This is how she ended that interview:
"We truly believe in solidarity and in hope despite how hurtful this process is. And we can only think of how our brother, Tomas, is no longer with us, of how much he is missed, not just by his family—his sons and daughters—but by COPINH as well. And despite everything that's happened, we still have hope in our people's struggle."
Here's a video from the Goldman Environmental Prize on Berta Cáceres' work rallying the indigenous Lenca people of Honduras and waging a grassroots campaign that successfully pressured the world's largest dam builder to pull out of the Agua Zarca Dam:
YOU MIGHT ALSO LIKE
Robert F. Kennedy, Jr.: Syria, Another Pipeline War
Elephants Being Slaughtered for Ivory Faster Than They Can Reproduce
Trees Cut as Maple Syrup Farmers Lose Eminent Domain Battle Over Constitution Pipeline
A new Global Wine Index outlines the most at-risk wine regions according to natural disasters, rising temperatures and other climate change factors. Unfortunately, some of the world's finest grapes are unlikely to survive.
The index was created by a multidisciplinary European-Australian research team of engineers, seismologists, meteorologists, scientists and wine lovers, who analyzed 110,000 wineries in 131 countries that produce a combined total of 26 billion liters of wine a year.
At the top of the list is Argentina's Mendoza region, which experiences a smorgasbord of obstacles for growing grapes.
"We see that Mendoza in Argentina, which has earthquakes, hail, floods, the whole gamut of natural hazards... is number one," said James Daniell of the Karlsruhe Institute of Technology in Germany and co-author of the research.
Just behind Argentina, the most at-risk regions are in the following order: Kakheti and Racha regions in Georgia, the southern Cahul region in Moldova, northwestern Slovenia in fourth place, and tied for fifth are the Yaraqui Valley in Ecuador and Nagano, Japan. All in all, wine contributes a staggering $300 billion to the world economy every year.
Most at-risk wine regions.
So wine is kind of a big deal, but is it enough to send a message about climate change? The new site offers enlightening advice on some of the most common risks associated with our most beloved wine regions. Italy, which contributes 4.9 billion liters annually, is facing hail, frost and earthquakes as the number one threats to vino. In France, it's frost, hail and storms. And in Spain, it's hail in the northwest, frost and heat. As for American wine, since most of it comes from California, one of the biggest threats is earthquakes.

According to the site, by looking at climate models, wine regions will generally shift both southward and northward. Southern Italy and southern Spain, therefore, will see the biggest losses. This data is meant to help winemakers make better decisions about their grapes to stave off any effects of climate change.
"This uses data going back from 1900 onwards," said Daniel. "They can at least identify that they are at risk and... do something about it to mitigate it."
Some of those methods are using anti-hail nets for the vineyards, tying up stored wine bottles to withstand the shock of an earthquake, using a "hail cannon" as France's Burgundy region is doing to seed clouds with stone-shrinking silver iodine or by simply just taking out some old-fashioned crop insurance.
Keep reading...
Show less
That finally changed this week.
Apple announced this week it has signed a power purchase agreement to buy wind energy from a soon-to-be-built Oregon wind farm. It will power an in-state data center about 130 miles away from the wind farm and Apple said the project is its largest renewable energy investment to date.
Apple plans to hit its 100 percent renewable energy goal by sourcing renewables through a combination of direct project ownership and long-term contracts with new renewable energy projects and preferably from projects in the same state as their facilities. When it can't do either of those, it procures renewable energy from "newer projects in nearby markets … through available utility green energy programs … or [through] strong renewable energy credits (RECs) tied to recently constructed renewable energy projects."
In 2016, Fortune 500 companies and other non-utility customers signed 39 percent of the capacity contracted through wind power purchase agreements and their strong interest in wind has continued into 2017.
Companies like Apple choose to power their operations using renewables like wind not just because it's good for the environment, but also because it helps their bottom lines.

"This pursuit of renewable energy benefits our customers and communities through cleaner air while strengthening our business through lower and more stable energy costs," said GM Chairwoman and CEO Mary Barra, speaking about her company's 100 percent renewable pledge.
Check out this video to hear straight from the source about why some of the world's largest companies want to make more of their products using wind power:
Keep reading...
Show less
By Courtney St. John
In case anyone doubts the death of coal, experts just issued the autopsy.
A new report from the Center on Global Energy Policy at Columbia University looks at exactly what's causing coal's demise. It finds that cheap natural gas is responsible for roughly half the decline in U.S. coal consumption. Falling demand for electricity and cheap wind and solar account for most of the rest. Adding insult to mortal injury, falling demand for coal from China put a dent in U.S. exports.
Environmental regulations—a frequent scapegoat of coal companies—did accelerate coal plant retirements, but the effect was small. Overall, the report finds that President Trump's efforts to roll back environmental protections will do little for coal country.
Employment across the coal sector has declined. Today, coal employs just 160,000 workers nationwide while the solar industry employs some 375,000. Even in the heart of Appalachia, businesses are turning away from coal.
This week, Charleston, West Virginia-based utility Appalachian Power said that it won't be building any new coal plants and will instead look at building out solar and wind to bring companies like Amazon and Google to West Virginia—companies that want to source their power from renewables. And in an ironic twist, the Kentucky Coal Museum is going solar to save money on power.
While there is little that the president or lawmakers can do to rescue the coal industry, they can throw a lifeline to coal workers. Congress has until the end of the week to ensure that more than 22,000 retired miners continue to have access to federally funded healthcare. Coal companies that declared bankruptcy in recent years were relieved from contributing to the fund.
Coal is on its deathbed. And while Washington can't revive the industry, it can revive Appalachia.
Reposted with permission from our media associate Nexus Media.
Keep reading...
Show less
By Nancy LaPlaca
For the gas industry and some utilities that are racing to build as much gas infrastructure as possible, there's a lot riding on a shale gas "play" known as the Marcellus. For those who aren't buried in natural gas minutiae, a "play" is an area where there's lots of fracking for natural gas.
U.S. shale gas production (i.e. from hydraulically fractured wells) has grown steeply over the past 17 years and is now 67 percent of total U.S. natural gas.
Gas prices have historically been extremely volatile, but gas companies and utilities are saying that it will stay low for a long time—almost indefinitely—and they base much of that argument on the Marcellus, the largest source of fracked gas in the U.S.
The Cost of Natural Gas is Extremely Volatile
The cost of natural gas has always been volatile and its price has been a roller-coaster ride for the past decade. Duke Energy's former CEO, Jim Rogers, famously called it the "crack cocaine" of the power industry. And because the cost of fuel is what's known as a "pass-through," electricity customers reimburse the utility for its fuel costs. This means that utilities and their shareholders, don't really have skin in the game when it comes to fuel costs. And in 2014 alone, electric utilities around the U.S. spent $42.4 billion purchasing natural gas for electric power plants (and another $39 billion for coal).
The chart below shows the volatility of natural gas since 1997. The two biggest spikes are Hurricane Katrina (August 2005) and the run-up in oil and gas costs which peaked in July 2008 with oil at $147/barrel and natural gas at $13/MMBtu.
EIA
Key to Understanding Natural Gas Price Volatility: It's Priced at the Margin and Utilities Only Hedge a Year or So in Advance

One of the keys to understanding natural gas pricing is that it's priced "at the margin." In plain language, this means that today's price reflects the immediate past and the immediate future. Due to the volatility of gas prices, prices for natural gas are usually only "hedged" (i.e. 'locked in') a year or less in advance. In Florida, utilities paid $6 billion too much for natural gas over a 15 year period after the price of gas crashed. So while hedging gas can save money over certain time periods, it can also be a big money-loser.
This means that beyond the one year when gas prices are hedged, consumers must pay whatever the gas costs, no matter what. And because fuel costs are "pass-throughs," if the utility's cost estimates are off, it's the customers who pay, not the utility or shareholders.
Despite the Volatility of Natural Gas Prices, EIA Assumes Natural Gas at $5/MMBtu from 2030 to 2040
Despite the extreme ups and downs of natural gas pricing, the U.S. Energy Information Administration's (EIA) 2017 Annual Energy Outlook projects that the cost of natural gas will remain at bargain-basement levels from 2030 to 2040 at $5.00 per MMBtu. This is 20 percent below what EIA forecast in its 2015 Annual Energy Outlook price forecast over the 2015-2040 period.
Average Decline Rate for Shale Gas Well is 75-85 Percent Over First Three Years
While the increase in U.S. shale gas production is stunning, so are the decline rates for individual wells, which average 75-85 percent decline over the first three years. As geoscientist David Hughes points out, a steep decline rate for each well means that 30-45 percent of a play's production must be replaced each year by more drilling. In some areas of the U.S., spacing of gas wells has dropped from 1 well pad per 240 acres to 1 well pad per 10 acres.
A good example is the Haynesville shale play, which started at nearly zero in 2006 and shot up quickly until peaking in early 2012. As of 2017, the Haynesville is down by 52 percent. Despite the obvious decline in production, the EIA recently predicted an ever-higher output from the Haynesville, so that it will nearly double its 2012 peak and continue producing gas past 2040.
What About the Marcellus?
The Marcellus shale play currently provides over a third of total U.S. shale gas produced and is mainly in Pennsylvania but also includes eastern Ohio, northern West Virginia and southern New York state. The top five shale-producing counties in Pennsylvania have accounted for 65 percent of cumulative production from the Marcellus play, demonstrating the fact that most gas is produced from a few "sweet spots."
The EIA's overblown estimate of future gas supplies is higher for the Marcellus shale than any other play.
The chart below, Figure 1 from Hughes' 2016 study, shows the estimated recovery for several plays from the EIA's Annual Energy Outlook for 2014, 2015 and 2016. The 2016 estimate for the Marcellus play, in red, shoots up higher than any other play in the U.S. and is in fact 76 percent higher than the Annual Energy Outlook 2014 estimate. Note that the short black bar on the right is actual gas recovery. The Annual Energy Outlook 2016 estimate is also triple the estimate by the U.S. Geological Survey.
One constraint that's seldom mentioned is geological: many sweet spots already have so many wells that it's impossible to drill more wells without draining gas from adjacent wells, known as "well saturation."

During 2014 "Polar Vortex" Wind Power Saved Customers $1 Billion Over Two Days
Can clean energy really save money compared to natural gas fuel costs?
In early January 2014, an event called the "Polar Vortex" plunged the Northeast and Great Lakes region into a bitter cold. During those two days, as the cost of natural gas on the spot market skyrocketed to meet the huge demand, wind energy saved customers a stunning $1 billion over two days.
A more recent study by Synapse Energy Economics reports that if the use of wind energy doubled in the PJM Interconnection beyond current requirements, 12 states would save customers $7 billion per year, in part because wind energy would displace the need to purchase fuel.

Where is the U.S. Today on Natural Gas Production?
The latest numbers from the EIA report that year over year, U.S. natural gas production—and oil production—decreased from 2015 to 2016. Whether this trend continues or is merely a temporary decline, is yet to be seen.
EIA
But it's certainly worth watching. Any decreases in production might signal higher prices down the road, calling into question all of the math utilities are using to justify their massive investments in gas pipelines and power plants.

Keep reading...
Show less
Grizzly bears venturing from dens in search of food this spring will face landscapes dominated by mines, roads, pipelines, clearcuts and ever-expanding towns and cities. As in years past, they'll also face the possibility of painful death at the hands of trophy hunters.
British Columbia's spring bear hunt just opened. Hunters are fanning across the province's mountains, grasslands, forests and coastline, armed with high-powered rifles and the desire to bag a grizzly bear, just to put its head on a wall or its pelt on the floor as a "trophy."
According to BC government statistics, they will kill about 300 of these majestic animals by the end of the spring and fall hunts. If this year follows previous patterns, about 30 percent of the slaughter will be females—the reproductive engines of grizzly populations.
Many grizzlies will likely be killed within BC's renowned provincial parks and protected areas, where trophy hunting is legal. Government records obtained by the David Suzuki Foundation in 2008 show trophy hunters have shot dozens of grizzly bears in places we would expect wildlife to be protected. We don't know the exact number of bears killed in BC's parks since 2008 because, in contravention of a BC's privacy commissioner's ruling, the government refuses to disclose recent spatial data showing where bears have been killed.
Much of this killing has occurred in northern wilderness parks, such as Height of the Rockies Provincial Park, Spatsizi Plateau Wilderness Park and Tatshenshini-Alsek Wilderness Park. Tatshenshini-Alsek Park forms a massive transboundary conservation zone with federal protected areas in the Yukon (Kluane National Park and Reserve) and Alaska (Glacier Bay National Park and Preserve and Wrangell-St. Elias National Park and Preserve). Trophy hunting is prohibited in most U.S. national parks and all Canadian national parks, but not in BC's provincial parks.
Wild animals don't heed political boundaries. Wide-ranging species like grizzly bears move in and out of neighboring jurisdictions. If a grizzly bear in Montana wanders a few kilometers north in search of a mate, it goes from being protected by the U.S. Endangered Species Act to being a possible trophy hunter target in BC.
But now, in response to intense pressure from the trophy hunting industry, the U.S. administration wants to strip grizzly bears of federal protection. President Trump also recently signed into law rules allowing trophy hunters to target grizzly bears around bait stations and from aircraft and to kill grizzly mothers and their cubs in Alaska's national wildlife refuges, where they've been protected from these unethical hunting practices.
Grizzly bears face an ominous political climate under the Trump administration, along with growing human threats across their North American range, from trophy hunting to habitat destruction, precipitous declines in food sources like salmon and whitebark pine nuts and climate change impacts.
In parts of Canada, mainly in sparsely populated areas of northern BC and the territories, grizzly bear numbers are stable. But in the Interior and southern BC and Alberta, grizzlies have been relegated to a ragged patchwork of small, isolated and highly threatened habitats—a vestige of the forests and grasslands they once dominated. The BC government has ended grizzly hunting among highly threatened sub-populations in the Interior and southern parts of the province and, in response to pressure from local First Nations, has promised to do the same in the Great Bear Rainforest. But the slaughter of BC's great bears continues everywhere else.
That this year's spring hunt coincides with a BC election could bring hope for grizzlies, possibly catalyzing the first change in government wildlife policy in close to two decades. The May 9 election will give BC residents the opportunity to ask candidates if they will end the grizzly hunt if elected. So far, the BC New Democratic Party and Green Party say they would ban grizzly trophy hunting (but allow grizzly hunting for food), whereas the BC Liberals continue to defend and promote the trophy hunt as "well-managed," despite scientific evidence to the contrary.
The fate of BC's grizzlies is too important to be a partisan issue. All politicians should support protection. Rough-and-tumble politics this election season might finally end BC's cruel and unsustainable grizzly bear trophy hunt. It's time to stop this grisly business.
Keep reading...
Show less
GreenWave
By Jonathan Hahn
On President Trump's first Earth Day in the White House, he declared on Twitter that "we celebrate our beautiful forests, lakes and lands"—an amiable if blasé arm-punch to the planet from the leader of the free world.
Until a few hours later that is, when the president resorted to his usual right cross.
"I am committed to keeping our air and water clean," he tweeted, "but always remember that economic growth enhances environmental protection. Jobs matter!"
Rarely does President Trump or his surrogates miss an opportunity to propound that "jobs matter" when it comes to the nation's environmental policies—especially where climate change is concerned. This binary logic—environmental protection equals job killer—is deeply woven into their world view. Trump has repeatedly called Obama-era initiatives like the Clean Power Plan "job killers" and vowed to "rescind all the job-destroying Obama executive actions, including the Climate Action Plan."
The delegation of fishermen that set sail Wednesday from a marina in Solomons, Maryland, would beg to differ. The only "job destroyer" for them is climate change.
Concerned about the threat global warming poses to their livelihoods, a crew of sustainable ocean farmers began a three-day journey they're calling the "Climate March by Sea." At the tiller of the small commercial fishing boat is Bren Smith, owner of Thimble Island Ocean Farm and the executive director of GreenWave. They're heading south down the Chesapeake before they plan to turn north up the Potomac on their way to Washington, DC.
Their final destination: the Peoples Climate March, when thousands of people, including indigenous, civic, social justice, business and environmental advocacy groups are set to take to the streets of the nation's capital to demand action on climate, jobs and justice.
"Climate change was supposed to be a slow lobster boil," Smith said in an interview before casting off. "For me, it arrived 100 years earlier than expected. We fishermen are the citizen scientists reporting that water temperatures are going up, species are moving north, the weather is becoming more extreme. We can see it with our own eyes. We're way beyond the idea of climate denial."
When it comes to environmental policy, the "job killer" argument is a red herring. According to an analysis by the Environmental Integrity Project, "two-tenths of one percent of layoffs are caused by government regulations of any kind, including environmental regulations. Layoffs are caused far more often by corporate buyouts, technological advances and lower overseas labor costs."
For fishermen, the real crisis isn't government regulation, but the threats climate change poses to healthy oceans and seas. Marine and coastal fisheries contribute more than $200 billion in economic activity and 1.8 million jobs in the U.S. each year, according to the National Oceanic and Atmospheric Administration (NOAA). The World Wildlife Fund reports that marine populations are in catastrophic decline, plunging by 49 percent between 1970 and 2012, thanks in part to ocean acidification caused by warming waters, rising sea levels and extreme weather.
Meanwhile, more than 40 percent of fisheries have crashed due to overfishing, resulting in upward of $50 billion in economic losses, the California Environmental Associates assessed in its Charting a Course to Sustainable Fisheries report. One out of four marine species is threatened as a result of overfishing and climate change, among other factors, with 37 out of 1,288 bony fish species facing extinction, according to the International Union for Conservation of Nature's Red List of Threatened Species.
The Climate March by Sea will cover 150 miles over three days, making occasional stops to pick up supporters. The crew of ocean farmers and commercial fishermen will be posting and live tweeting along the way on GreenWave's Facebook, Twitter and Instagram pages with the hashtag #climatemarchbysea. They hope the voyage will help adrenalize public discourse about solutions to the climate crisis in the days leading up to the Peoples Climate March this Saturday.
An eclectic medley of individual, advocacy and corporate partners have come together to sponsor the journey, including celebrity chefs René Redzepi and David Chang, Patagonia, Ben and Jerry's, Dr. Bronners, 350.org, Bioneers, the Natural Resources Defense Council, Oceana and the Sierra Club, among others. The trip's organizers are also raising individual donations to help pay for supplies and to sponsor more fishermen.
During the voyage, the crew will cowrite a letter, addressed to President Trump, in which they intend to make clear that climate change itself, not the policies devised to combat it, threatens the economy, their jobs and their way of life. They will also demand an end to the planned cuts to agencies like NOAA and the U.S. Environmental Protection Agency. Smith plans to reaffirm in the letter what has become his most ardent message: There will be no jobs on a dead planet.
"Climate change is an economic issue, not just an environmental issue," he said. "It's not just about the birds and the bees. It's also about how do I run a small business and make a living in an era of extreme weather? We're heading to DC to send that message—that our livelihoods depend on a healthy ecosystem. That for those of us who care about building domestic employment, we have to mitigate climate change and protect our water."
For Smith, the Climate March by Sea is the latest in a multi-decade career during which he witnessed the ramifications of overfishing and extreme weather firsthand. A high school dropout who grew up in a fishing village, Smith first cast out to learn how to fish when he was 14. He started working on the Bering Sea as a fisherman at the height of industrialized fishing, catching fish that mostly went to companies like McDonald's for fish sandwiches. "We were tearing up entire ecosystems with our trawls, producing some of the unhealthiest food," he said.
Later, after he'd set up his own oyster farm, two hurricanes in a row wiped him out: Hurricane Sandy and Hurricane Irene. Smith lost 90 percent of his crops, he said. Most of his gear washed out to sea.
When he began the process of rebuilding, he took an interest in extreme weather and what was causing it. He quickly became disillusioned.
Smith developed an innovative form of marine polyculture featuring a mix of shellfish and seaweed, which he calls "3-D farming." Seaweed soaks up five times as much carbon as land-based plants and is rich in omega-3s, vitamins and minerals. It also serves as storm-surge protectors. "So you can see this nexus of new environmentalism, which isn't just about conservation," he said, "it's about jobs, environmental protection and addressing food security all at once. I think we're at that sweet spot."
Since then, Smith has also created GreenWave, a nonprofit, to open-source his model of sustainable ocean farming for other fishermen and to engage in policy work and research around ocean planning, such as developing new mobile hatcheries. He also runs Seagreen Farms, which is a for-profit in the early stages of building seafood hubs in poor neighborhoods.
"I'm not really an environmentalist per se," he said. "My journey has been trying to figure out how to spend my life working on the water. This jobs-versus-environment choice that the administration keeps telling us, whether we're coal miners or fishermen, is a false choice. Environmentalism and the future of the new economy are inextricably linked."
The Climate March by Sea will dock at the Washington Marina in Georgetown on Friday morning, where the crew will hold a press conference at 10:00 a.m. They'll host an event that night at Patagonia, where they will be shucking oysters, serving beer and making signs as they prepare for the Peoples Climate March the following day.
"The Peoples Climate March represents to me the future of environmentalism," he said. "It's also time to push back. We need to defend our ground, our waters, our funding. We need to drive home that there is a whole generation of blue collar people that believe in climate change and demand that it be addressed now."
Reposted with permission from our media associate SIERRA Magazine.
Keep reading...
Show less
New York City's Riverside Church, founded by the Rockefellers and the tallest church in the U.S., announced Tuesday that it intends to divest its $140 million endowment from all fossil fuels within five years. It has already divested from coal and this builds on that action in the lead up to the Peoples Climate March and Global Divestment Mobilization.
"Riverside's decision to strategically divest from the Carbon Underground 200 underscores our shared commitment to be a faithful witness to God's reconciling grace in the world," Senior Minister Rev. Dr. Amy Butler of the church said when making the announcement.
The church has welcomed the likes of Dr. Martin Luther King, Jr., Nelson Mandela, President Bill Clinton, the Dalai Lama and 350's own Bill McKibben to address the congregation over the decades.
Interestingly, the church was founded by John D. Rockefeller Jr. who's father became one of the wealthiest men in the U.S. in the late 1800s as owner of Standard Oil, the largest oil production company of its time. The church was literally built with oil money which makes this announcement even more impactful. The Rockefeller Brothers Fund, established by grandchildren of Rockefeller Sr., announced its intention to divest from fossil fuels in 2014.
"We are committed to raising awareness on a global level that fossil fuels need to be rapidly phased out," Beth Ackerman, chair of the Beloved Earth Community at the church, said. "It is just wrong to ruin our one beautiful planet, the place where everything we've ever known exists."
Divestment momentum in New York continues to build, increasing pressure on New York state and city comptroller Thomas DiNapoli and Scott Stringer to move the $350 billion state and city pension funds to freeze new investments in fossil fuel companies and commit to full divestment.
Get inspired and join DivestNY activities and events during May 5-16 during Global Divestment Mobilization.
Keep reading...
Show less