Pilot Study Finds Plants Sold As 'Bee Friendly' Pretreated With Pesticides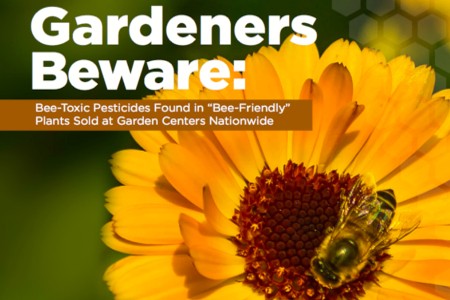 Many "bee friendly" home garden plants sold at Home Depot, Lowe's and other leading garden centers have been pre-treated with pesticides shown to harm and kill bees, according to a new, first-of-its-kind pilot study released yesterday by Friends of the Earth and allies.
The pilot study, co-authored by the Pesticide Research Institute, found that seven of 13 samples of garden plants purchased at top retailers in Washington DC, the San Francisco Bay Area and Minneapolis contain neurotoxic pesticides known as neonicotinoids that studies show could harm or kill bees and other pollinators.
A growing body of science has implicated neonicotinoids (neonics), which are used in agriculture and also for cosmetic purposes on garden plants, as a key factor in recent global bee die-offs. Beekeepers across the country reported losses of 40-90 percent of their bees last winter. The European Union is set to suspend the use of three neonic pesticides later this year, after a scientific review by European Food Safety Authority found that neonicotinoids pose an unacceptably high risk to bees.
"Our investigation is the first to show that so called 'bee-friendly' garden plants contain pesticides that can poison bees, with no warning to gardeners," said Lisa Archer, director of the Food and Technology Program at Friends of the Earth. "Bees are essential to our food system and they are dying at alarming rates. Neonic pesticides are a key part of the problem we can start to fix right now in our own backyards."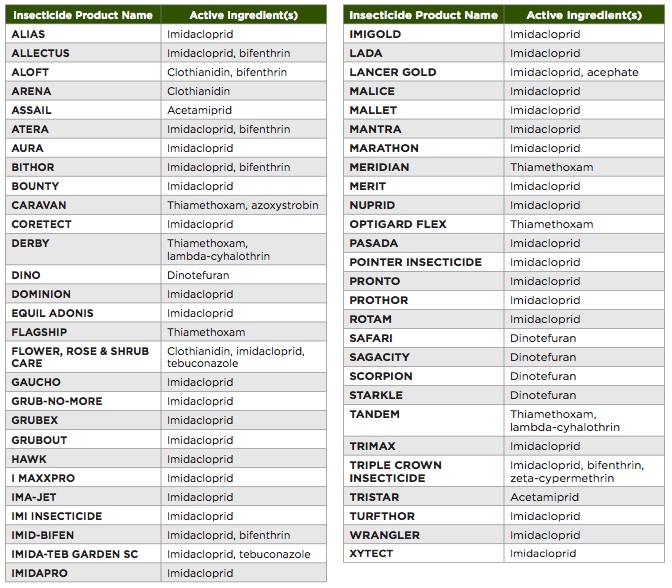 Friends of the Earth, Sum of Us and allies sent letters yesterday—along with petitions signed by more than 175,000 people—to Lowe's, Home Depot, Target and other top garden retailers asking the stores to stop selling neonicotinoids and plants pre-treated with the pesticides. A majority of the UK's largest garden retailers, including Homebase, B&Q and Wickes, have already stopped selling neonics. 
Neonics are the most widely used class of insecticides in the world. Bees are exposed through multiple routes, including—as the pilot study highlights—common home garden plants.
"The pilot study confirms that many of the plants sold in nurseries and garden stores across the U.S. have been pre-treated with systemic neonicotinoid insecticides, making them potentially toxic to pollinators," said Timothy Brown, PhD, of the Pesticide Research Institute. "Unfortunately, these pesticides don't break down quickly—they remain in the plants and the soil and can continue to affect pollinators for months to years after the treatment."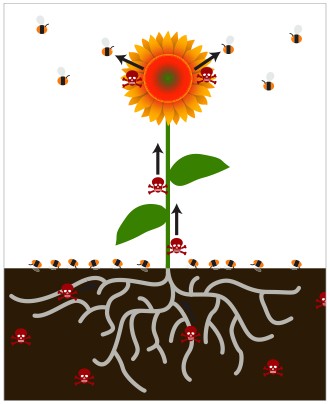 The high percentage of contaminated plants and their neonicotinoid concentrations suggest that this problem is widespread, and that many home gardens have likely become a source of harm for bees.
"Bees have enough troubles; there's no need for home gardens to add to the problem," said Emily Marquez, staff scientist at Pesticide Action Network.
"Studies indicate that widespread use of systemic pesticides like neonicotinoids is contributing to major bee kills around the globe," Marquez continues "And even at doses that don't kill bees, neonics weaken bee immune systems and impair critical brain functions, making it hard for bees to find their food sources and return to the hive."
"We must take immediate action to address this crisis. Europe has banned bee-harming pesticides, retailers in the UK are refusing to sell them, and stores like Home Depot and Lowe's have a moral obligation to make the same commitment here in the U.S.," said Archer. "In the meantime, gardeners should start their plants from untreated seeds or choose organic plants for their gardens."
In addition to pressuring retailers, U.S. groups are calling for the government to restrict the use of neonics in the U.S.
"While neonics may not be the only factor in bee die offs, they are a significant factor, and one that we can do something about. It's time for EPA to step in and suspend use of these pesticides on bee-attractive plants," said Larissa Walker, policy and campaign coordinator at the Center for Food Safety.
In the face of mounting evidence linking neonics to bee colony declines, and more than a million public comments urging swift protections for bees, the Environmental Protection Agency (EPA) has delayed action until 2018.
Last month, U.S. Representatives Blumenauer (D-OR) and Conyers (D-MI) introduced the Save American's Pollinators Act, which seeks to suspend the use of neonics on bee-attractive plants until EPA reviews all of the available data, including field studies.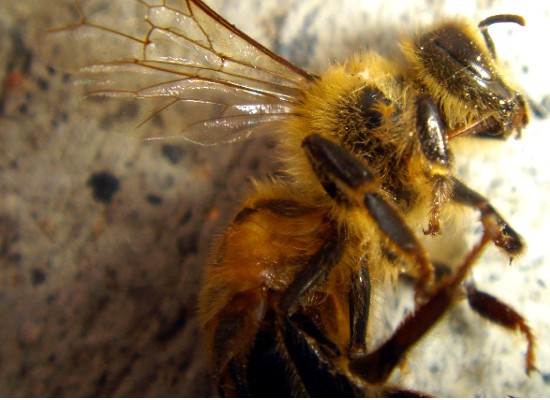 Rep. Blumenauer introduced the bill after 50,000 bumblebees died in a Target parking lot in Wilsonville, OR, when the neonic pesticide dinotefuran was applied to nearby trees. The bee massacre also prompted the Oregon Department of Agriculture to prohibit further cosmetic use of pesticides containing dinotefuran for the remainder of 2013.
In July, 37 million honeybees were reported dead across a single farm in Ontario from the dust associated with planting neonic-treated corn seeds.
"The weight of accumulated evidence from scientists across Europe and North America shows that neonicotinoids harm honey bees, bumble bees, and other important pollinators," said Scott Hoffman Black, executive director of the Xerces Society. "Swift action is needed by all sectors of society to reduce the prevalence of these insecticides in our environment. By phasing out their use, nurseries can play a leadership role in this change."
"The bees and beekeepers are telling us they can't wait until 2018—and neither can we," said Nichelle Harriott, staff scientist at Beyond Pesticides. "Retailers, EPA and Congress need to step up their efforts to protect pollinators."
Visit EcoWatch's BIODIVERSITY page for more related news on this topic.
——–
Katahdin Woods and Waters. National Parks Conservation Association.
Looks like you'll have to trust your map if you want to find the newly designated Katahdin Woods and Waters National Monument in Maine.
Gov. Paul LePage has refused to put up any official signs along the four main roads to the 87,500-acre preserve, which is on the list of 27 national monuments under Interior Sec. Ryan Zinke's review.
Keep reading...
Show less
Keep reading...
Show less
More than 58 percent of Swiss voters supported a measure to phase out nuclear power in favor of renewable energy.
The plan provides billions in subsidies for renewable energy, bans the construction of new nuclear plants and decommissions Switzerland's five aging reactors. There is no clear date when the plants will close.

Keep reading...
Show less
iStock
By Alex Kirby
An ambitious scientific expedition is due to start work on May 22 on Bolivia's second-highest mountain, Illimani. The researchers plan to drill three ice cores from the Illimani glacier, and to store two of them in Antarctica as the start of the world's first ice archive.
Keep reading...
Show less
CC-BY-SA-2.5 and GNU FDL
Although not on most people's radar here, New York is one step closer to becoming the first state to have genetically modified, non-sterile insects released outside without cages.

Keep reading...
Show less
Photo credit: Michael Fujiwara/YouTube
The viral video of a young girl snatched off a Richmond, British Columbia dock by a sea lion is another reminder that people shouldn't get too close to wild animals.
Port officials in Canada have sharply criticized the family for putting themselves at risk for feeding the large animal, especially since there are several signs in the area warning people not to do so.
Keep reading...
Show less
Bears Ears National Monument. Tim Peterson
An anti-public lands official in Utah said Interior Sec. Ryan Zinke has already made up his mind to repeal Bears Ears National Monument, a move experts say could be against the law.
Keep reading...
Show less
The Crop Trust
Flooding breached a supposedly impregnable Arctic "doomsday" vault containing a collection of seeds stored for an apocalypse scenario last week, after warmer-than-average temperatures caused a layer of permafrost to thaw.
Keep reading...
Show less