Outrage Follows World Food Prize Award to GMO Scientists
Petitions signed by more than 345,000 people were delivered to the World Food Prize headquarters Thursday opposing the awarding of this year's prize to top researchers from agrichemical giants Monsanto and Syngenta whose contributions led to the development of genetically engineered (GE) crops.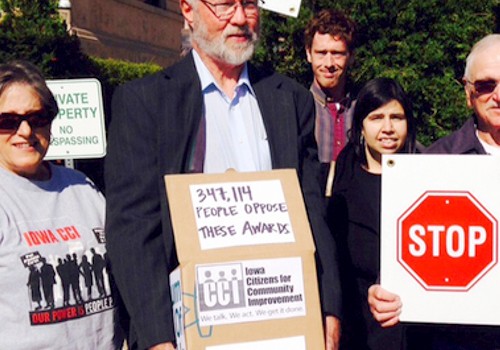 The prize, awarded Thursday, is part of the annual World Food Day celebrations and is considered the foremost prize in agriculture. The World Food Prize goal is to recognize "the achievements of individuals who have advanced human development by improving the quality, quantity or availability of food in the world."
The Center for Food Safety, Iowa Citizens for Community Improvement, Pesticide Action Network North America and other groups delivered a petition signed by more than 345,000 people opposed to genetically engineered (GE) crops. The petition delivery kicked off a four-hour vigil in front of the World Food Prize Foundation headquarters in Iowa.
"With this award, the World Food Prize is perpetuating the false notion that genetically engineered crops are a solution to world hunger and malnutrition," said Andrew Kimbrell, executive director for Center for Food Safety. "This kind of biotech propaganda obscures the huge potential of low-cost agricultural techniques that actually increase food production and alleviate hunger. Awarding the World Food Prize to these biotech giants only serves to divert attention from these truly nutritious and sustainable approaches."
The high cost of GE seeds and chemicals, along with uncertain crop yields, make GE crops a poor choice for farmers, particularly in the developing world, said a joint project between the United Nations and the World Bank. African scientists representing many of the nations affected by poverty and hunger say GE crops undermine the nations' capacities to feed themselves by destroying established diversity, local knowledge and sustainable agricultural systems, the Center for Food Safety said.
Three researchers—Mary-Dell Chilton of Syngenta, Robert T. Fraley of Monsanto and Marc Van Montagu of Belgium—received the prestigious World Food Prize for their work.
"My hope is this will put to rest the misguided opposition" to the crops, Chilton said after receiving the award. She called genetically modified organisms a "wonderful tool" in the fight against hunger.
The Union of Concerned Scientists said Thursday that while the scientists have made valuable scientific discoveries, the biotechnology companies grossly overhype genetic engineering's ability.
Further, Monsanto and other agricultural companies are generous sponsors of the World Food Prize—including a $5 million donation from Monsanto—which creates a conflict of interest for company scientists who receive the prize, Union of Concerned Scientists said.

Katahdin Woods and Waters. National Parks Conservation Association.
Looks like you'll have to trust your map if you want to find the newly designated Katahdin Woods and Waters National Monument in Maine.
Gov. Paul LePage has refused to put up any official signs along the four main roads to the 87,500-acre preserve, which is on the list of 27 national monuments under Interior Sec. Ryan Zinke's review.
Keep reading...
Show less
Keep reading...
Show less
More than 58 percent of Swiss voters supported a measure to phase out nuclear power in favor of renewable energy.
The plan provides billions in subsidies for renewable energy, bans the construction of new nuclear plants and decommissions Switzerland's five aging reactors. There is no clear date when the plants will close.

Keep reading...
Show less
iStock
By Alex Kirby
An ambitious scientific expedition is due to start work on May 22 on Bolivia's second-highest mountain, Illimani. The researchers plan to drill three ice cores from the Illimani glacier, and to store two of them in Antarctica as the start of the world's first ice archive.
Keep reading...
Show less
CC-BY-SA-2.5 and GNU FDL
Although not on most people's radar here, New York is one step closer to becoming the first state to have genetically modified, non-sterile insects released outside without cages.

Keep reading...
Show less
Photo credit: Michael Fujiwara/YouTube
The viral video of a young girl snatched off a Richmond, British Columbia dock by a sea lion is another reminder that people shouldn't get too close to wild animals.
Port officials in Canada have sharply criticized the family for putting themselves at risk for feeding the large animal, especially since there are several signs in the area warning people not to do so.
Keep reading...
Show less
Bears Ears National Monument. Tim Peterson
An anti-public lands official in Utah said Interior Sec. Ryan Zinke has already made up his mind to repeal Bears Ears National Monument, a move experts say could be against the law.
Keep reading...
Show less
The Crop Trust
Flooding breached a supposedly impregnable Arctic "doomsday" vault containing a collection of seeds stored for an apocalypse scenario last week, after warmer-than-average temperatures caused a layer of permafrost to thaw.
Keep reading...
Show less