Organic Farmer Taken to Court for Refusing to Spray Pesticides
The French agriculture ministry is prosecuting Emmanuel Giboulot, an organic winemaker, for failing to apply insecticide to his vines. The ministry wants insecticide to be sprayed to control the leafhopper Scaphoideus titanus—believed to be responsible for the spread of the grapevine disease—but Giboulot believes the pesticide is ineffective and damaging to pollinating insects such as bees, and insists the disease can be fought via more natural means.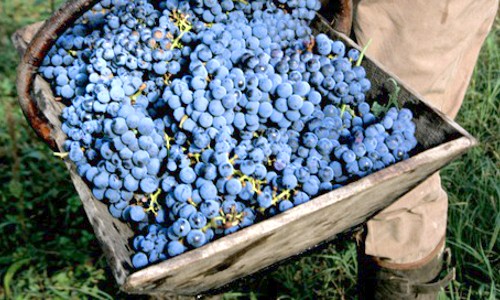 Emmanuel Giboulot appeared before a judge in the city of Dijon on Monday after defying an official order to treat his vineyard against an insect suspected of transmitting a devastating plant disease, and risks six months in jail for failing to take preventive measures against a bacterial vine disease. He was fined €1,000 for putting neighboring vineyards at risk. The court's final verdict will be announced on April 7.
Giboulot, an organic and biodynamic winemaker, was found to be in violation of a directive to use pesticides to fight Flavenscence dorée, an infectious disease spread by the leaf hopper, Scaphoideus titanus that threatens the Côte-d'Or region of Burgundy. An estimated 30 acres of vines were destroyed by the disease in 2012.
"Would we give chemotherapy to someone as a preventive measure against a potential future cancer?" Mr. Giboulot asked.
He argues that the pesticide is harmful to beneficial insects and animals, and may not even be effective at preventing the vine disease.
"My father began converting to organic farming in the 1970′s, and we are now fully organic and biodynamic," Giboulot is reported as saying. "I don't want to undo decades of work applying a treatment where the effects on the health of the vines, and the public, are as yet unproved."
The wine maker cultivates about 25 acres of vines, to produce Côte de Beaune and Hautes Côtes de Nuits wines.
The French agriculture ministry prosecuted Giboulot under article 251-20 of the rural code, for "failing to apply an insecticide treatment to his vineyard" in July last year. Vine growers in several regions, including Burgandy, are required by French law to use pesticides to control this disease.
The disease, which first appeared in the 1950s, threatens more than half the Burgundy region's vineyards and that preventative treatment by pesticide is necessary. After the discovery of the disease in Burgundy's Beaune region, the local administration ordered all vineyard owners in the Côte d'Or area to treat their vineyards with pesticides. But Giboulet argues that even Pyrevert, a pyrethrin-based pesticide product that organic farmers could use against the pest without losing their certification, has undesirable side effects.
"It kills not only the insect but also other fauna that are necessary for the natural balance in a vineyard," Giboulet said. Pyrethrin, although made from chrysanthemum flower, is a neurotoxin that is also toxic to bees and aquatic organisms. Its synthetic cousins, pyrethroids, are more toxic and persistent. Last June another organic winemaker was prosecuted and convicted for not treating his vines, but was spared a prison sentence or fine after finally agreeing to spray against the disease.
Denis Thiery, a vine specialist at the French National Institute for Agronomic Research, also agrees, saying:
Even if Pyrevert is of natural origins, it is damaging for the environment. It is a neurotoxin that can affect not just insects, but birds, other animals, even the winemakers, depending on the doses used. In reality, the efficacy of these treatments against flavescence dorée, whether natural or conventional, is not great. Not all the insects are killed and the epidemic continues to spread quickly. But, like all epidemics, we don't know if the situation would be worse without the treatment.
Giboulot believes there are more natural means of preventing the vine disease. "I am not trying to be radical," he said. "I want to show people that there are options, and that we need to think about our own health and that of our customers."
Unfortunately, there is no sure way to control this vine disease, but many agree vigilance and monitoring adult populations is key to reducing pesticide applications. In fact, French environmentalists argue that instead of ordering the sweeping use of pesticides, local authorities should monitor the disease, uproot affected vines and limit the mandatory use of pesticides to the areas under threat. Hot water treatments have been known to kill the eggs of Scaphoideus titanusas well as other pathogens. Sulfur and paraffin oil applications after bud break have also been suggested to control the pest.
France is the third-highest user of pesticides in the world after the U.S. and Japan, and the highest user in Europe. The country has pledged to reduce its pesticide consumption by 50 percent by 2018. This pledge is momentous in light of a 2013 study that found pesticide residues in 90 percent of French wines tested, including residues found in some organic wines, which had the French public alarmed.
Thirty-three chemicals found in fungicides, insecticides, and herbicides showed up in wines, and every wine showed some detectable trace of chemicals. (The study can be hound here in French). However, there are no EU toxicity limits for bottled wine, only for wine grapes before fermentation. Other reports have also identified several pesticide residues in wine. The health impacts of pesticide exposure to vineyard farmworkers is also a concern. According to a Pesticide Action Network-Europe report, "Published scientific analysis suggests that those exposed to pesticides in grape production suffer a higher incidence of allergic rhinitis, respiratory problems, cancers and chromosomal and nuclear abnormalities, as well as lower neurological capacities."
While the organic wine market has grown—the share of organically produced French wines rose from 2.6 percent in 2007 to 8.2 percent by the end of 2012, according to the New York Times, contamination of organic vineyards from neighboring areas continues to threaten the industry. In the U.S., only wine made with organic grapes and naturally occurring sulfites can be labeled organic.
Visit EcoWatch's BIODIVERSITY page for more related news on this topic.

Katahdin Woods and Waters. National Parks Conservation Association.
Looks like you'll have to trust your map if you want to find the newly designated Katahdin Woods and Waters National Monument in Maine.
Gov. Paul LePage has refused to put up any official signs along the four main roads to the 87,500-acre preserve, which is on the list of 27 national monuments under Interior Sec. Ryan Zinke's review.
Keep reading...
Show less
Keep reading...
Show less
More than 58 percent of Swiss voters supported a measure to phase out nuclear power in favor of renewable energy.
The plan provides billions in subsidies for renewable energy, bans the construction of new nuclear plants and decommissions Switzerland's five aging reactors. There is no clear date when the plants will close.

Keep reading...
Show less
iStock
By Alex Kirby
An ambitious scientific expedition is due to start work on May 22 on Bolivia's second-highest mountain, Illimani. The researchers plan to drill three ice cores from the Illimani glacier, and to store two of them in Antarctica as the start of the world's first ice archive.
Keep reading...
Show less
CC-BY-SA-2.5 and GNU FDL
Although not on most people's radar here, New York is one step closer to becoming the first state to have genetically modified, non-sterile insects released outside without cages.

Keep reading...
Show less
Photo credit: Michael Fujiwara/YouTube
The viral video of a young girl snatched off a Richmond, British Columbia dock by a sea lion is another reminder that people shouldn't get too close to wild animals.
Port officials in Canada have sharply criticized the family for putting themselves at risk for feeding the large animal, especially since there are several signs in the area warning people not to do so.
Keep reading...
Show less
Bears Ears National Monument. Tim Peterson
An anti-public lands official in Utah said Interior Sec. Ryan Zinke has already made up his mind to repeal Bears Ears National Monument, a move experts say could be against the law.
Keep reading...
Show less
The Crop Trust
Flooding breached a supposedly impregnable Arctic "doomsday" vault containing a collection of seeds stored for an apocalypse scenario last week, after warmer-than-average temperatures caused a layer of permafrost to thaw.
Keep reading...
Show less