Oil and Gas Industry Buys Colorado Fracking Election

In what may have been the most expensive and farce of an election in the history of Colorado, the oil and gas industry has likely spent $1 million to buy a fracking election in the city of Loveland, CO. When the votes were tallied last night for a two-year fracking moratorium in Loveland, "no" votes squeaked out a victory by a 10,844 to 9,942 margin, getting just 52 percent of the vote.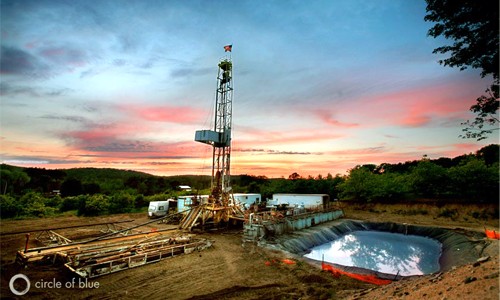 The industry has so-far reported spending more than $375,000 on those 10,844 votes, but massive unreported spending that exploited a loophole in the Colorado campaign finance law ruled the election. As long as the industry's ads didn't say "vote for" or "vote against," they didn't have to report their spending. That resulted in a deluge of an aerial attack of TV ads, radio ads, newspaper ads and inserts, and mailers that inundated voters in Loveland. Residents reported getting one and sometimes two mailers a day over the last three weeks, many including bucolic photos of pristine Colorado landscapes while hailing positive aspects of fracking.
Anti-fracking activists from a local group Protect Our Loveland spent about $7,500 trying to pass the moratorium. In the end, Protect Our Loveland was likely outspent by a 100 - 1 margin by the most profitable industry on the planet.
At the same time that the industry bought the election, it also fought fiercely to manipulate the election date and process. Anti-fracking activists in Loveland gathered the signatures and tried to place the vote on the ballot in November of 2013 at the same time that anti-fracking elections swept neighboring cities of Fort Collins, Boulder, Lafayette and Broomfield in Colorado's "Frack Zone." But, the oil and gas industry sued in court to get the election postponed and bullied the Loveland City Council into delaying the vote. A couple months later, a judge ruled against the industry and the city and forced the election to occur. An industry-friendly city council then cherry-picked a date—June 24—for the election that coincided with the hotly contested Republican Governor's race in Colorado, thus ensuring a large turnout of very conservative voters.
The anti-fracking fight continues in Colorado where 53,000 active wells are splattered across the landscape and about 3,000 new wells are drilled every year, many of those in suburban neighborhoods like Loveland. But, one thing is clear: the oil and gas industry will do anything, say anything and spend anything to force fracking down the throats of citizens. If you're involved in the fracking fights in New York, Pennsylvania, Ohio, Texas or California, be forewarned—this industry is fighting for its life and you will have to fight for yours, too.
Katahdin Woods and Waters. National Parks Conservation Association.
Looks like you'll have to trust your map if you want to find the newly designated Katahdin Woods and Waters National Monument in Maine.
Gov. Paul LePage has refused to put up any official signs along the four main roads to the 87,500-acre preserve, which is on the list of 27 national monuments under Interior Sec. Ryan Zinke's review.
Keep reading...
Show less
Keep reading...
Show less
More than 58 percent of Swiss voters supported a measure to phase out nuclear power in favor of renewable energy.
The plan provides billions in subsidies for renewable energy, bans the construction of new nuclear plants and decommissions Switzerland's five aging reactors. There is no clear date when the plants will close.

Keep reading...
Show less
iStock
By Alex Kirby
An ambitious scientific expedition is due to start work on May 22 on Bolivia's second-highest mountain, Illimani. The researchers plan to drill three ice cores from the Illimani glacier, and to store two of them in Antarctica as the start of the world's first ice archive.
Keep reading...
Show less
CC-BY-SA-2.5 and GNU FDL
Although not on most people's radar here, New York is one step closer to becoming the first state to have genetically modified, non-sterile insects released outside without cages.

Keep reading...
Show less
Photo credit: Michael Fujiwara/YouTube
The viral video of a young girl snatched off a Richmond, British Columbia dock by a sea lion is another reminder that people shouldn't get too close to wild animals.
Port officials in Canada have sharply criticized the family for putting themselves at risk for feeding the large animal, especially since there are several signs in the area warning people not to do so.
Keep reading...
Show less
Bears Ears National Monument. Tim Peterson
An anti-public lands official in Utah said Interior Sec. Ryan Zinke has already made up his mind to repeal Bears Ears National Monument, a move experts say could be against the law.
Keep reading...
Show less
The Crop Trust
Flooding breached a supposedly impregnable Arctic "doomsday" vault containing a collection of seeds stored for an apocalypse scenario last week, after warmer-than-average temperatures caused a layer of permafrost to thaw.
Keep reading...
Show less