Ohio Singled Out for Worst Fracking Waste Disposal Practices
The Government Accountability Office (GAO) released a new report this week showing that Ohio was the only state among eight studied that allows waste fluids from oil and gas wells to be disposed of without disclosure of the chemicals it contains.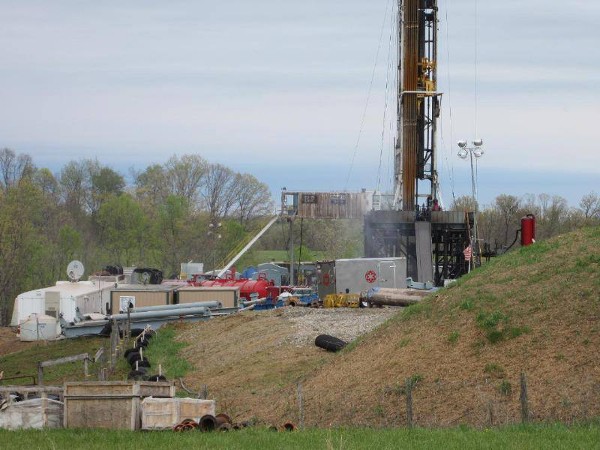 The report, created as a request by seven Democratic U.S. Senators and Congresspersons, studied eight states where fracking has become widespread—California, Colorado, Kentucky, North Dakota, Ohio, Oklahoma, Pennsylvania and Texas. All but Ohio required waste disposal companies to provide information on the waste content before getting a permit to dispose of it, primarily in injection wells deep underground.
Many of the states studied, including North Dakota, Pennsylvania and Kentucky, have stringent disclosure requirements before a permit for disposal is issued. Ohio, however, has no disclosure requirements before or after a permit is issued by the Ohio Department of Natural Resources (ODNR).
"According to officials, class II injection well operators [in Ohio] are not required to analyze the chemical composition of injected fluids," says the GAO report. "The division has supported research to analyze produced water samples from oil and gas producing formations. In addition, operators may monitor the specific gravity of fluids when applying to increase permitted injection pressure limits. The division may sample injection fluids at any time during injection operations."
In other words, the operators and the ODNR may monitor the chemical content if they feel like it but they don't have to.
Ohioans, concerned about the potential of fracking waste contaminating drinking water despite alleged safeguards, said this confirms their long-time belief that oversight at the ODNR is deficient.
"This report clearly supports what communities have known for years: Ohio's huge injection well industry—which takes a huge amount of waste daily, most of which is from out-of-state—has minimal regulation that is simply not up to the task of protecting Ohio's drinking water," said Teresa Mills, consultant for the Buckeye Forest Council. "It is a system designed by and for the oil and gas industry that no citizen has any reason to trust." Mills also points out that radioactive isotopes contained in the waste fluids are not even mentioned in the report.
"ODNR's own statistics say that it has permitted over 240 injection wells while the neighboring states of Pennsylvania and West Virginia that frack extensively have far fewer injection wells," said Roxanne Groff, a township trustee in Bern Township, located in Ohio's fracking heartland in southeast Ohio. "Most of the contaminated waste fluids from those states is shipped to Ohio for injection."
She referred to Ohio Senate Bill 315, passed in May 2012, which includes a provision (section 1510-9) that allows companies to exempt themselves from disclosing chemicals to the state by declaring them a "trade secret," a piece of "model legislation" drafted by corporate lobbying group the American Legislative Exchange Council (ALEC).
"Chemical secrecy has been the oil and gas industry's goal from the beginning and they've achieved more secrecy in Ohio than any other state," said Groff.
It's just another front in Ohio's war on clean energy under Gov. John Kasich. In June, the state became the first in the country to freeze renewable energy standards, and a bill to repeal them permanently is circulating for sponsors in the legislature. The Ohio Senate passed a resolution early this year urging that LEED green building standards not be used in government buildings.
YOU MIGHT ALSO LIKE
Major Fracking Company to Reveal All 'Trade Secret' Chemicals Used in Drilling Process
Ohio Gov. John Kasich Signs Nation's First Renewable Energy Freeze
Ohio Moves Closer to Banning LEED's Green Building Standards
Katahdin Woods and Waters. National Parks Conservation Association.
Looks like you'll have to trust your map if you want to find the newly designated Katahdin Woods and Waters National Monument in Maine.
Gov. Paul LePage has refused to put up any official signs along the four main roads to the 87,500-acre preserve, which is on the list of 27 national monuments under Interior Sec. Ryan Zinke's review.
Keep reading...
Show less
Keep reading...
Show less
More than 58 percent of Swiss voters supported a measure to phase out nuclear power in favor of renewable energy.
The plan provides billions in subsidies for renewable energy, bans the construction of new nuclear plants and decommissions Switzerland's five aging reactors. There is no clear date when the plants will close.

Keep reading...
Show less
iStock
By Alex Kirby
An ambitious scientific expedition is due to start work on May 22 on Bolivia's second-highest mountain, Illimani. The researchers plan to drill three ice cores from the Illimani glacier, and to store two of them in Antarctica as the start of the world's first ice archive.
Keep reading...
Show less
CC-BY-SA-2.5 and GNU FDL
Although not on most people's radar here, New York is one step closer to becoming the first state to have genetically modified, non-sterile insects released outside without cages.

Keep reading...
Show less
Photo credit: Michael Fujiwara/YouTube
The viral video of a young girl snatched off a Richmond, British Columbia dock by a sea lion is another reminder that people shouldn't get too close to wild animals.
Port officials in Canada have sharply criticized the family for putting themselves at risk for feeding the large animal, especially since there are several signs in the area warning people not to do so.
Keep reading...
Show less
Bears Ears National Monument. Tim Peterson
An anti-public lands official in Utah said Interior Sec. Ryan Zinke has already made up his mind to repeal Bears Ears National Monument, a move experts say could be against the law.
Keep reading...
Show less
The Crop Trust
Flooding breached a supposedly impregnable Arctic "doomsday" vault containing a collection of seeds stored for an apocalypse scenario last week, after warmer-than-average temperatures caused a layer of permafrost to thaw.
Keep reading...
Show less