New Satellite Data Confirms Major Arctic Ice Loss
Dr. Jeff Masters
The stunning loss of Arctic sea ice extent in recent years is undeniable—satellite measurements have conclusively shown that half of the Arctic sea ice went missing in September 2012, compared to the average September during 1979 - 2000. But the extent of ice cover is not the best measure of how the fire raging in Earth's attic is affecting sea ice—the total volume of the ice is more important.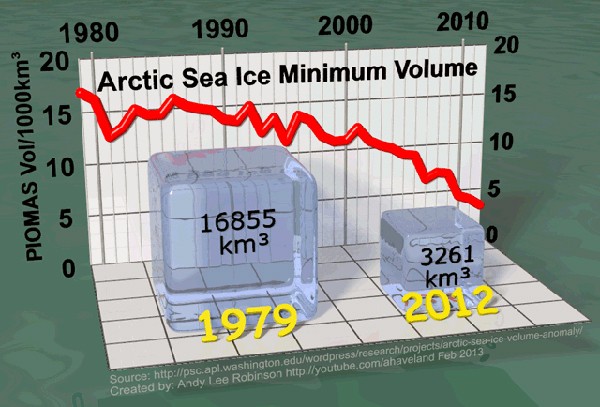 But up until 2010, we didn't have the measurements needed to say how the total volume of ice in the Arctic might be changing. Scientists relied on the University of Washington PIOMAS model, which suggested that the loss of Arctic sea ice volume during September might be approaching 75 to 80 percent. The model results were widely criticized by climate change skeptics as being unrealistic.
However, in April 2010, a new satellite called Cryostat-2 was launched, which can measure ice volume by beaming pulses of microwave energy off of the ice. With two years of data to Cryosat-2 data to analyze, the results of the PIOMAS model have now been confirmed by a study published on-line in February 2013 in Geophysical Research Letters.
In a University of Washington news release, co-author Axel Schweiger said, "people had argued that 75 to 80 percent ice volume loss was too aggressive. What this new paper shows is that our ice loss estimates may have been too conservative, and that the recent decline is possibly more rapid."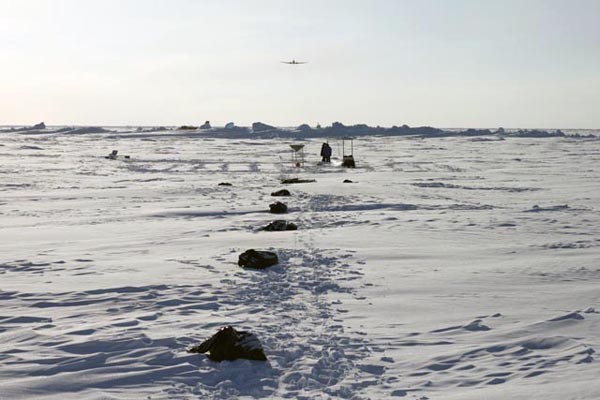 The U.K.'s Natural Environmental Research Council reported that the team of scientists found that from 2003 to 2012, the volume of Arctic sea ice declined 36 percent in the autumn and 9 percent in the winter. The measure of sea ice volume is a good indicator of how the Arctic's most stable, "multi-year" ice is fairing. As the multi-year ice declines, sea ice extent, the total area covered by sea ice, in an "Arctic death spiral." The new study shows that thick, multi-year ice has disappeared in areas north of Greenland, around the Canadian Archipelago, and to the northeast of Svalbard, Norway.
Why care about Arctic sea ice loss?
If you remove an area of sea ice 43 percent the size of the contiguous U.S. from the ocean, like occurred in September 2012, it is guaranteed to have a significant impact on weather and climate. The extra heat and moisture added to the atmosphere as a result of all that open water over the pole may already be altering jet stream patterns in fall and winter, bringing an increase in extreme weather events. The record sea ice loss in 2012 also contributed to an unprecedented melting event in Greenland. Continued sea ice loss will further increase melting from Greenland, contributing to sea level rise and storm surge damages. Sea ice loss will also continue to crank up the thermostat over Arctic permafrost regions. This will potentially release a significant fraction of the vast amounts of carbon currently locked in the permafrost, further accelerating global warming
Visit EcoWatch's CLIMATE CHANGE page for more related news on this topic.
——–
SIGN PETITION TODAY!
Katahdin Woods and Waters. National Parks Conservation Association.
Looks like you'll have to trust your map if you want to find the newly designated Katahdin Woods and Waters National Monument in Maine.
Gov. Paul LePage has refused to put up any official signs along the four main roads to the 87,500-acre preserve, which is on the list of 27 national monuments under Interior Sec. Ryan Zinke's review.
Keep reading...
Show less
Keep reading...
Show less
More than 58 percent of Swiss voters supported a measure to phase out nuclear power in favor of renewable energy.
The plan provides billions in subsidies for renewable energy, bans the construction of new nuclear plants and decommissions Switzerland's five aging reactors. There is no clear date when the plants will close.

Keep reading...
Show less
iStock
By Alex Kirby
An ambitious scientific expedition is due to start work on May 22 on Bolivia's second-highest mountain, Illimani. The researchers plan to drill three ice cores from the Illimani glacier, and to store two of them in Antarctica as the start of the world's first ice archive.
Keep reading...
Show less
CC-BY-SA-2.5 and GNU FDL
Although not on most people's radar here, New York is one step closer to becoming the first state to have genetically modified, non-sterile insects released outside without cages.

Keep reading...
Show less
Photo credit: Michael Fujiwara/YouTube
The viral video of a young girl snatched off a Richmond, British Columbia dock by a sea lion is another reminder that people shouldn't get too close to wild animals.
Port officials in Canada have sharply criticized the family for putting themselves at risk for feeding the large animal, especially since there are several signs in the area warning people not to do so.
Keep reading...
Show less
Bears Ears National Monument. Tim Peterson
An anti-public lands official in Utah said Interior Sec. Ryan Zinke has already made up his mind to repeal Bears Ears National Monument, a move experts say could be against the law.
Keep reading...
Show less
The Crop Trust
Flooding breached a supposedly impregnable Arctic "doomsday" vault containing a collection of seeds stored for an apocalypse scenario last week, after warmer-than-average temperatures caused a layer of permafrost to thaw.
Keep reading...
Show less