New Report Reveals Additional Fossil Fuel Subsidies Equaling $4 Billion Each Year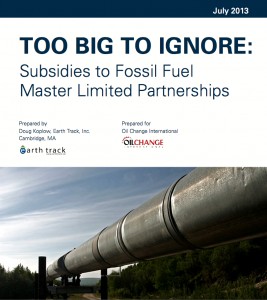 A new report released today by Oil Change International and Earth Track exposes a largely unaccounted for subsidy to the fossil fuel industry, valued at roughly $4 billion per year and growing.
New analysis quantifies the value of tax avoidance by the fossil fuel industry through a corporate structure called "master limited partnerships (MLPs)." Though eliminated for most U.S. industries more than a quarter century ago, special rules protected eligibility for fossil fuels, and have allowed a growing range of oil and gas activities to escape corporate income taxes entirely.
The report, Too Big to Ignore: Subsidies to Fossil Fuel Master Limited Partnerships, finds that the oil, gas and coal sectors have increasingly dominated the MLP universe, now comprising well over three-quarters of the total. Existing estimates of the taxpayer costs associated with fossil fuel MLPs are deceptively low, reducing the pressure to end this tax break once and for all.
MLPs, such as those created by Enbridge, Sunoco and TransCanada, not only enable firms to escape corporate income taxes on profits, but also to delay most tax payments on distributions to partners by many years. As Forbes has said, MLPs are an "income and a tax shelter rolled into one investment."
The MLP structure, according to the new report, cost the U.S. treasury as much as $13 billion in lost tax revenue between 2009 and 2012, a figure six times larger than previous estimates. Fossil fuel interests continue to convert to MLPs at an alarming rate through asset spin-offs, mergers and by seeking expanded eligibility granted not only by Congress, but also through rather secretive Internal Revenue Service (IRS) rulings.
"Not only does the U.S. oil boom imperil our communities and climate, but the increasing use of master limited partnerships allows the industry to pay even less of its share of the taxes needed to support those same communities," said David Turnbull, campaigns director of Oil Change International. "The fossil fuel industry is busy destroying our air, water, land and climate, all the while finding new ways to avoid taxes."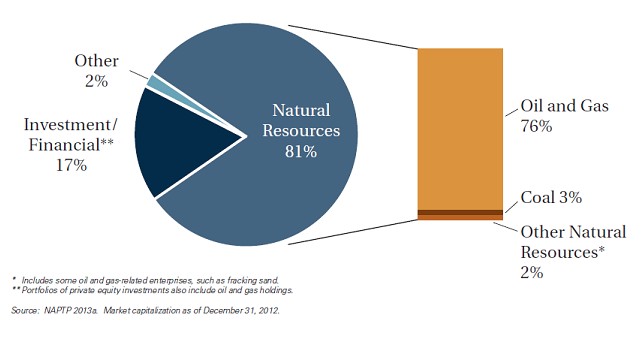 "Tax subsidies to fossil fuels through master limited partnerships go against both the fiscal and environmental interests of our country, yet are repeatedly overlooked in most federal oversight reports on subsidies," said Doug Koplow of Earth Track, the report's author. 
"Though recent efforts have looked to expand master limited partnership subsidies to some renewable energy resources, the evidence suggests that the fossil fuel sector will continue to capture the vast majority of the MLP subsidies even with an expansion," Koplow continues. "In the context of the climate crisis we face, the continuation of this subsidy to fossil fuels is inappropriate regardless of any potential benefits to new industries."
Visit EcoWatch's ENERGY page for more related news on this topic.
——–
SHARE YOUR THOUGHTS BELOW: Should these subsidies be applied to the renewable energy industry as well, or eliminated all together?
——–
Katahdin Woods and Waters. National Parks Conservation Association.
Looks like you'll have to trust your map if you want to find the newly designated Katahdin Woods and Waters National Monument in Maine.
Gov. Paul LePage has refused to put up any official signs along the four main roads to the 87,500-acre preserve, which is on the list of 27 national monuments under Interior Sec. Ryan Zinke's review.
Keep reading...
Show less
Keep reading...
Show less
More than 58 percent of Swiss voters supported a measure to phase out nuclear power in favor of renewable energy.
The plan provides billions in subsidies for renewable energy, bans the construction of new nuclear plants and decommissions Switzerland's five aging reactors. There is no clear date when the plants will close.

Keep reading...
Show less
iStock
By Alex Kirby
An ambitious scientific expedition is due to start work on May 22 on Bolivia's second-highest mountain, Illimani. The researchers plan to drill three ice cores from the Illimani glacier, and to store two of them in Antarctica as the start of the world's first ice archive.
Keep reading...
Show less
CC-BY-SA-2.5 and GNU FDL
Although not on most people's radar here, New York is one step closer to becoming the first state to have genetically modified, non-sterile insects released outside without cages.

Keep reading...
Show less
Photo credit: Michael Fujiwara/YouTube
The viral video of a young girl snatched off a Richmond, British Columbia dock by a sea lion is another reminder that people shouldn't get too close to wild animals.
Port officials in Canada have sharply criticized the family for putting themselves at risk for feeding the large animal, especially since there are several signs in the area warning people not to do so.
Keep reading...
Show less
Bears Ears National Monument. Tim Peterson
An anti-public lands official in Utah said Interior Sec. Ryan Zinke has already made up his mind to repeal Bears Ears National Monument, a move experts say could be against the law.
Keep reading...
Show less
The Crop Trust
Flooding breached a supposedly impregnable Arctic "doomsday" vault containing a collection of seeds stored for an apocalypse scenario last week, after warmer-than-average temperatures caused a layer of permafrost to thaw.
Keep reading...
Show less