Food
18 August 2015
Nation's First School District to Serve 100% Organic, Non-GMO Meals
What if we could feed our students the nutritious, delicious and sustainably sourced food they truly deserve?
Well, when schools in the Sausalito Marin City School District open their doors this August, they will do just that, by becoming the first 100 percent organic and non-GMO (genetically modified organisms) school district in the country!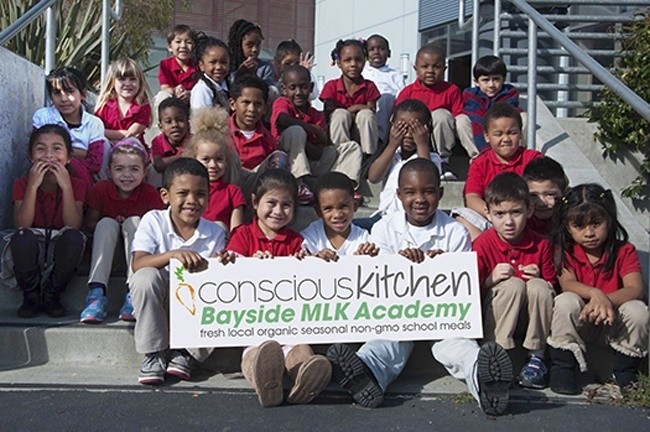 That's right: More than 500 students at Bayside MLK Jr. Academy (Marin City) and Willow Creek Academy (Sausalito) in Marin County, California, will eat sustainably sourced meals this year, all prepared on-site through The Conscious Kitchen.
Turning Green launched The Conscious Kitchen pilot program in August 2013 together with Cavallo Point Lodge, the Sausalito Marin City School District, Whole Foods Market and Good Earth Natural Foods. The pilot served 156 students at Bayside MLK Jr. Academy in Marin City, California. In two years, the program saw a steep decrease in disciplinary cases, increased attendance and a greater sense of community. Now, The Conscious Kitchen is expanding to serve Willow Creek Academy, the other school in the Sausalito Marin City School District.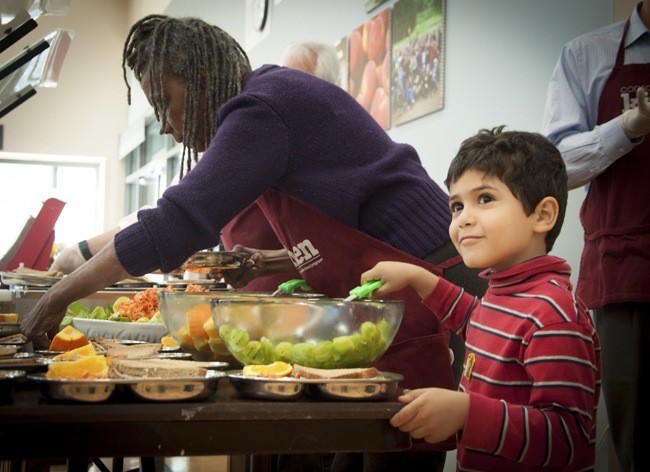 "Students everywhere are vulnerable to pesticide residues and unsafe environmental toxins," says Judi Shils, founder and executive director of Turning Green. "Not only does this program far exceed USDA nutritional standards, but it ties the health of our children to the health of our planet. It's the first program to say that fundamentally, you cannot have one without the other."
The Conscious Kitchen rethinks school food based on five foundational terms: Fresh, Local, Organic, Seasonal and Non-GMO, or FLOSN. All food is organic and non-GMO, and more than 90 percent of all produce is sourced from local farmers and purveyors.

This program is the first to take a stand against GMOs. While the long-term effects of GMOs are still uncertain, a growing body of evidence links them to a variety of health risks and environmental damage. An estimated 80 percent of items on most supermarket shelves contain GMOs, and they are ubiquitous in school food programs.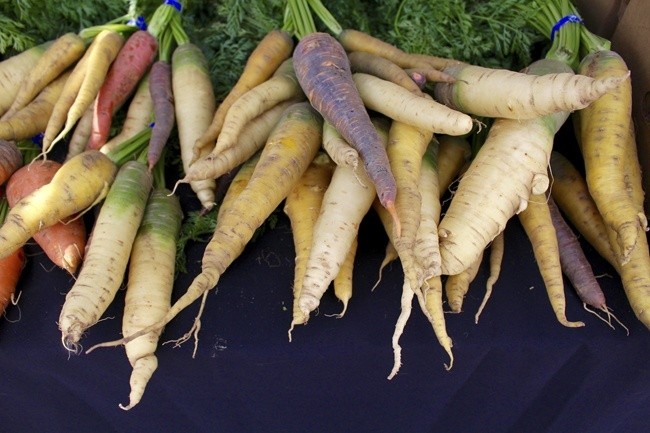 "Most people don't realize that GMOs are everywhere, especially in processed foods," says Justin Everett, executive chef at Cavallo Point Lodge, who serves as the consulting chef for The Concious Kitchen. "By embracing fresh, local, organic, non-GMO food, this program successfully disrupts the cycle of unhealthy, pre-packaged, heat and serve meals that dominate school kitchens."
Meals are accompanied by a garden and nutrition curriculum that teaches students about where their food comes from, how it's grown and why it's good for them. Through this approach, The Conscious Kitchen hopes to curb childhood obesity while cultivating young champions of sustainable food.
For more information on The Conscious Kitchen, visit www.theconscious.kitchen. Here's to nourishing our students, one delicious FLOSN meal at a time!
YOU MIGHT ALSO LIKE
Starbucks, Destroyer of the Seas
5 GMO Myths Debunked by Vandana Shiva
$51 Million: That's How Much Big Food Spent So Far This Year to Defeat GMO Labeling
A supervisor at the Department of Energy's Office of International Climate and Clean Energy told staff to stop using the phrases "climate change," "emissions reduction" and "Paris agreement" in any official written communications, according to POLITICO's sources.
The instructions were reportedly given at a Tuesday meeting held shortly after President Trump's latest controversial executive order that reversed Obama-era climate policies.
Senior officials apparently told DOE climate office staff that the climate-related words would cause a "visceral reaction" with Energy Sec. Rick Perry, his immediate staff and the department's White House advisers.
While a department spokeswoman denied any official language ban in the climate office or in the department as a whole, POLITICO's sources said that there is a general sense among DOE employees that such hot-button terms should be avoided in favor of words like "jobs" and "infrastructure" in light of the Trump administration's anti-environmental agenda.
Environmental groups have balked at POLITICO's report. The Sierra Club noted that the DOE only just emerged from a storm of controversy regarding climate change after its staff purge during the transition period.
"What exactly is this office supposed to call itself now? The international C****** office?" Sierra Club Climate policy director Liz Perera said. "Ignoring the climate crisis will not make it go away, will not create jobs in the booming clean energy economy, and will not make our country great."
"Rick Perry lied to Congress about climate science to get a job at an agency he wanted to eliminate, and he has started things off with a blatant dereliction of duty. The only place the climate is not changing is in the minds of those in the Trump administration," Perera added.
The former Texas governor told Congress during his confirmation hearing that "science tells us that the climate is changing, and that human activity, in some manner, impacts that change." In a 2011 presidential debate, Perry famously forgot the name of the agency he would abolish.
Scientists have been seeing mysterious green ice spread across the Arctic floor since 2011. Upon further inspection, they realized it was blooming phytoplankton, a very rare occurrence in this harsh environment.
It was thought that this region was too dark for phytoplankton to bloom. The ice is usually so thick that it reflects incoming rays, starving out any possible photosynthesis. But, a team of researchers from Harvard University found that rising temperatures due to climate change are causing the ice to wear so thin that phytoplankton are thriving and majorly disrupting the food web.
"What we found was that we went from a state where there wasn't any potential for plankton blooms to massive regions of the Arctic being susceptible to these types of growth," Chris Horvat, lead author of the study and Harvard graduate student, said.
The findings, published Wednesday in the journal Science Advances, concluded that as ice retreats, the sun is able to beat down on the open water, spawning huge phytoplankton blooms. The plumes attract fish, and the fish attract mammals, which ultimately attract indigenous hunters.
"The meter decline in sea ice thickness in the Arctic in the past 30 years has dramatically changed the ecology in that area," Horvat said. "All of a sudden, our entire idea about how this ecosystem works is different. The foundation of the Arctic food web is now growing at a different time and in places that are less accessible to animals that need oxygen."
Just 20 years ago, the ice was still thick enough that only 3 to 4 percent of it was susceptible to blooms. But, now, a staggering 30 percent of the ice is melting off in the summer months. This doesn't just affect phytoplankton, but larger mammals who need oxygen to survive. Habitat destruction at this level is unbeknownst to scientists and it will take further observations to monitor and measure the true impact on the ecosystem.
By C40 Cities
Fumiko Hayashi has been mayor of Yokohama since 2009 and is the first woman to hold the post. Her previous roles have included president of BMW Tokyo, president of Tokyo Nissan Auto Sales and chairperson and CEO of the Japanese supermarket chain Daiei.
In 2006, Forbes magazine named her 39th most powerful woman in the world, the highest rank for a Japanese woman. Ms. Hayashi is the president of Mayors Association of Designated Cities in Japan and also serves as the member of the Council for Gender Equality of the Cabinet Office of Japan. She has also written several books on management and workforce relationship.
C40 Cities had the chance to connect with Hayashi to learn more about her efforts:
Q. What has been your biggest climate or environmental achievement as mayor?
A. Yokohama has implemented urban development in cooperation with various stakeholders such as citizens, companies and other groups, overcome many environmental issues and promoted city development that harmonizes the environment and the economy. In dealing with climate change, we are promoting efforts that take advantage of our achievements in urban development up until now.
With regard to energy issues in particular, through the Yokohama Smart City Project, in collaboration with 34 major Japanese companies, we are aiming to realize an advanced, energy-circular city with systems aimed at optimizing the balance between energy supply and demand in existing urban areas such as by introducing the Home Energy Management System in 4,200 homes and improving the energy efficiency of commercial buildings. We were well-received at C40 and awarded the C40 Cities Award in the Clean Energy category in 2016. Behind this was the fact that ours are some of the world's leading large-scale projects in existing urban areas.
Q. What are the key climate change and environmental challenges facing your city? What are you doing to address them?
A. Developing the city to be low-carbon and disaster-resilient. With 3.73 million citizens and more than 110,000 businesses, Yokohama is a major city and a major energy consumer. The key is solving issues and for this, not only the government but also the power of our citizens—which is the pride of Yokohama—and the technical expertise cultivated in the public and private sectors have become major strengths. As a "FutureCity," we will continue to work hand in hand with citizens and companies.
Q. Were there any women leaders who inspired you when you first entered politics?
A. A woman leader I was inspired by is Sadako Ogata, who helped provide humanitarian aid for many years as Japan's first UN High Commissioner for Refugees. Even as ethnic and religious conflict was intensifying, I was impressed with the way she visited these various locations and flexibly built new support frameworks through her strong leadership. I met her in person when she was serving as president of the Japan International Cooperation Agency and she was a wonderful woman with a strong will, heart-warming humanity and overflowing hospitality.
On the other hand and much regrettably, the participation of women in Japanese politics seriously lags behind. Even at present, it represents no more than 1.6 percent overall, with only 28 women leaders of local governments. Having women in leadership positions can help deepen men's understanding of working women and promote a society in which women can participate more. I view this as my mission, after having worked for more than 50 years in an androcentric structure and is why I took up politics.
Q. What obstacles do you think women leaders still face in delivering their agenda, including on climate change?
A. Being a woman will not be an obstacle in implementing the agenda. The strength of women lies in leadership that employs empathy and acceptance. Better results are produced by men and women taking advantage of each other's strengths, coming together and producing results in tandem. Therefore, I believe that women's ability to demonstrate their capabilities in all areas, including climate change countermeasures, will yield great results. Under the leadership of C40 Chair Anne Hidalgo, mayor of Paris, we will deepen the unity of C40 member cities and continue to work to implement climate change countermeasures.
Q. What advice would you give to young women in Yokohama—or any other city—who are concerned about climate change and want to do something about it?
A. Climate change is a complicated and very difficult issue occurring on a global scale and is caused by a variety factors. It is critical to think about this global issue with a broad perspective but also in terms of what can we do in our own everyday lives and what is to be done in society as a whole—thinking together with numerous people and putting into practice what is initially possible. I expect much from today's young women.
The Heartland Institute is trying to nurture the next generation of climate change deniers.
The conservative and libertarian think tank has sent out 25,000 copies of the organization's book, Why Scientists Disagree About Global Warming, and an accompanying 10-minute DVD to 25,000 science teachers this month, according to a Frontline report. The book argues that climate change is not settled science.
Katie Worth, who authored the Frontline report, called the effort a "massive propaganda campaign by the nation's leading climate change skeptical think tank."
The Heartland Institute, which has received funding from polluting industries such as Exxon and the Koch family, rejects the scientific community's widespread consensus that human activity causes climate change.
The organization plans to send the materials to another 25,000 teachers every two weeks until every public-school science teacher in the nation has a copy, Heartland president and CEO Joseph Bast said.
This means the book and DVD could end up in the mailboxes of more than 200,000 K-12 science teachers in the country. The campaign began in mid-March.
Frontline also published a cover letter of the materials from Lennie Jarratt, project manager of Heartland's Center for Transforming Education, who asks that the teacher "consider the possibility" that climate science is not settled.
The 2015 book is coauthored by Drs. Craig D. Idso, Robert M. Carter and S. Fred Singer, who have been heavily involved in the "debate" over global warming.
Here are some tidbits about the authors:
According to DeSmog, Idso believes that "CO2 is not a pollutant" and is the chairman and former resident of the Center for the Study of Carbon Dioxide and Global Change, which has a mission is to "separate reality from rhetoric in the emotionally-charged debate that swirls around the subject of carbon dioxide and global change."
Carter, who passed away last year, was an Australian marine geologist and a paid climate change denier, SourceWatch noted. He once asserted that the Intergovernmental Panel on Climate Change has not found evidence that global warming was caused by human activity.
Singer, a former space scientist and government scientific administrator, founded the Science & Environmental Policy Project in 1990, a 501(c)(3) "educational group" focusing on global warming denial, according to DeSmog. Idso and Singer helped develop the Heartland Institute's "Nongovernmental International Panel on Climate Change. Singer said in Jan. 2016 that "the real threat to humanity comes not from any (trivial) greenhouse warming but from cooling periods creating food shortages and famines."
The letter directs teachers to visit Izzit.org to access an online guide to using the DVD. Izzit.org is a "right-wing advocacy organization" that provides free educational videos to U.S. educators and homeschoolers.
The National Center for Science Education, an Oakland, California nonprofit that monitors climate change education in classrooms criticized the mailing campaign.
"It's not science, but it's dressed up to look like science," NCSE executive director Ann Reid told Frontline. "It's clearly intended to confuse teachers."
Climatologist Michael Mann also tweeted that the Heartland Institute is trying to "indoctrinate children with climate denial propaganda."
Bast, Heartland's president, said that some teachers have appreciated the information and even asked for a Heartland speaker to visit a class.
However, many science teachers have not welcomed the campaign.
As Frontline wrote:
Lori Baker, a sixth-grade science teacher at North Putnam Middle School in Roachdale, Indiana, found the package in her school mailbox and was dismayed by its contents. "I read quite a bit of the book, actually, and it was extremely frustrating. It's an attempt to sound science literate, but there's very little actual data," she said.

Baker pointed to the first paragraph of the foreword, written by Marita Noon, executive director of Citizens' Alliance for Responsible Energy, a nonprofit and lobbying group that advocates for the use of fossil fuels. In it, Noon writes that Obama's description of climate change as the greatest threat facing mankind is "laughable" at a time when "ISIS is beheading innocent people."
"That as a foreword to something claiming to be scientific is pretty shocking," said Baker.