Michael Pollan's Letter to the Future

This letter to the future by Michael Pollan is part of the Letters to the Future campaign, a national effort to encourage people from all walks of life to write six generations into the future about climate change. The campaign puts a spotlight on the importance of world leaders agreeing to a global climate treaty at COP21 in Paris. Now it's your turn to write a letter to the future.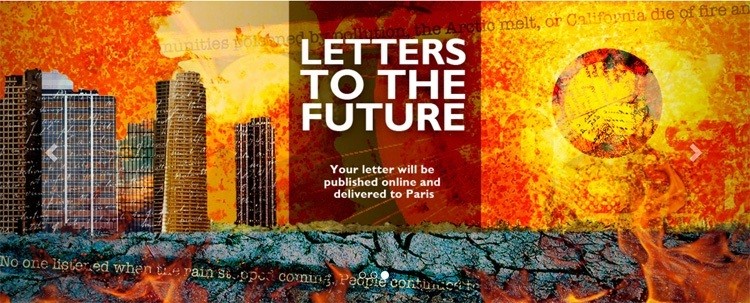 Dear Future Family,
I know you will not read this note until the turn of the century, but I want to explain what things were like back in 2015, before we figured out how to roll back climate change. As a civilization we were still locked into a zero-sum idea of our relationship with the natural world, in which we assumed that for us to get whatever we needed, whether it was food or energy or entertainment, nature had to be diminished. But that was never necessarily the case.
In our time, the U.S. Department of Agriculture still handed out subsidies to farmers for every bushel of corn or wheat or rice they could grow. This promoted a form of agriculture that was extremely productive and extremely destructive—of the climate, among other things.
Approximately one-third of the carbon then in the atmosphere had formerly been sequestered in soils in the form of organic matter, but since we began plowing and deforesting, we'd been releasing huge quantities of this carbon into the atmosphere. At that time, the food system as a whole—that includes agriculture, food processing, and food transportation—contributed somewhere between 20-30 percent of the greenhouse gases produced by civilization—more than any other sector except energy. Fertilizer was always one of the biggest culprits for two reasons: it's made from fossil fuels, and when you spread it on fields and it gets wet, it turns into nitrous oxide, which is a much more potent greenhouse gas than carbon dioxide. Slowly, we convinced the policy makers to instead give subsidies to farmers for every increment of carbon they sequestered in the soil.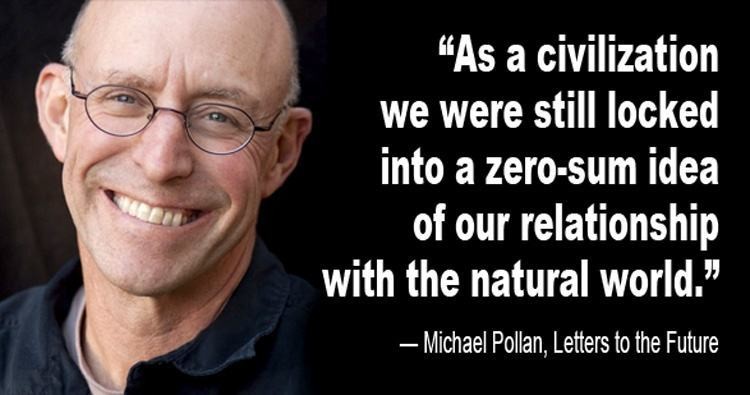 Over time, we began to organize our agriculture so that it could heal the planet, feed us and tackle climate change. This began with shifting our food system from its reliance on oil, which is the central fact of industrial agriculture (not just machinery, but pesticides and fertilizers are all oil-based technologies), back to a reliance on solar energy: photosynthesis.
Carbon farming was one of the most hopeful things going on at that time in climate change research. We discovered that plants secrete sugars into the soil to feed the microbes they depend on, in the process putting carbon into the soil. This process of sequestering carbon at the same time improved the fertility and water-holding capacity of the soil. We began to relying on the sun—on photosynthesis—rather than on fossil fuels to feed ourselves. We learned that there are non-zero-sum ways we could feed ourselves AND heal the earth. That was just one of the big changes we made toward the sustainable food system you are lucky enough to take for granted.
Adapted from an interview in Vice Magazine.
An American public intellectual, Michael Pollan is a teacher, author and speaker on topics that include the environment, agriculture, the food industry, society and nutrition.
YOU MIGHT ALSO LIKE
Tim DeChristopher: Don't Back Down in Paris
COP21 Must Go On and Offer Hope for Paris
Why Fossil Fuel Stocks Are Doomed
Bernie Sanders Refuses to Back Down on Climate-Terrorism Connection
Katahdin Woods and Waters. National Parks Conservation Association.
Looks like you'll have to trust your map if you want to find the newly designated Katahdin Woods and Waters National Monument in Maine.
Gov. Paul LePage has refused to put up any official signs along the four main roads to the 87,500-acre preserve, which is on the list of 27 national monuments under Interior Sec. Ryan Zinke's review.
Keep reading...
Show less
Keep reading...
Show less
More than 58 percent of Swiss voters supported a measure to phase out nuclear power in favor of renewable energy.
The plan provides billions in subsidies for renewable energy, bans the construction of new nuclear plants and decommissions Switzerland's five aging reactors. There is no clear date when the plants will close.

Keep reading...
Show less
iStock
By Alex Kirby
An ambitious scientific expedition is due to start work on May 22 on Bolivia's second-highest mountain, Illimani. The researchers plan to drill three ice cores from the Illimani glacier, and to store two of them in Antarctica as the start of the world's first ice archive.
Keep reading...
Show less
CC-BY-SA-2.5 and GNU FDL
Although not on most people's radar here, New York is one step closer to becoming the first state to have genetically modified, non-sterile insects released outside without cages.

Keep reading...
Show less
Photo credit: Michael Fujiwara/YouTube
The viral video of a young girl snatched off a Richmond, British Columbia dock by a sea lion is another reminder that people shouldn't get too close to wild animals.
Port officials in Canada have sharply criticized the family for putting themselves at risk for feeding the large animal, especially since there are several signs in the area warning people not to do so.
Keep reading...
Show less
Bears Ears National Monument. Tim Peterson
An anti-public lands official in Utah said Interior Sec. Ryan Zinke has already made up his mind to repeal Bears Ears National Monument, a move experts say could be against the law.
Keep reading...
Show less
The Crop Trust
Flooding breached a supposedly impregnable Arctic "doomsday" vault containing a collection of seeds stored for an apocalypse scenario last week, after warmer-than-average temperatures caused a layer of permafrost to thaw.
Keep reading...
Show less