Melting Arctic Ice Could Unlock Massive Amounts of Frozen Microplastics
Out of the nearly 300 million tons of plastic created in 2012, 10 percent of it ended up in oceans, according to Phys.org. That trash has to go somewhere—washing onto coastlines and estuaries, or floating in the vast ocean. You may have heard of the Great Pacific Garbage Patch, an area within the North Pacific Subtropical Gyre where an enormous amount of trash circulates. Now, however, it looks like the Great Pacific Garbage Patch has an unassuming competitor in trapping marine debris: the Arctic.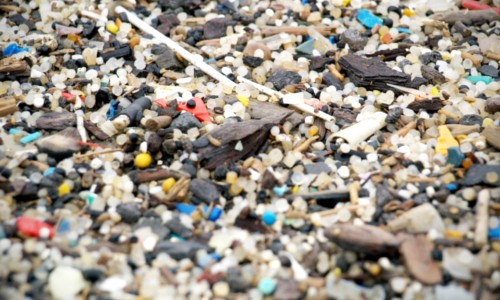 A recently published study in Earth's Future found that a significant amount of microplastics, sub-millimeter broken down pieces of plastic, sit frozen in Arctic sea ice—enough to designate the Arctic as a major global sink for these tiny plastic particles. If melting trends continue at their current rate, explain the authors, the sea ice could unlock over one trillion pieces of microplastics over the next decade alone.
"The abundance of microplastics was substantial, ranging from 38 to 234 particles per cubic meter of ice," the report said. "Although litter has been reported in northern Europe including the Arctic, this is the first report of microplastic in the Arctic and the microplastic concentrations we found are at least two orders of magnitude greater than those reported in Atlantic waters north of Scotland or in waters of the North Pacific Subtropical Gyre."
The authors hypothesized that the particles entered the Arctic from the Pacific Ocean, where both marine debris and microplastics are common. Microplastics accumulate in the oceans from three main sources: microbeads in cosmetics, breaking down of plastic debris and fibers from washing machines, according to the paper.
Ironically, the authors did not intend to study microplastics; instead, they set out to search for sediments and diatoms in sea ice cores from two different National Science Foundation (NSF) and NASA studies, and unintentionally discovered these synthetic particles in varying locations throughout the Arctic Ocean. Their prevalence encouraged the researchers to examine the remaining ice cores, adhering to strict sampling and handling protocols as to not introduce their own plastic particles into the samples. The pieces observed were mostly blue, black, green and red in color, with rayon being the most prevalent material (which the authors point out is technically not a plastic, but a manmade semi-synthetic material used in cigarette filters and hygiene products). Other materials included polyester, nylon, polypropylene, polystyrene, acrylic and polyethylene, according to the study.
So, how do these particulates impact marine life?
Marine organisms ingest these particulates, and there's evidence that the chemicals in these plastics build-up in the organism. A 2013 study found that a species of marine worm, for example, became affected by the toxins, and some even died. Another study, published that same year, found that these plastics and toxins accumulate in the food chain.
And larger marine debris poses additional threats: Fishing nets, plastic bags and tires can sink to the ocean floor and smother coral reefs, while fishing gear can entangle marine mammals and other animals, according to the U.S. Environmental Protection Agency (EPA). Other marine life, like sea turtles and birds, can forsake plastics for food, which can lead to malnutrition or starvation.
Sea ice melt already has a range of consequences, including rising sea levels, disruption to food chains, and habitat loss for many species, but this study points out that climate change has unexpected consequences for the oceans—like Arctic ice unlocking these plastics. The authors suggest that their findings indicate a need to sample Antarctic ice to determine the presence of microplastics there too, and that further studies need to be undertaken to fully understand the environmental impacts of these particulates in the marine environment.
This article was originally published on Oceana's blog.
--------
YOU MIGHT ALSO LIKE
Find Out if Your Facial Scrub Has Plastic Microbeads With New App
Plastic Debris in Oceans Spawn 'Plastisphere' of Microbes 
Study Shows Plastic Microbeads in Facial Scrubs Pollute the Great Lakes
--------
Katahdin Woods and Waters. National Parks Conservation Association.
Looks like you'll have to trust your map if you want to find the newly designated Katahdin Woods and Waters National Monument in Maine.
Gov. Paul LePage has refused to put up any official signs along the four main roads to the 87,500-acre preserve, which is on the list of 27 national monuments under Interior Sec. Ryan Zinke's review.
Keep reading...
Show less
Keep reading...
Show less
More than 58 percent of Swiss voters supported a measure to phase out nuclear power in favor of renewable energy.
The plan provides billions in subsidies for renewable energy, bans the construction of new nuclear plants and decommissions Switzerland's five aging reactors. There is no clear date when the plants will close.

Keep reading...
Show less
iStock
By Alex Kirby
An ambitious scientific expedition is due to start work on May 22 on Bolivia's second-highest mountain, Illimani. The researchers plan to drill three ice cores from the Illimani glacier, and to store two of them in Antarctica as the start of the world's first ice archive.
Keep reading...
Show less
CC-BY-SA-2.5 and GNU FDL
Although not on most people's radar here, New York is one step closer to becoming the first state to have genetically modified, non-sterile insects released outside without cages.

Keep reading...
Show less
Photo credit: Michael Fujiwara/YouTube
The viral video of a young girl snatched off a Richmond, British Columbia dock by a sea lion is another reminder that people shouldn't get too close to wild animals.
Port officials in Canada have sharply criticized the family for putting themselves at risk for feeding the large animal, especially since there are several signs in the area warning people not to do so.
Keep reading...
Show less
Bears Ears National Monument. Tim Peterson
An anti-public lands official in Utah said Interior Sec. Ryan Zinke has already made up his mind to repeal Bears Ears National Monument, a move experts say could be against the law.
Keep reading...
Show less
The Crop Trust
Flooding breached a supposedly impregnable Arctic "doomsday" vault containing a collection of seeds stored for an apocalypse scenario last week, after warmer-than-average temperatures caused a layer of permafrost to thaw.
Keep reading...
Show less