Maryland to Become First State to Ban Bee-Killing Pesticides for Consumer Use
In an effort to curb its plummeting honeybee population, Maryland is about to become the first state in the nation to pass strict restrictions on neonicotinoids for consumer use.
Neonicotinoids are a potent class of pesticides used on many crops in the U.S. that have been linked to the widespread decline of pollinator species. As EcoWatch mentioned previously, 29 independent scientists conducted a global review of 1,121 independent studies and found overwhelming evidence of pesticides linked to bee declines.
Republican Gov. Larry Hogan is poised to sign a combined set of bills passed in both the state's upper and lower chambers (SB 198 and HB 211), the The Washington Post reported.
According to the Post, the bipartisan legislation would take neonicotinoids away from everyday consumers who spray their home gardens and trees with these harmful pesticides. They would not be able to buy neonic-products such as Knockout Ready-to-Use Grub Killer, Ortho Bug B Gon, All-In-One Rose & Flower Care, Lesco Bandit Insecticide from the thousands of hardware stores, garden centers, nurseries in the state that sell such products. Farmers and professional gardeners, who better understand how to apply the chemicals, are exempt from the law which will come into effect in the year 2018.
The news comes as much-needed reprieve for the Maryland's dwindling honeybees. Compared to the national average of 42.1 percent, Maryland's beekeepers lost more than 60 percent of their colonies on average in the past year, one of the highest in U.S., according to a U.S. Department of Agriculture (USDA) survey.
Del. Anne Healey, D-Prince George's County, who authored the House version of the bill, told the Washington Post that the new law would "be a landmark, and it would set a standard that maybe other states would follow."
Healey pointed out in a June 2015 editorial in The Baltimore Sun that more actions must be taken to protect our pollinators, which serve a critical role in our food supply:
Our honey bees are in serious trouble, and if we lose our bees, and other pollinators, one-third of our food supply is in danger. As The Sun's editorial noted, "it will take more than good intentions to preserve and protect" bees and other pollinators.
ThinkProgess reported that while California, Alaska, New York, and Massachusetts have made attempts to ban or limit neonicotinoids, no piece of legislation has made it as far as Maryland. Only Oregon has a bill that bans neonics on a certain species of a tree.
Counter to the aggravatingly slow action from the USDA—which has taken more than 20 years to admit that neonicotinoids kill bees—a growing list of individual cities and jurisdictions such as Portland and Eugene in Oregon, Seattle and Spokane in Washington and many more have banned neonics.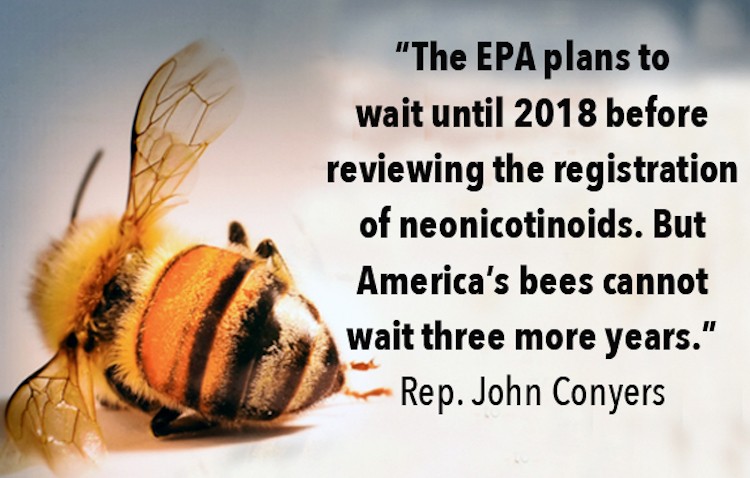 Additionally, in recent years a number of nurseries, landscaping companies and retailers—including Lowe's, Home Depot, Whole Foods and BJ's Wholesale Club have taken steps to eliminate bee-killing pesticides from their stores.
France is moving towards a total ban on bee-harming neonics, a move that goes beyond European Union restrictions, Reuters reported last week.
However, Maryland's Department of Agriculture has denied evidence linking the decline of bees to neonicotinoids. The agency said in a statement that it "has not documented any cases of neonicotinoid pesticides negatively impacting honeybees in Maryland," citing a USDA National Honeybee Survey saying "no neonicotinoids were found in Maryland pollen samples, and fewer pesticides overall were detected when compared to the national average."
The Washington Post also noted that the state department is concerned that the $200,000 allocated in the House bill to implement and enforce the new law would be inadequate, arguing that it would likely cost more than $1 million a year instead. Additionally, Maryland's amateur gardeners are still able to buy the pesticides from out of state or the internet making enforcement all the more difficult.
YOU MIGHT ALSO LIKE
Japan Kills 333 Minke Whales Including 200 Pregnant Females
Photo Ark: One Man's Journey to Save the World's Most Endangered Species
Eastern Monarch Butterflies at Risk of Extinction
Dramatic Images Show Worst Coral Bleaching Event to Ever Hit Most Pristine Part of Great Barrier Reef
Katahdin Woods and Waters. National Parks Conservation Association.
Looks like you'll have to trust your map if you want to find the newly designated Katahdin Woods and Waters National Monument in Maine.
Gov. Paul LePage has refused to put up any official signs along the four main roads to the 87,500-acre preserve, which is on the list of 27 national monuments under Interior Sec. Ryan Zinke's review.
Keep reading...
Show less
Keep reading...
Show less
More than 58 percent of Swiss voters supported a measure to phase out nuclear power in favor of renewable energy.
The plan provides billions in subsidies for renewable energy, bans the construction of new nuclear plants and decommissions Switzerland's five aging reactors. There is no clear date when the plants will close.

Keep reading...
Show less
iStock
By Alex Kirby
An ambitious scientific expedition is due to start work on May 22 on Bolivia's second-highest mountain, Illimani. The researchers plan to drill three ice cores from the Illimani glacier, and to store two of them in Antarctica as the start of the world's first ice archive.
Keep reading...
Show less
CC-BY-SA-2.5 and GNU FDL
Although not on most people's radar here, New York is one step closer to becoming the first state to have genetically modified, non-sterile insects released outside without cages.

Keep reading...
Show less
Photo credit: Michael Fujiwara/YouTube
The viral video of a young girl snatched off a Richmond, British Columbia dock by a sea lion is another reminder that people shouldn't get too close to wild animals.
Port officials in Canada have sharply criticized the family for putting themselves at risk for feeding the large animal, especially since there are several signs in the area warning people not to do so.
Keep reading...
Show less
Bears Ears National Monument. Tim Peterson
An anti-public lands official in Utah said Interior Sec. Ryan Zinke has already made up his mind to repeal Bears Ears National Monument, a move experts say could be against the law.
Keep reading...
Show less
The Crop Trust
Flooding breached a supposedly impregnable Arctic "doomsday" vault containing a collection of seeds stored for an apocalypse scenario last week, after warmer-than-average temperatures caused a layer of permafrost to thaw.
Keep reading...
Show less