Mark Ruffalo: We're Heading Toward a National Water Crisis
For the past two years, the 100,000 residents of Flint, Michigan, drank, cooked and bathed with lead-contaminated water. Rates of lead poisoning—which can impair brain development and cause other serious health ailments—among the area's children have skyrocketed, from 5 percent before the water turned bad to 16 percent today.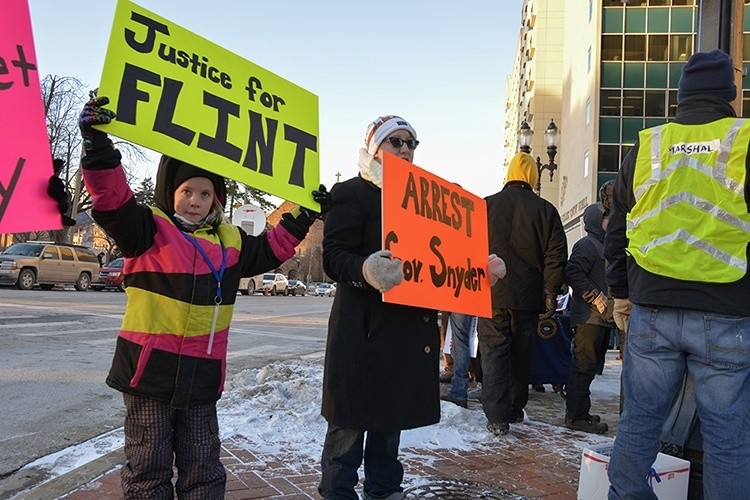 Residents have long reported brown, bad-tasting and foul-smelling water and unexplained sicknesses. Almost a year ago, water tests showed dangerous levels of lead. Yet state, local and federal officials did nothing. Worse, they assured residents that the water was safe. In recently released emails, state officials demonstrated indifference and even contempt toward the complaints that came mostly from poor, black residents. Furthermore, according to some witnesses and media reports, state officials diluted water samples or took incomplete "slow drip water samples" to game results and claim that the water was safe.
Flint's man-made water disaster is an outrageous tragedy and a human health crisis. And unfortunately, it's not an isolated case. It's one instance in a pattern of government failures to take water testing seriously and respond to evidence of water pollution.
In 2009, federal data revealed that water being delivered to tens of millions of Americans contained illegal concentrations of dangerous chemicals. That contamination has led to widespread ill-effects such as rashes and elevated risk of various diseases and hundreds of thousands of Clean Water Act violations. At congressional hearings that year, Environmental Protection Agency (EPA) officials pointed to failed political leadership under the Bush administration. President Obama promised to turn a new leaf.
Sadly, there have since been numerous high-profile cases of contamination, such as in Toledo, Ohio, in 2014, where agricultural runoff and crumbling infrastructure led to an algal bloom in Lake Erie that made the city's drinking water unsafe. Also in 2014, in West Virginia, a chemical spill contaminated the Elk River, the tap water supply for hundreds of thousands of people. This past August, 3 million gallons of contaminated water were released into the Animas River in Colorado, resulting in lead levels 3,500 times normal and arsenic levels 300 times normal, affecting many communities and farms.
Then there are the horrific, under-reported cases of water contaminated by drilling and fracking for natural gas and oil, another ongoing man-made disaster where politics has trumped providing safe drinking water.
In spite of concrete evidence of water contamination, Obama's politics—support for natural gas and fracking, particularly around his 2012 reelection—have dictated the EPA's actions. Case in point: Three EPA investigations into drinking water contamination since 2010, in Dimock, Pennsylvania; Pavillion, Wyoming and Parker County, Texas.
In Parker County, the EPA issued an emergency order—much like one they just issued in Flint—compelling fracking company Range Resources to provide drinking water to affected families. Then, in 2012, the EPA cut a deal with the fracking company to shut down the investigation and withdraw the emergency order in exchange for participating in the EPA's national fracking study. Affected residents were left with nothing but polluted water.
The other cases are equally disturbing. Despite evidence of dangerous water contamination, the EPA dropped investigations and issued rosy news releases that everything was okay. Residents report being told by regional EPA officials, off the record, not to drink their water.
This past year, the EPA released a draft of its national fracking drinking water study with a headline that they did not find evidence of widespread, systemic contamination. Scientists and advocates cried foul, as the substance of the report contradicts that claim and in fact shows many instances and mechanisms of contamination. Now the EPA's independent science advisory body has forcefully echoed that criticism and called for detailed accounting and inclusion of the three investigations.
These cases, along with Flint and many others, demonstrate an epidemic of credibility and trust that is putting people at greater and greater risk.
It's time to acknowledge the national water pollution crisis we face, which will only get worse with climate change wrought by fossil fuels extraction and consumption responsible for fouling so much of our precious water in the first place. Obama should direct his EPA to do its job to help people across the country with water contaminated by drilling and fracking.
Flint must be a clarion call for a new era of routine water testing, full transparency and a commitment to ensuring that all citizens have safe drinking water. Renewed federal investment in our crumbling, lead-ridden drinking water systems is also necessary to help ensure that the tragedy taking place in Flint isn't replicated elsewhere. Residents there and all Americans deserve nothing less.
This op-ed originally appeared in The Washington Post.
YOU MIGHT ALSO LIKE
America's Lead Poisoning Problem Is Everywhere
Erin Brockovich: Porter Ranch Gas Leak Is 'the BP Oil Spill on Land'
Pennsylvania Fracking Water Contamination Much Higher Than Reported
Flint Water Crisis Keeps Getting Bigger and More Shocking Each Day
Katahdin Woods and Waters. National Parks Conservation Association.
Looks like you'll have to trust your map if you want to find the newly designated Katahdin Woods and Waters National Monument in Maine.
Gov. Paul LePage has refused to put up any official signs along the four main roads to the 87,500-acre preserve, which is on the list of 27 national monuments under Interior Sec. Ryan Zinke's review.
Keep reading...
Show less
Keep reading...
Show less
More than 58 percent of Swiss voters supported a measure to phase out nuclear power in favor of renewable energy.
The plan provides billions in subsidies for renewable energy, bans the construction of new nuclear plants and decommissions Switzerland's five aging reactors. There is no clear date when the plants will close.

Keep reading...
Show less
iStock
By Alex Kirby
An ambitious scientific expedition is due to start work on May 22 on Bolivia's second-highest mountain, Illimani. The researchers plan to drill three ice cores from the Illimani glacier, and to store two of them in Antarctica as the start of the world's first ice archive.
Keep reading...
Show less
CC-BY-SA-2.5 and GNU FDL
Although not on most people's radar here, New York is one step closer to becoming the first state to have genetically modified, non-sterile insects released outside without cages.

Keep reading...
Show less
Photo credit: Michael Fujiwara/YouTube
The viral video of a young girl snatched off a Richmond, British Columbia dock by a sea lion is another reminder that people shouldn't get too close to wild animals.
Port officials in Canada have sharply criticized the family for putting themselves at risk for feeding the large animal, especially since there are several signs in the area warning people not to do so.
Keep reading...
Show less
Bears Ears National Monument. Tim Peterson
An anti-public lands official in Utah said Interior Sec. Ryan Zinke has already made up his mind to repeal Bears Ears National Monument, a move experts say could be against the law.
Keep reading...
Show less
The Crop Trust
Flooding breached a supposedly impregnable Arctic "doomsday" vault containing a collection of seeds stored for an apocalypse scenario last week, after warmer-than-average temperatures caused a layer of permafrost to thaw.
Keep reading...
Show less