Mark Ruffalo and Annie Leonard: We Must Rebuild Our Democracy
It started with the founding fathers. In America's very first election, in 1788, the government officially barred all women, all people of color and any man without land from voting.
This was American democracy in the 18th century.
Almost 90 years later, the 15th amendment officially removed "race, color or history of servitude" as a barrier to the vote, but women remained wholly disenfranchised.
This was American democracy in the 19th century.
Then, 50 years after that, the 19th amendment gave women the right to vote, but poll taxes, literacy tests and other calculated means kept the unofficially disenfranchised from exercising their rights as citizens.
This was American democracy in the 20th century.
And now, what is American democracy in the 21st century?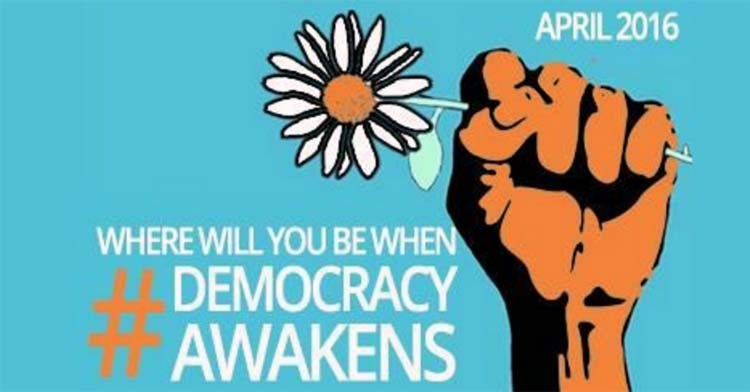 2016 will be the first American presidential election since 1965 with major new voting restrictions—photo identification requirements, cuts to early voting and the elimination of same day voting registration are just a few of the roadblocks thrown up by special interests in 15 states. Not only that, but once voters overcome these obstacles to actually vote, the candidates they have to choose from will be largely self-selected from the economic elites, looking out for banks like Goldman Sachs instead of everyday people. Rather than a government of the people, by the people and for the people, we have a government of super-PACs and dark money, by the 1% and for corporate interests.
From the Flint water crisis to inaction on climate change, from gun control to massive student loan debt, we see the will of the people distorted by a government that does not represent us. And in a year when so many Americans—especially people of color, the LGBTQ community, immigrants and women—face urgent issues that need governmental action, it's shockingly even harder to vote for some groups than it was 50 years ago.
This is not progress. This is not democracy. It's no wonder that Princeton scholars who studied more than 1,800 different policy initiatives from 1981 to 2002 found that the United States can no longer plausibly be called a democracy. "Elites prevail." Oligarchy.
But once again in American history, an incredible movement is rising across the country to overcome this corruption, to demand a fair and just system for everyone. We have in 2016 a chance to begin building a truly representative government. But it's going to take commitment.
We know what democracy looks like—residents rising up in Flint to demand accountability, kayaktivists in the Pacific Northwest saying no to fossil fuels, moms and dads and cousins and brothers standing up across the country to say black lives matter. We can see the future of democracy. Now, we just have to work together to make it happen.
Next month, thousands of people and more than 170 organizations will join together in Washington, DC, to demand that our lawmakers and political leaders take action to fix our democracy. Called the Democracy Awakening, this event reflects an unprecedented movement to demand a democracy that works for all Americans, one in which everyone has an equal voice and elected officials are accountable to the people, not corporate interests or the wealthy.
The Democracy Awakening will use the tools of nonviolent direct action that so many who have fought for social, economic and environmental justice have used before us from Civil Rights leaders to the women's suffrage movement to the fight for marriage equality.
The challenge to build a better democracy has always been there. This isn't hearkening back to some better age; this is a new beginning, and your voice is crucial. Now is the time to claim our democracy from the 1% and corporate power, and finally make American democracy in the 21st century a reality.
This op-ed was originally published in TIME.
YOU MIGHT ALSO LIKE
7 Arrested at 'Pancakes Not Pipelines' Protest at FERC
Rockefeller Fund Divests From Fossil Fuels, Slams Exxon
Bill McKibben: Fracking Has Turned Out to Be a Costly Detour
James Hansen: Dangerous Sea Level Rise Will Occur in Decades, Not Centuries
Katahdin Woods and Waters. National Parks Conservation Association.
Looks like you'll have to trust your map if you want to find the newly designated Katahdin Woods and Waters National Monument in Maine.
Gov. Paul LePage has refused to put up any official signs along the four main roads to the 87,500-acre preserve, which is on the list of 27 national monuments under Interior Sec. Ryan Zinke's review.
Keep reading...
Show less
Keep reading...
Show less
More than 58 percent of Swiss voters supported a measure to phase out nuclear power in favor of renewable energy.
The plan provides billions in subsidies for renewable energy, bans the construction of new nuclear plants and decommissions Switzerland's five aging reactors. There is no clear date when the plants will close.

Keep reading...
Show less
iStock
By Alex Kirby
An ambitious scientific expedition is due to start work on May 22 on Bolivia's second-highest mountain, Illimani. The researchers plan to drill three ice cores from the Illimani glacier, and to store two of them in Antarctica as the start of the world's first ice archive.
Keep reading...
Show less
CC-BY-SA-2.5 and GNU FDL
Although not on most people's radar here, New York is one step closer to becoming the first state to have genetically modified, non-sterile insects released outside without cages.

Keep reading...
Show less
Photo credit: Michael Fujiwara/YouTube
The viral video of a young girl snatched off a Richmond, British Columbia dock by a sea lion is another reminder that people shouldn't get too close to wild animals.
Port officials in Canada have sharply criticized the family for putting themselves at risk for feeding the large animal, especially since there are several signs in the area warning people not to do so.
Keep reading...
Show less
Bears Ears National Monument. Tim Peterson
An anti-public lands official in Utah said Interior Sec. Ryan Zinke has already made up his mind to repeal Bears Ears National Monument, a move experts say could be against the law.
Keep reading...
Show less
The Crop Trust
Flooding breached a supposedly impregnable Arctic "doomsday" vault containing a collection of seeds stored for an apocalypse scenario last week, after warmer-than-average temperatures caused a layer of permafrost to thaw.
Keep reading...
Show less