08 November 2013
Make Your Own Exfoliating Scrubs Instead of Using Products With Plastic Microbeads
If you like to have soft, glowing skin but don't want to pollute our oceans and lakes with plastic microbeads, try these recipes and make your own exfoliating scrub with ingredients from your kitchen.
Avocado Foot Softener from Healthy Child Healthy World
2 tablespoons cornmeal
2 tablespoons mashed avocado or avocado oil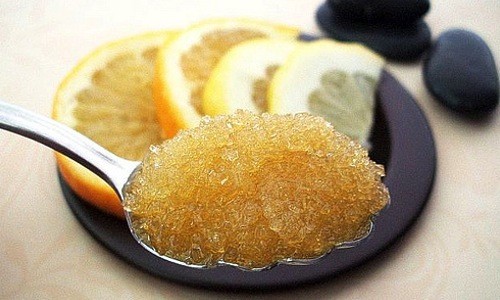 Mix ingredients in a small bowl until a paste forms. Apply to feet, working the gritty paste into calluses and rough spots, and up and around the toes. Rinse with warm water and dry feet thoroughly. Repeat once or twice a week.
Strawberry Hand and Foot Exfoliant from Campaign for Safe Cosmetics
8 to 10 strawberries 
2 tablespoons apricot oil (you may substitute olive oil) 
1 teaspoon of coarse salt, such as Kosher salt or sea salt 
Mix together all ingredients, massage into hands and feet, rinse and pat dry.
Simple Homemade Sugar Scrub Recipe from sassygirlz.net
2 cups turbinado sugar
½ cup coconut oil
2 tablespoons honey
1 tablespoon vanilla extract or your favorite essential oil
Combine sugar and honey in a bowl and mix. Add coconut oil and stir until sugar mixture is well soaked. Add vanilla or essential oil of choice. Store in an airtight jar. 
No-Nonsense Daily Scrub Recipe from Crunchy Betty
½ cup finely ground oats
½ cup finely ground almond meal
Liquid of choice (water or witch hazel for oily skin, milk for dry skin, rosewater for any skin type)
Grind up oats and almonds separately, then combine well. Place a small amount, approximately 2 teaspoons, of scrub in your hand or a small dish. Add a bit of the liquid to the scrub and combine well, letting the oats absorb the liquid. Lightly scrub your face with the mixture, moving in an upward, circular fashion. Let the scrub dry for a few minutes, then lightly rinse with warm water, or rinse off immediately.
Tailor your scrub to your skin type by adding these ingredients:
Oily skin: 2 tablespoons fine sea salt, 2 tablespoons finely ground dried peppermint, and/or 5 drops of rosemary essential oil.
Dry skin: 2 tablespoons powdered milk (try to find full-fat, if you can), 2 tablespoons. finely ground dried calendula, and/or 5 drops Roman chamomile essential oil. If you have very dry skin, you might find more benefit from using full-fat cream as the liquid you use to wet the scrub.
Combination skin: 2 tablespoons cornmeal, 2 tablespoons finely ground dried chamomile, and/or 5 drops lavender essential oil.

A supervisor at the Department of Energy's Office of International Climate and Clean Energy told staff to stop using the phrases "climate change," "emissions reduction" and "Paris agreement" in any official written communications, according to POLITICO's sources.
The instructions were reportedly given at a Tuesday meeting held shortly after President Trump's latest controversial executive order that reversed Obama-era climate policies.
Senior officials apparently told DOE climate office staff that the climate-related words would cause a "visceral reaction" with Energy Sec. Rick Perry, his immediate staff and the department's White House advisers.
While a department spokeswoman denied any official language ban in the climate office or in the department as a whole, POLITICO's sources said that there is a general sense among DOE employees that such hot-button terms should be avoided in favor of words like "jobs" and "infrastructure" in light of the Trump administration's anti-environmental agenda.
Environmental groups have balked at POLITICO's report. The Sierra Club noted that the DOE only just emerged from a storm of controversy regarding climate change after its staff purge during the transition period.
"What exactly is this office supposed to call itself now? The international C****** office?" Sierra Club Climate policy director Liz Perera said. "Ignoring the climate crisis will not make it go away, will not create jobs in the booming clean energy economy, and will not make our country great."
"Rick Perry lied to Congress about climate science to get a job at an agency he wanted to eliminate, and he has started things off with a blatant dereliction of duty. The only place the climate is not changing is in the minds of those in the Trump administration," Perera added.
The former Texas governor told Congress during his confirmation hearing that "science tells us that the climate is changing, and that human activity, in some manner, impacts that change." In a 2011 presidential debate, Perry famously forgot the name of the agency he would abolish.
Erin from Scotland had already switched to a completely plant-based diet when she asked Bill Nye on the Big Think to explain the science behind her decision to go vegan.
"I went vegan after watching documentaries like 'Before the Flood' and 'Cowspiracy,'" Erin said, but she questioned conflicting reports on the amount of global emissions caused by animal agriculture.
Nye explained that it can be difficult to peg the exact amount of greenhouse gases that come from cows, sheep and goats. However, he said that as the human population has surged along with the number of animals raised for food, "it's very reasonable that we're creating a tremendous amount of extra methane that wouldn't otherwise be there in the atmosphere, and that is causing global warming and climate change to happen more rapidly than [it] would otherwise."
Nye said that his diet "is becoming increasingly vegetarian," and might soon be following her lead.

Watch here:
Although little was said about Karl, Wednesday's House Science Committee hearing with Drs. Michael Mann, John Christy, Judith Curry and Roger Pielke Jr. was a quite a circus. Which is exactly why someone who's been through Smith's nonsense, Dr. David Titley, wrote for the Washington Post that scientists should boycott these biased hearings.
That would be nice, if that meant that Smith would stop holding them. But since he shows no sign of slowing his inquisition, someone needs to show up to set the record straight and push back on all the denial packed into the hearing like so many clowns in a tiny car.
And that's exactly what Dr. Mann did, successfully walking the tight-rope between correcting other witnesses and coming off as a jerk. Most notably and most clearly getting under Smith's skin, Mann cited a recent Science Magazine article describing Smith's comments at the Heartland conference. Mann read the killer quote about how Smith "acknowledged that the committee is now a tool to advance his political agenda rather than a forum to examine important issues facing the U.S. research community."
In response, Lamar Smith, the esteemed media critic who cited the Daily Mail's bogus Bates story, who has written for Breitbart and said that people should get their news directly from Trump, claimed that Science Magazine is "not known as an objective magazine." As Emily Atkin of the New Republic aptly put it, "The fact that the chairman of the House Science committee doesn't consider that source 'objective' is ACTUALLY MIND BLOWING."
Smith, with pie on his face, also demonstrated his media savvy by citing the never-correct editorial page of the Wall Street Journal on heat records. This opinion is about as solid as cotton candy and has been contradicted by the paper's own reporting.
Speaking of dumb Wall Street Journal opinions, Mann also did a nice job of calling out Pielke's hypocrisy for whining in the Journal about being harassed, after sending threatening letters to Mann and Kevin Trenberth's bosses when they criticized his awful FiveThirtyEight piece that needed correction.

Also needing correction was John Christy, who trotted out his error-laden graph of models and observations. Again, Mann highlighted the foolishness of his fellow witnesses by pointing out how others have corrected Christy many times on the satellite record vs. the thermometer record. And more importantly, he cited the recent research that totally debunks Christy's false contention that models overestimate warming.
And then there's Judith Curry who, true to form, was there to talk about uncertainty (inappropriately). Again Mann was prepared, pointing out that uncertainty is actually a reason to take stronger action sooner. Uncertainty cuts both ways: while Curry and the GOP would have you believe maybe warming won't be so bad, it could actually be much worse than we fear.
Curry also bristled at being referred to as a "climate science denier" in Mann's written testimony. That's silly: She's teamed up with the Kochs, questioned the validity of the endangerment finding and said in her opening statement that it's time to "make the debate about climate change great again." So it is safe to say that "Judith Curry is absolutely a climate denier."
And she proved it in the hearing, denying the science and claiming we don't know how much is human versus natural. In 2014, NASA's Gavin Schmidt laid out the case for Curry that our best estimate is that humans are causing 110 percent of warming. (It's more than 100 percent because natural forces and particulate pollution cause cooling, which CO2 is overcoming to cause warming).
Curry also questioned ocean acidification science, in a way that Brian Kahn noted "is way out of step with most ocean scientists" that he's talked with.
Other odds and ends that made an appearance include the 1998 documents showing Big Oil's plan to inject uncertainty into the climate debate, the long-debunked 70s cooling myth and Smith's tired denial of the consensus.
So like any good circus, there were plenty of clowns, people lion, tired grr-causing myths and bear-ly believable statements.
Oh my.
Here's the full hearing:
A major natural gas leak caused parts of Providence, Rhode Island to shut down Wednesday night.

The leak, which shut down Interstate 195 and city streets for several hours, was caused by a ruptured high-pressure gas line near a National Grid take station plant at Franklin Square around 8:15 p.m.
Local witnesses reported "a loud sound of rushing air" and "a faint smell of natural gas" coming from the Allens Ave. plant.

According to The Providence Journal, a dramatic scene unfolded in the area:

"The break in the underground pipe caused havoc for a large portion of Wednesday night. Frustrated motorists were forced to take detours off a jammed Route 195 and National Grid workers scrambled to shut down the gas, which was escaping with such force that witnesses said it sounded like a jet engine. The roar continued for several hours."

Emergency vehicles swarmed the scene and nearby businesses had to evacuate.
Providence Public Commissioner Steven Pare described the leak as "highly explosive" and said "we have to keep any ignition source away from this leak" at around 9:35 p.m.
There were no reported injuries and the leak has been contained. Interstate 195 reopened around 11 p.m. and the affected streets reopened around 5 a.m. Thursday.

Officials said during a news conference that mechanical equipment failure lead to the leak.
Danielle Williamson, a spokeswoman for National Grid, told Rhode Island Public Radio that roughly 50 customers lost service and technicians have been fixing the leak since early Thursday morning.
Williamson explained that restoring gas takes longer than restoring electricity because "technicians have to go to from home to home, business to business and relight appliances that go into the homes or businesses."
National Grid is trying to determine what exactly caused the leak, Williamson added.