Lester Brown: The Great Energy Transition to Solar and Wind Is Underway

The worldwide transition from fossil fuels to renewable sources of energy is under way. As fossil fuel resources shrink, as air pollution worsens, and as concerns about climate instability cast a shadow over the future of coal, oil and natural gas, a new world energy economy is emerging. The old economy, fueled largely by coal and oil, is being replaced with one powered by solar and wind energy.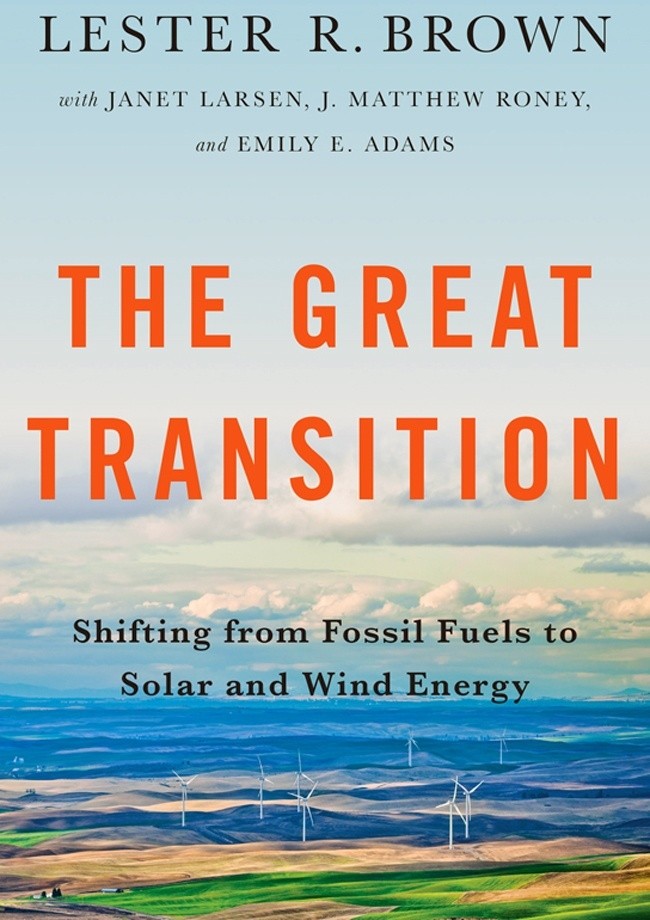 In the U.S., the energy transition can be seen in the hundreds of utility-scale solar power plants under development or construction in the Southwest. Iowa and South Dakota are each generating at least 26 percent of their electricity from wind farms. Iowa's share could reach half by 2018.
Texas, which now gets 10 percent of its electricity from wind, is building huge wind farms and the long-distance transmission lines that will facilitate the sale of low-cost wind-generated power in Louisiana and Mississippi.
Looking overseas, Denmark, a wind pioneer, is getting close to 40 percent of its electricity from the wind. In China, electricity from wind farms has eclipsed that from nuclear power plants.
The worldwide use of solar cells to convert sunlight into electricity is expanding by more than 50 percent a year. In addition to millions of rooftop installations, thousands of utility-scale solar projects are now under development or construction. At peak power, the solar systems installed worldwide by 2014 could match the output of at least 100 nuclear reactors.
The costs of both solar- and wind-generated electricity are falling fast, undercutting fossil fuels in more and more electricity markets. In parts of Australia, which is experiencing a solar boom, the cost of producing electricity from the sun has fallen well below that from coal. Even if the coal itself were free, coal-fired generation couldn't compete with solar.
Falling costs for solar and wind energy are opening the door for massive investments in Africa, leading to more renewable installations there in 2014 than during the preceding 14 years.
Several concerns are driving the transition from fossil fuels to renewables. One of these is concern about climate change and its effect on our future. Another is the health impact of breathing air polluted by burning fossil fuels, as seen in the three million people who die each year from illnesses related to outdoor air pollution. A third is the desire for local control over energy production and overall energy security.
And as the need for clean alternatives to coal and oil becomes apparent, there is growing interest in solar and wind energy within the investment community. This includes not only investment banks but also several billionaires, including Warren Buffett and Ted Turner, who are plowing vast sums of money into renewable energy. The influx of "smart money" into this new segment of the energy economy suggests that much more investment will likely follow.
The energy transition will change not only how we view the world but also how we view ourselves. With rooftop solar panels to both power homes and recharge car batteries, there will be a personal degree of energy independence not known for generations.
This century, as the world shifts to solar and wind, we are witnessing the localization of the energy economy. Instead of coming from halfway around the world, our energy will be as close as the rooftops over our heads. Instead of a few countries producing and controlling most of the world's energy, people everywhere will be in the energy business, producing and managing their own energy supply. Smokestacks that dirty the air and alter the climate will be replaced by solar panels residing on our rooftops and fields of wind turbines turning gracefully in the distance. Welcome to the clean energy era.
Chapter 1 of The Great Transition: Shifting from Fossil Fuels to Solar and Wind Energy is available for free online at www.earth-policy.org/books/tgt. Supporting data and a PowerPoint summary presentation are also available for free downloading.
YOU MIGHT ALSO LIKE
Renewables Beat Fossil Fuels Second Year in a Row
How You Can Go Solar Without Even Owning a Single Panel
Katahdin Woods and Waters. National Parks Conservation Association.
Looks like you'll have to trust your map if you want to find the newly designated Katahdin Woods and Waters National Monument in Maine.
Gov. Paul LePage has refused to put up any official signs along the four main roads to the 87,500-acre preserve, which is on the list of 27 national monuments under Interior Sec. Ryan Zinke's review.
Keep reading...
Show less
Keep reading...
Show less
More than 58 percent of Swiss voters supported a measure to phase out nuclear power in favor of renewable energy.
The plan provides billions in subsidies for renewable energy, bans the construction of new nuclear plants and decommissions Switzerland's five aging reactors. There is no clear date when the plants will close.

Keep reading...
Show less
iStock
By Alex Kirby
An ambitious scientific expedition is due to start work on May 22 on Bolivia's second-highest mountain, Illimani. The researchers plan to drill three ice cores from the Illimani glacier, and to store two of them in Antarctica as the start of the world's first ice archive.
Keep reading...
Show less
CC-BY-SA-2.5 and GNU FDL
Although not on most people's radar here, New York is one step closer to becoming the first state to have genetically modified, non-sterile insects released outside without cages.

Keep reading...
Show less
Photo credit: Michael Fujiwara/YouTube
The viral video of a young girl snatched off a Richmond, British Columbia dock by a sea lion is another reminder that people shouldn't get too close to wild animals.
Port officials in Canada have sharply criticized the family for putting themselves at risk for feeding the large animal, especially since there are several signs in the area warning people not to do so.
Keep reading...
Show less
Bears Ears National Monument. Tim Peterson
An anti-public lands official in Utah said Interior Sec. Ryan Zinke has already made up his mind to repeal Bears Ears National Monument, a move experts say could be against the law.
Keep reading...
Show less
The Crop Trust
Flooding breached a supposedly impregnable Arctic "doomsday" vault containing a collection of seeds stored for an apocalypse scenario last week, after warmer-than-average temperatures caused a layer of permafrost to thaw.
Keep reading...
Show less