Last Minute Deal Reached at UN Climate Talks, Falls Far Short of Expectations
By Paul Brown
For the first time, all countries of the world have agreed to make contributions in cutting greenhouse gas emissions to prevent the planet's temperature rising above the 2°C danger limit previously agreed by politicians.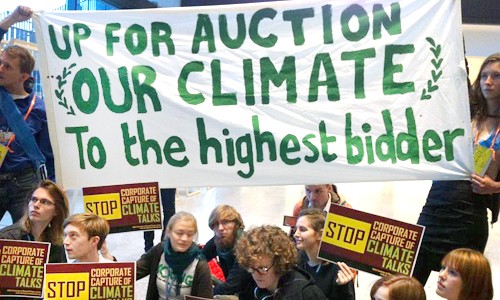 With corporations—incluidng steel giant Arcelor Mittal, General Motors and Emirates—sponsoring the UN climate talks in Warsaw, Poland, youth activists stand in solidarity with the Philippines demanding: "Stop the Corporate Capture of Climate Talks."
Thirty hours after the climate conference in Warsaw should have ended, a series of compromises rescued the talks from collapse, although the deal fell far short of developing countries' original expectations.
The last stumbling block preventing agreement was overcome with an addition to the climate convention (UNFCCC), enabling the use of an existing mechanism to provide money from rich nations for loss and damage suffered by developing countries because of extreme climate events and long-term problems like rising sea levels. This would potentially allow the Philippines to apply for funds to help with the effects of this month's super typhoon.
One concrete achievement was to finalize an agreement to conserve the world's forests and to make it operational.
The Warsaw meeting was billed as a preparatory step to the 194 participating countries signing a legally binding agreement in Paris in 2015 to limit greenhouse gas emissions, and also as a vehicle for providing poorer countries with finance—both to adapt to climate change and also to deal with irreparable damage like loss of islands through sea level rise.
Dangerous overheating
Previously only the rich industrial nations have agreed to make commitments to cut greenhouse gases, but emissions from developing countries have been rising so fast that without contributions from them there is no hope of preventing the atmosphere dangerously overheating.
Reluctance by India and other larger developing countries to make commitments to limit emissions was overcome by calling targets "contributions" and so avoiding making them appear legally binding. 
An important part of the agreement is for all countries to come up with their national "contributions" by the spring of 2015. This will allow scientists to evaluate all the targets offered by countries to see if this will keep world temperatures below a 2°C rise. 
Nick of time 
If they are not sufficient, then the less ambitious countries will be encouraged to improve their contributions in time for the Paris conference in December that year.
Jennifer Morgan, from the World Resources Institute, said: "Just in the nick of time, the negotiators in Warsaw delivered enough to keep the process moving.
"Country representatives now need to return home to make significant progress on their work plans and national offers that can become the backbone of a new climate agreement. Progress will also depend on mobilizing more financial support for vulnerable countries."
A statement by the Third World Network, an organization helping developing nations, said the agreement meant that all countries needed to discuss their contributions towards the ultimate objective of the convention, which was "truly to avoid dangerous climate change."
Meena Raman from the Climate Network said the negotiations next year would have to grapple with the emission budget required and how to share it fairly. This would need to take into account   the historic contributions to climate change of developed countries.
China, now the world's largest contributor to greenhouse gases, acknowledged here that developing countries' emissions now exceeded those of the developed countries and needed to be limited.
Forest prospects brighten
Agreements on finance were fudged. At the conference $110 million was promised, mostly by EU countries, to help developing countries adapt to climate change.
Attempts to get a much larger sum of $70 billion from the developed world by 2016 were blocked by the United States. Instead, a pledge to provide $100 billion a year from 2020, which had been promised at previous climate talks, remained on the table, although as yet which countries are going to provide this money remains unstated.
One outstanding success of the conference was the agreement designed to reward countries that prevent the destruction of their forests.
Tree loss is estimated to increase man-made emissions of carbon dioxide to the atmosphere by 12% a year.  It has long been the concern of developed countries to find a way of preventing tropical forests being cut down, but it has taken 20 years to create an international agreement on how to do it.
The agreement called REDD (Reducing Emissions from Deforestation and Degradation) provides compensation for countries that lose revenue from not exploiting their forests. Countries that have satellite monitoring and can show they protect the rights of forest peoples and biological diversity can now claim from climate funds for carbon emissions avoided.
Some less developed countries still do not have adequate verification schemes in place, but key states like Brazil, where the Amazon losses are carefully monitored, should benefit from REDD immediately, provided they can reduce forest loss.
Visit EcoWatch's CLIMATE CHANGE page for more related news on this topic.

Katahdin Woods and Waters. National Parks Conservation Association.
Looks like you'll have to trust your map if you want to find the newly designated Katahdin Woods and Waters National Monument in Maine.
Gov. Paul LePage has refused to put up any official signs along the four main roads to the 87,500-acre preserve, which is on the list of 27 national monuments under Interior Sec. Ryan Zinke's review.
Keep reading...
Show less
Keep reading...
Show less
More than 58 percent of Swiss voters supported a measure to phase out nuclear power in favor of renewable energy.
The plan provides billions in subsidies for renewable energy, bans the construction of new nuclear plants and decommissions Switzerland's five aging reactors. There is no clear date when the plants will close.

Keep reading...
Show less
iStock
By Alex Kirby
An ambitious scientific expedition is due to start work on May 22 on Bolivia's second-highest mountain, Illimani. The researchers plan to drill three ice cores from the Illimani glacier, and to store two of them in Antarctica as the start of the world's first ice archive.
Keep reading...
Show less
CC-BY-SA-2.5 and GNU FDL
Although not on most people's radar here, New York is one step closer to becoming the first state to have genetically modified, non-sterile insects released outside without cages.

Keep reading...
Show less
Photo credit: Michael Fujiwara/YouTube
The viral video of a young girl snatched off a Richmond, British Columbia dock by a sea lion is another reminder that people shouldn't get too close to wild animals.
Port officials in Canada have sharply criticized the family for putting themselves at risk for feeding the large animal, especially since there are several signs in the area warning people not to do so.
Keep reading...
Show less
Bears Ears National Monument. Tim Peterson
An anti-public lands official in Utah said Interior Sec. Ryan Zinke has already made up his mind to repeal Bears Ears National Monument, a move experts say could be against the law.
Keep reading...
Show less
The Crop Trust
Flooding breached a supposedly impregnable Arctic "doomsday" vault containing a collection of seeds stored for an apocalypse scenario last week, after warmer-than-average temperatures caused a layer of permafrost to thaw.
Keep reading...
Show less