Industrial Hemp Legislation Passes U.S. House of Representatives
A new bi-partisan amendment to the Federal Agriculture Reform and Risk Management Act of 2013 has been passed by the U.S. House of Representatives today in support of industrial hemp by a vote of 225 to 200. Introduced by Rep. Jared Polis (D-CO), Rep. Thomas Massie (R-KY) and Rep. Earl Blumenauer (D-OR), it allows colleges and universities to grow and cultivate industrial hemp in states where it is already legal, without fear of federal interference.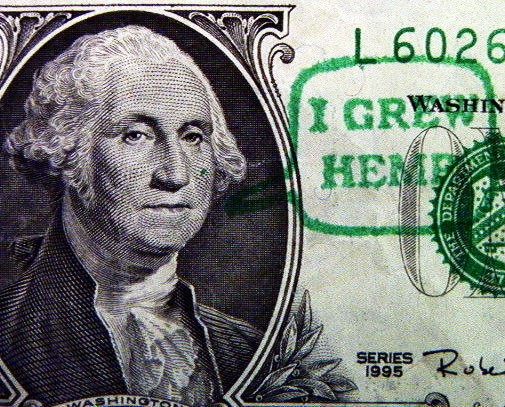 According to a statement from the office of Rep. Polis, 19 states have passed pro-industrial hemp legislation. The following nine states have removed barriers to its production: Colorado, Kentucky, Maine, Montana, North Dakota, Oregon, Vermont, Washington and West Virginia.
Rep. Polis said in a statement:
Industrial hemp is an important agricultural commodity, not a drug. My bipartisan, common-sense amendment, which I've introduced with Representatives Thomas Massie and Earl Blumenauer, would allow colleges and universities to grow and cultivate industrial hemp for academic and agricultural research purposes in states where industrial hemp growth and cultivation is already legal. Many states, including Colorado, have demonstrated that they are fully capable of regulating industrial hemp.
George Washington and Thomas Jefferson grew hemp. The first American flag was made of hemp. And today, U.S. retailers sell over $300 million worth of goods containing hemp—but all of that hemp is imported, since farmers can't grow it here," explained Rep. Polis. "The federal government should clarify that states should have the ability to regulate academic and agriculture research of industrial hemp without fear of federal interference. Hemp is not marijuana, and at the very least, we should allow our universities—the greatest in the world—to research the potential benefits and downsides of this important agricultural commodity.
Rep. Massie said in a statement:
Industrial hemp is used for hundreds of products including paper, clothing, rope and can be converted into renewable bio-fuels more efficiently than corn or switch grass. It's our goal that the research this amendment enables would further broadcast the economic benefits of the sustainable and job-creating crop. I look forward to working with Rep. Polis and Rep. Blumenauer on this issue.
Rep. Blumenauer said in a statement:
Because of outdated federal drug laws, our farmers can't grow industrial hemp and take advantage of a more than $300 million dollar market. We rely solely on imports to sustain consumer demand. It makes no sense. Our fear of industrial hemp is misplaced—it is not a drug. By allowing colleges and universities to cultivate hemp for research, Congress sends a signal that we are ready to examine hemp in a different and more appropriate context.
Hemp is listed as a Schedule 1 Narcotic because it is classified as Cannabis sativa, which is the same species as marijuana used for medicinal and recreational purposes. Hemp has been used all over the world throughout history, not only for industrial purposes and personal care products, but also as a source of highly nutritious food.
Currently, hemp cannot be grown by farmers in the U.S. "Federal law has denied American farmers the opportunity to cultivate industrial hemp and reap the economic rewards from this versatile crop for far too long," commented Grant Smith, policy manager with the Drug Policy Alliance. "Congress should lift the prohibition on the domestic cultivation of industrial hemp as soon as possible. Allowing academic research is an important first step towards returning industrial hemp cultivation to American farms."
"Vote Hemp applauds the passing of this bi-partisan amendment. This brilliant initiative allows colleges and universities the opportunity to grow and cultivate hemp for academic and agricultural research purposes," said Eric Steenstra, president of Vote Hemp. "It only applies to states where industrial hemp growth and cultivation is already legal in order for those states to showcase just how much industrial hemp can benefit the environment and economy in those regions."
Visit EcoWatch's FARM BILL and SUSTAINABLE AGRICULTURE pages for more related news on this topic.

On the eve of World Turtle Day, the world's largest travel website—TripAdvisor—removed the sale of tickets to the Cayman Turtle Centre, where more than 5,000 endangered sea turtles live in horrific conditions.
Keep reading...
Show less
The Dakota Access Pipeline under construction. Photo credit: Flickr
The Dakota Access Pipeline (DAPL) system leaked more than 100 gallons of oil in two separate incidents in North Dakota in March.

This is the $3.8 billion project's third known leak. The controversial pipeline, which is not yet finished and not yet operational, also spilled 84 gallons of oil in South Dakota on April 4.

Keep reading...
Show less
Robin Loznak
After numerous legal efforts trying to get a federal district court in Oregon to throw out a climate lawsuit brought by 21 young people, a defeated National Association of Manufacturers (NAM) filed a motion Monday requesting the court's permission to withdraw from the litigation.
Keep reading...
Show less
Greenland ice sheet melt in action. Sara Penrhyn-Jones
The Department of Interior edited a news release on a study coauthored by government scientists to remove a mention of climate change, the Washington Post reported.
Keep reading...
Show less
Hurricane Sandy floods a street in Lindenhurst, Long Island. Jason DeCrow/CC BY SA/2.5
By Robert McSweeney
Billions of people across the world could see climates they've never experienced before by the middle of the century, a new study said.
Keep reading...
Show less
Buyers look through frozen tuna on sale at the fish market in Tokyo's Tsukiji district. Rob Gihooly
By Tony Long
Japan, one of the world's largest fish importers, has joined 47 other governments in ratifying the Port State Measures Agreement (PSMA)—an international treaty designed to stop illegal, unreported and unregulated (IUU) fishing.
Keep reading...
Show less
Katahdin Woods and Waters. National Parks Conservation Association.
Looks like you'll have to trust your map if you want to find the newly designated Katahdin Woods and Waters National Monument in Maine.
Gov. Paul LePage has refused to put up any official signs along the four main roads to the 87,500-acre preserve, which is on the list of 27 national monuments under Interior Sec. Ryan Zinke's review.
Keep reading...
Show less
Keep reading...
Show less


Get EcoWatch in your inbox