Illinois Mine Safety Head Took Thousands in Campaign Contributions from Coal Baron Chris Cline
Tony Mayville is a candidate for State Representative in southern Illinois and chairman of the Washington County Democratic Party. He has also supervised the Mine Safety division and served as acting director of Mines and Minerals at the Illinois Department of Natural Resources. Over several years, including time while Mayville was responsible for regulating Illinois coal mines, he collected thousands of dollars in campaign contributions from companies owned by billionaire coal mine operator Chris Cline. In November 2013 a fatal accident occurred at a coal mine owned by Chris Cline and regulated by Tony Mayville.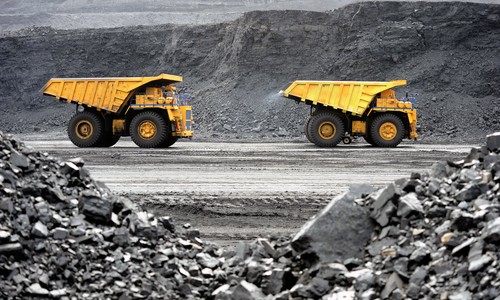 Photo courtesy of Shutterstock
Mayville chairs the political fund of the Washington County Democratic Party Central Committee. Their campaign finance reports show the committee raising thousands of dollars from multiple companies owned by the Cline Group at least since 2008 through 2013.
Several contributions were from Cline subsidiary Hillsboro Energy. They gave Mayville's Washington County Democratic fund $1,000 in 2008, $500 in 2010 and another $1,000 in 2011. During that time, the company was seeking a permit from the Department of Natural Resources for the Deer Run longwall mine. Mayville was already collecting coal industry campaign contributions when Governor Pat Quinn made him acting director of the Office of Mines and Minerals, where he would oversee the mine permitting process.
Similarly, Mayville's Washington county committee took $500 from Macoupin Energy LLC, another Cline subsidiary seeking a new mine permit.
More recently, Cline-owned Foresight Energy donated $1,000 in 2012 to the party committee, and another $2,000 to Mayville's state representative campaign fund in March of 2013. Foresight Energy's donation to Mayville's campaign attracted negative attention, so last week his campaign sent a letter to the state board of elections claiming it was accepted by accident. He transferred the contribution to the Washington county party committee he chairs. The distinction may be legally significant, but regardless of which of his committees he used, Mayville accepted campaign contributions from coal mine owners while overseeing mine safety at the Illinois Department of Natural Resources.
This obvious conflict of interest highlights the notoriously cozy relationship between the Illinois Office of Mines and Minerals and industries they're charged with regulating. Citizens have had to fight foolish coal mines permits granted by an agency with employees collecting political donations from mine owners. The fatal accident last November at a mine owned by Chris Cline is a tragic reminder that regulation of the coal industry is literally a life and death issue.
The public deserves to know whether mines owned by Chris Cline were given special consideration during the permitting process or on safety standards. The Illinois Office of the Inspector General should investigate the Office of Mines and Mineral's oversight of all mines owned by Chris Cline to determine if regulations were rigorously enforced. Attorney General Lisa Madigan should determine whether any laws were violated by agency employees collecting political contributions from companies they regulate. If what happened isn't a crime, then it certainly should be.
Despite campaigning as an environmentalist, Governor Pat Quinn has failed to significantly reform the Office of Mines and Minerals. Many of the campaign contributions from industry were public knowledge when Quinn made Tony Mayville acting director. Mayville has donated to the Quinn campaign from both his party committee and his state representative campaign fund. The insertion of campaign cash into the administration of government oversight undermines confidence in the state's ability to protect public safety and the environment.
Conflicts of interest and lax enforcement at the Department of Natural Resources could become more dangerous if Illinois moves forward with fracking. Illinois must finally confront the ineffective regulatory culture of an agency that sees itself as an ally of industry rather than a protector of public health and the environment.
Visit EcoWatch's FRACKING page for more related news on this topic.

Katahdin Woods and Waters. National Parks Conservation Association.
Looks like you'll have to trust your map if you want to find the newly designated Katahdin Woods and Waters National Monument in Maine.
Gov. Paul LePage has refused to put up any official signs along the four main roads to the 87,500-acre preserve, which is on the list of 27 national monuments under Interior Sec. Ryan Zinke's review.
Keep reading...
Show less
Keep reading...
Show less
More than 58 percent of Swiss voters supported a measure to phase out nuclear power in favor of renewable energy.
The plan provides billions in subsidies for renewable energy, bans the construction of new nuclear plants and decommissions Switzerland's five aging reactors. There is no clear date when the plants will close.

Keep reading...
Show less
iStock
By Alex Kirby
An ambitious scientific expedition is due to start work on May 22 on Bolivia's second-highest mountain, Illimani. The researchers plan to drill three ice cores from the Illimani glacier, and to store two of them in Antarctica as the start of the world's first ice archive.
Keep reading...
Show less
CC-BY-SA-2.5 and GNU FDL
Although not on most people's radar here, New York is one step closer to becoming the first state to have genetically modified, non-sterile insects released outside without cages.

Keep reading...
Show less
Photo credit: Michael Fujiwara/YouTube
The viral video of a young girl snatched off a Richmond, British Columbia dock by a sea lion is another reminder that people shouldn't get too close to wild animals.
Port officials in Canada have sharply criticized the family for putting themselves at risk for feeding the large animal, especially since there are several signs in the area warning people not to do so.
Keep reading...
Show less
Bears Ears National Monument. Tim Peterson
An anti-public lands official in Utah said Interior Sec. Ryan Zinke has already made up his mind to repeal Bears Ears National Monument, a move experts say could be against the law.
Keep reading...
Show less
The Crop Trust
Flooding breached a supposedly impregnable Arctic "doomsday" vault containing a collection of seeds stored for an apocalypse scenario last week, after warmer-than-average temperatures caused a layer of permafrost to thaw.
Keep reading...
Show less