Renewable Energy
15 May 2013
How Renewable Energy Can Transform New York State
More than 160 business leaders, elected officials, representatives from organizations and concerned citizens packed the Mount Kisco Public Library in Westchester County, NY, last night to hear nationally-recognized experts explain how New York could and should accelerate New York State's renewable and sustainable energy future. Only one seat—reserved for Gov. Cuomo—remained empty during the forum, Renewable New York: Local Energy Today and Tomorrow.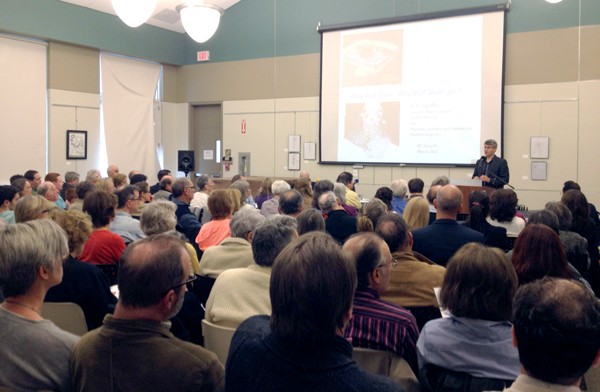 Dr. Mark Z. Jacobson of Stanford University, Dr. Anthony R. Ingraffea of Cornell University and Dr. Jannette M. Barth of Pepacton Institute, three of the co-authors of a new ground-breaking study, explained the technical capacity, economic feasibility and benefits of a renewable energy infrastructure that can transform New York State by eliminating dependence on polluting fossil fuels by 2030.
They demonstrated how this translates into job growth, reduction of greenhouse gas emissions, energy independence and security, improved water and air quality, protection of public health, lower health care costs and stabilization of energy costs. This game-changing plan would not only fast-track renewable energy, but would also reduce New York's electric power demand by 37 percent. The program was moderated by Paul Gallay, president of Riverkeeper and Hudson Riverkeeper.
There was a palpable sense of urgency among forum attendees to replace fossil fuels with renewable energy resources. This was further heightened by the National Oceanic and Atmospheric Administration's new report concerning the carbon dioxide monitoring station's recorded daily mean atmospheric concentrations of carbon dioxide passing 400 parts per million on Thursday, May 9. These are the highest levels found on earth in over three million years. The "safe" level of carbon dioxide in the atmosphere had been pegged at 350 parts per million.
"This is an opportunity for the state of New York to take the lead, not only among the U.S. but also among nations to be at the forefront of reducing human mortality due to air pollution, reducing global warming emissions, providing stabile and affordable energy prices far into the future and increasing jobs for its citizens," said Dr. Jacobson, professor of civil and environmental engineering, as well as the director of Atmosphere/Energy Program at Stanford University.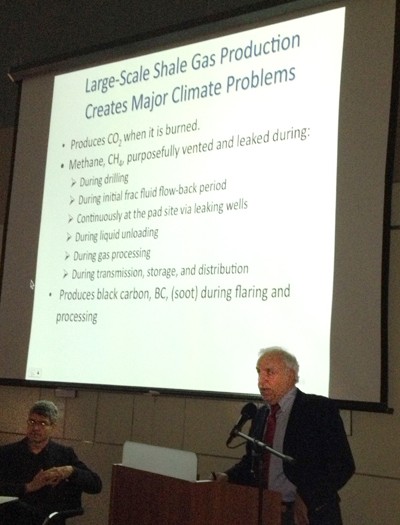 "New Yorkers can be confident that in saying 'no' to shale gas, there is a much better alternative available starting today; better for jobs, better for water and air, better for their health, better for their energy pocketbook and better for climate," said Dr. Ingraffea, professor of engineering at Cornell University and president of Physicians, Scientists and Engineers for Healthy Energy, Inc. "Alternative energy sources are no longer 'alternative'—they are here now, and just as real as fossil fuels."
"Implementation of the Water, Wind and Sunlight plan will create many diverse jobs for New Yorkers and will protect existing New York industries, our communities and our public health," said Dr. Barth of the Pepacton Institute, LLC.
At the conclusion of the forum, the audience was disappointed to learn that the authors of the study had not yet been granted an opportunity to meet with the Governor to present their groundbreaking findings. A meeting with Gov. Cuomo would be the next logical step in realizing a fossil fuel-free, renewable energy future in New York.
Visit EcoWatch's RENEWABLE ENERGY page for more related news on this topic.
——–
Click here to tell Congress to Expedite Renewable Energy.

On the eve of World Turtle Day, the world's largest travel website—TripAdvisor—removed the sale of tickets to the Cayman Turtle Centre, where more than 5,000 endangered sea turtles live in horrific conditions.
Keep reading...
Show less
The Dakota Access Pipeline under construction. Photo credit: Flickr
The Dakota Access Pipeline (DAPL) system leaked more than 100 gallons of oil in two separate incidents in North Dakota in March.

This is the $3.8 billion project's third known leak. The controversial pipeline, which is not yet finished and not yet operational, also spilled 84 gallons of oil in South Dakota on April 4.

Keep reading...
Show less
Robin Loznak
After numerous legal efforts trying to get a federal district court in Oregon to throw out a climate lawsuit brought by 21 young people, a defeated National Association of Manufacturers (NAM) filed a motion Monday requesting the court's permission to withdraw from the litigation.
Keep reading...
Show less
Greenland ice sheet melt in action. Sara Penrhyn-Jones
The Department of Interior edited a news release on a study coauthored by government scientists to remove a mention of climate change, the Washington Post reported.
Keep reading...
Show less
Hurricane Sandy floods a street in Lindenhurst, Long Island. Jason DeCrow/CC BY SA/2.5
By Robert McSweeney
Billions of people across the world could see climates they've never experienced before by the middle of the century, a new study said.
Keep reading...
Show less
Buyers look through frozen tuna on sale at the fish market in Tokyo's Tsukiji district. Rob Gihooly
By Tony Long
Japan, one of the world's largest fish importers, has joined 47 other governments in ratifying the Port State Measures Agreement (PSMA)—an international treaty designed to stop illegal, unreported and unregulated (IUU) fishing.
Keep reading...
Show less
Katahdin Woods and Waters. National Parks Conservation Association.
Looks like you'll have to trust your map if you want to find the newly designated Katahdin Woods and Waters National Monument in Maine.
Gov. Paul LePage has refused to put up any official signs along the four main roads to the 87,500-acre preserve, which is on the list of 27 national monuments under Interior Sec. Ryan Zinke's review.
Keep reading...
Show less
Keep reading...
Show less