Groups Demand EPA Regulate Toxic Water Pollution from Mountaintop Removal Coal Mining
As my colleague Mary Anne Hitt noted in her "highlights of 2014" column we've had some significant victories in the fight against the destruction of mountaintop removal coal mining in Appalachia over the past year.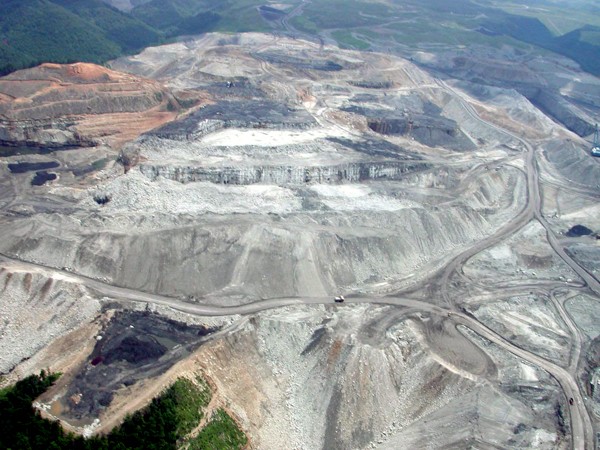 But there is still so much to be done to stop this horrible practice from devastating our communities, our health and our wild Appalachian places. That's why the Sierra Club joined a coalition of groups taking legal action this week to compel the Environmental Protection Agency (EPA) to enforce clean water protections that West Virginia and Kentucky state agencies have failed to uphold.
For years, our coalition of national and local Appalachian groups—including the Ohio Valley Environmental Coalition, West Virginia Highlands Conservancy, West Virginia Rivers Coalition, Kentuckians For The Commonwealth (KFTC) and attorneys with Appalachian Mountain Advocates—have raised concerns about the extraordinary extent to which West Virginia and Kentucky state agencies how bowed to coal industry pressure when it comes oversight of mountaintop removal coal mining. State agencies have failed to prevent the widespread contamination of state waters by these mines.
The EPA is required to respond to legal petitions, but has not responded since these groups first petitioned back in June of 2009. Even after we filed a notice of our intention to hold the agency accountable in court two months ago, we still have received no word from it.
Communities in Appalachia have been living with mountaintop removal pollution for too long. The EPA needs to step up and seize the opportunity to protect Appalachian residents from rampant water pollution. We've shown the federal government that Kentucky and West Virginia are refusing to hold mining companies accountable for dangerous pollution—the EPA must take action.
The Sierra Club and our coalition of partner groups want the EPA to immediately revoke the authority of those states to implement the Clean Water Act. Or, even better, if the EPA thinks change is possible it can start working with the states tomorrow to make sure they finally get serious on this critical issue.
Mountaintop removal coal mining is poisoning our waterways in Appalachia, and experts predict many may be on the brink of collapse. Recent health studies have also shown that the air around mountaintop removal sites is harmful. The EPA must step up and protect the communities in Appalachia.
YOU MIGHT ALSO LIKE
Former Massey Energy CEO Don Blankenship Indicted for Deaths of 29 Coal Miners 
Mountaintop Removal Coal Mining Industry Continues to Poison Appalachia
The U.S. Environmental Protection Agency (EPA) budget will still be slashed by nearly a third, from $8.2 billion to $5.65 billion, under President Trump's fiscal 2018 budget proposal released Tuesday.
The EPA, which has long been targeted by the Trump administration, is the hardest hit federal agency under the new plan. Opponents say it "endangers Americans" and cripples an institution charged with protecting their health and safety.
Keep reading...
Show less
Frustrated by non-experts taking to the internet to dispute the science behind human-made climate change, North Carolina meteorologist Greg Fishel issued a challenge to climate deniers, urging them to "put up or shut up" and "submit your work the way real scientists do, and see where it takes you."
Keep reading...
Show less
The Dakota Access Pipeline under construction. Photo credit: Flickr
The Dakota Access Pipeline (DAPL) system leaked more than 100 gallons of oil in two separate incidents in North Dakota in March.
This is the $3.8 billion project's third known leak. The controversial pipeline, which is not yet finished and not yet operational, also spilled 84 gallons of oil in South Dakota on April 4.
Keep reading...
Show less
The Center for Biological Diversity sued the Trump administration Tuesday to uncover public records showing that federal employees have been censored from using words or phrases related to climate change in formal agency communications.
Keep reading...
Show less
Keep reading...
Show less
On the eve of World Turtle Day, the world's largest travel website—TripAdvisor—removed the sale of tickets to the Cayman Turtle Centre, where more than 5,000 endangered sea turtles live in horrific conditions.
Keep reading...
Show less
Robin Loznak
After numerous legal efforts trying to get a federal district court in Oregon to throw out a climate lawsuit brought by 21 young people, a defeated National Association of Manufacturers (NAM) filed a motion Monday requesting the court's permission to withdraw from the litigation.
Keep reading...
Show less
Greenland ice sheet melt in action. Sara Penrhyn-Jones
The Department of Interior edited a news release on a study coauthored by government scientists to remove a mention of climate change, the Washington Post reported.
Keep reading...
Show less


Get EcoWatch in your inbox