Groundbreaking Study: 5 Trillion Pieces of Plastic Floating in World's Oceans
You've probably heard of the 5 Gyres, those huge deposits of plastic found in rotating masses in the world's oceans. Now a new study released yesterday by the 5 Gyres Institute provides the first comprehensive estimate of how much plastic there actually is in the world's oceans. It found that plastic was not just confined to the gyres, but was widely dispersed throughout the oceans. The report was compiled from information gathered during 24 expeditions from 2007-2013.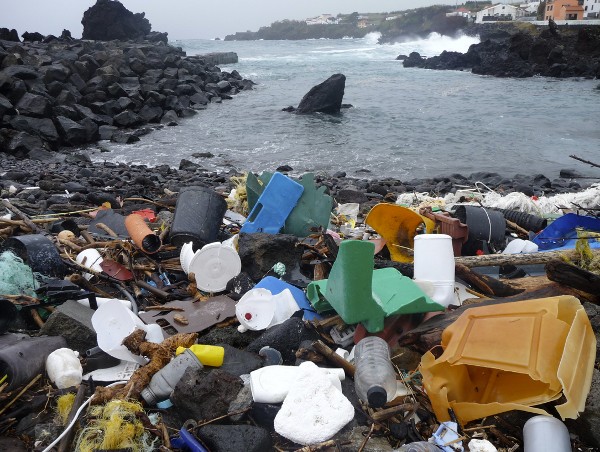 The estimate concludes that approximately 5.25 trillion plastic particles—about 269,000 tons—have ended up in the oceans. It looked at both microplastics and macroplastics. Previously, studies only look at particular size classes of plastic so their density estimates were much lower. The study showed that, despite a loss of microplastics from the surface of the five gyres, there was a large volume and widespread distribution of the smallest of the microplastics in remote ocean areas.
"When The 5 Gyres Institute formed, we set out to answer a basic question: how much plastic is out there?" says Marcus Eriksen, director of research for the 5 Gyres Institute. "After six long years and a wide-reaching collaboration, we have completed the most comprehensive plastic pollution study to date. We've found microplastic ocean pollution, in varying concentrations, everywhere in the world. Our findings show that that the garbage patches in the middle of the five subtropical gyres are not final resting places for floating plastic trash. Unfortunately, the endgame for microplastic is dangerous interaction with entire ocean ecosystems. We should begin to see the garbage patches as shredders, not stagnant repositories."
Plastic, swept into the ocean from rivers, coastal activity and shipping lanes, degrades into microplastics as it travels from land to distant parts of the oceans. These plastics have been found in ice cores, coastal sediments, the circulatory system of mussels, zooplankton, lugworms living in sediment, on the sea floor and in the water column. The widespread dispersal of microplastic is an issue since smaller particles absorb more pollutants which are then ingested by marine organisms.
"The garbage patches could be a frightfully efficient mechanism for corrupting our food chain with toxic microplastics," said Eriksen.
The 5 Gyres Institute hopes the new information will spur more people, businesses and government agencies into action.
"Knowing that plastic pollution becomes hazardous waste in the ocean, it is essential that innovative products and packaging designed for recovery replace the single-use, throw away culture of the past," said Eriksen. "The good news is, we don't have to go out and clean the oceans, and if we stop adding to the problem, the oceans will clean themselves. It's time to focus our mitigation strategies upstream from production to disposal. The status quo is not acceptable. Our goal is to vanquish the idea that oceans can bear our waste and to usher in an age of restoration and responsibility."
YOU MIGHT ALSO LIKE
5 Gyres of Plastic Trash Pollutes the World's Oceans
How Acidification, Overfishing and Plastics Threaten the World's Oceans
22 Facts About Plastic Pollution (And 10 Things We Can Do About It)
Katahdin Woods and Waters. National Parks Conservation Association.
Looks like you'll have to trust your map if you want to find the newly designated Katahdin Woods and Waters National Monument in Maine.
Gov. Paul LePage has refused to put up any official signs along the four main roads to the 87,500-acre preserve, which is on the list of 27 national monuments under Interior Sec. Ryan Zinke's review.
Keep reading...
Show less
Keep reading...
Show less
More than 58 percent of Swiss voters supported a measure to phase out nuclear power in favor of renewable energy.
The plan provides billions in subsidies for renewable energy, bans the construction of new nuclear plants and decommissions Switzerland's five aging reactors. There is no clear date when the plants will close.

Keep reading...
Show less
iStock
By Alex Kirby
An ambitious scientific expedition is due to start work on May 22 on Bolivia's second-highest mountain, Illimani. The researchers plan to drill three ice cores from the Illimani glacier, and to store two of them in Antarctica as the start of the world's first ice archive.
Keep reading...
Show less
CC-BY-SA-2.5 and GNU FDL
Although not on most people's radar here, New York is one step closer to becoming the first state to have genetically modified, non-sterile insects released outside without cages.

Keep reading...
Show less
Photo credit: Michael Fujiwara/YouTube
The viral video of a young girl snatched off a Richmond, British Columbia dock by a sea lion is another reminder that people shouldn't get too close to wild animals.
Port officials in Canada have sharply criticized the family for putting themselves at risk for feeding the large animal, especially since there are several signs in the area warning people not to do so.
Keep reading...
Show less
Bears Ears National Monument. Tim Peterson
An anti-public lands official in Utah said Interior Sec. Ryan Zinke has already made up his mind to repeal Bears Ears National Monument, a move experts say could be against the law.
Keep reading...
Show less
The Crop Trust
Flooding breached a supposedly impregnable Arctic "doomsday" vault containing a collection of seeds stored for an apocalypse scenario last week, after warmer-than-average temperatures caused a layer of permafrost to thaw.
Keep reading...
Show less