Global Warming Pushes Native Plants to New Habitats Leaving Dependent Species at Risk
By Tim Radford
By 2100, vegetation patterns will be shifting in almost half the land area of the planet, according to new research in the journal Global and Planetary Change.
Song Feng of the University of Arkansas in the U.S. and colleagues in Nebraska, China and South Korea have taken a long cool look at what the projected patterns of warming are likely to do to the planet's mosaic of climate types. And they predict dramatic changes.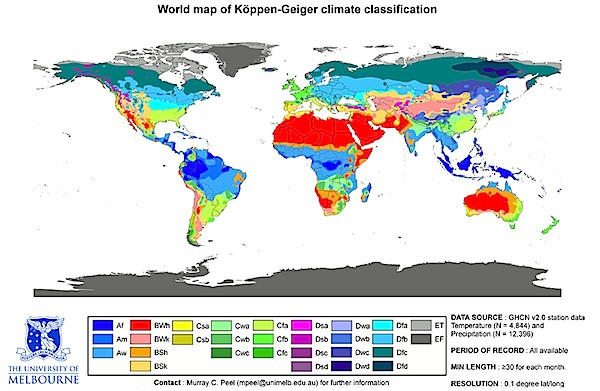 Climate type is a century-old idea useful for making sense of geographical zones: regions are grouped according to the type of vegetation they support. Since a global map of native vegetation types can also deliver useful information about altitude, rainfall, soil type, prevailing weather and latitude, geographers regard the Köppen-Geiger classification —and an updated version known as Köppen-Trewartha—as a helpful way of describing the world.
Feng and his colleagues decided to see what projected changes in temperature would do to climate types. He wasn't the first to do so; scientists from the U.S. National Oceanic and Atmospheric Administration reported in 2013 in Nature Climate Change on the probable speed of change in such zones.
But science advances by challenge and replication, and the Arkansas team began looking for themselves at the details of simulated change under the notorious "business as usual scenario"—the one in which global fossil fuel use continues to increase and higher levels of carbon dioxide and other greenhouse gases concentrate in the atmosphere.
The Intergovernmental Panel on Climate Change has made a series of predictions of rising global average temperatures, but plants, of course, don't care about global average temperatures: they are however distinctly vulnerable to local extremes of frost and heat.
The Feng scenario projected an increase of between three degrees Celsius and 10 degrees Celsius; the team analyzed observations made between 1900 and 2010, and then ran computer simulations from 1900 to 2100.
Drastic Changes Ahead
In the last three decades of the twenty-first century, for instance, northern winter temperatures are likely to rise by between three degrees and 12 degrees Celsius; Arctic coastal temperatures are likely to rise by eight degrees Celsius; warming in mid-latitudes is likely to be between five degrees Celsius and seven degrees Celsius, the tropics and the southern hemisphere around five degrees Celsius.
The Arctic will shrink. Sub-polar vegetation is expected to advance by five degrees of latitude and the temperate zones will push northwards too. Arid and semi-arid climate zones are expected to expand by somewhere between 3.3 and 6.6 million square kilometers in the last three decades of this century.
What this does to native vegetation types is hard to predict in detail but some projections have been made. In the Qinling mountain region of China, for instance, somewhere between 80 percent and 100 percent of the bamboo forests on which the giant pandas depend could disappear, because the rising temperature would be "no longer feasible for bamboo growth."
In the south-western U.S. higher temperatures and drier conditions could lead to more forest fires, and pest outbreaks could lead to changes in forest structure and composition.
As the plants change, the animal species that evolved with the vegetation types could be increasingly at risk. Altogether, up to 46.3 percent of the planet's land area could shift to warmer or drier climate types.
"Climates are associated with certain types of vegetation," Feng explained. "If the surface continues to get warmer, certain native species may no longer grow well in their climate, especially in higher latitudes."
"They will give their territory to other species," he concluded. "That is the most likely scenario." 
Visit EcoWatch's CLIMATE CHANGE and BIODIVERSITY pages for more related news on this topic.

Katahdin Woods and Waters. National Parks Conservation Association.
Looks like you'll have to trust your map if you want to find the newly designated Katahdin Woods and Waters National Monument in Maine.
Gov. Paul LePage has refused to put up any official signs along the four main roads to the 87,500-acre preserve, which is on the list of 27 national monuments under Interior Sec. Ryan Zinke's review.
Keep reading...
Show less
Keep reading...
Show less
More than 58 percent of Swiss voters supported a measure to phase out nuclear power in favor of renewable energy.
The plan provides billions in subsidies for renewable energy, bans the construction of new nuclear plants and decommissions Switzerland's five aging reactors. There is no clear date when the plants will close.

Keep reading...
Show less
iStock
By Alex Kirby
An ambitious scientific expedition is due to start work on May 22 on Bolivia's second-highest mountain, Illimani. The researchers plan to drill three ice cores from the Illimani glacier, and to store two of them in Antarctica as the start of the world's first ice archive.
Keep reading...
Show less
CC-BY-SA-2.5 and GNU FDL
Although not on most people's radar here, New York is one step closer to becoming the first state to have genetically modified, non-sterile insects released outside without cages.

Keep reading...
Show less
Photo credit: Michael Fujiwara/YouTube
The viral video of a young girl snatched off a Richmond, British Columbia dock by a sea lion is another reminder that people shouldn't get too close to wild animals.
Port officials in Canada have sharply criticized the family for putting themselves at risk for feeding the large animal, especially since there are several signs in the area warning people not to do so.
Keep reading...
Show less
Bears Ears National Monument. Tim Peterson
An anti-public lands official in Utah said Interior Sec. Ryan Zinke has already made up his mind to repeal Bears Ears National Monument, a move experts say could be against the law.
Keep reading...
Show less
The Crop Trust
Flooding breached a supposedly impregnable Arctic "doomsday" vault containing a collection of seeds stored for an apocalypse scenario last week, after warmer-than-average temperatures caused a layer of permafrost to thaw.
Keep reading...
Show less