Fracking, Methane and Paris
The newly-minted Paris climate agreement calls for limiting global temperature increase to 2°C, and leaves in the preamble the more aspirational goal shared by many countries of 1.5°C. It's clear to observers around the world that meeting this goal is going to require steep cuts in greenhouse gas emissions and leaving most of the world's remaining fossil fuels in the ground.
And that includes natural gas, particularly fracked natural gas.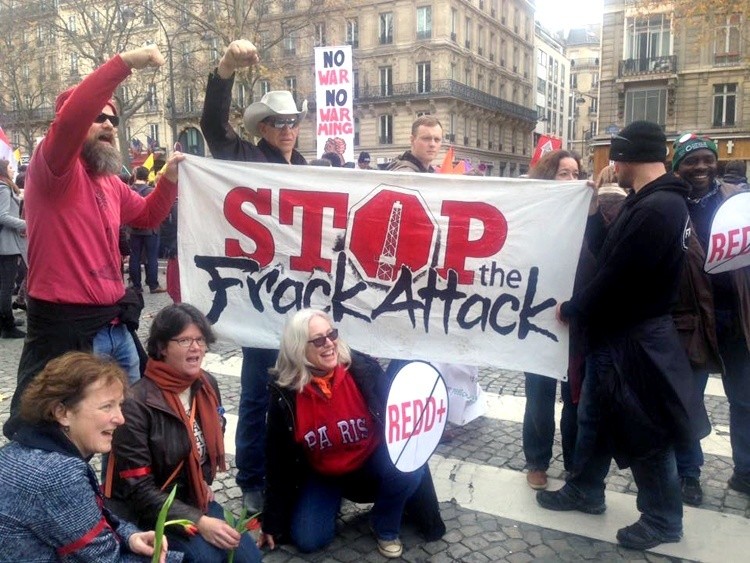 This target is particularly important for anti-fracking activists. Those on the frontlines of the oil and gas industry's "shale boom" expansion know all too well that there is a lot of pollution coming off of those wells, compressor stations, pipelines, etc. They can't avoid it. It's in their homes. It's giving them nosebleeds, asthma, rashes and a host of other health problems.
Although volatile organic compounds like benzene (a carcinogen) are directly harming residents' health, they are toxic hitchhikers on methane, which which comprises the vast majority of oil and gas air pollution. Methane, another name for "natural gas", is also a potent greenhouse gas, 86 times worse for the climate than carbon dioxide over 20 years—the timeframe in which world leaders just agreed we need to peak in global emissions.
Carbon dioxide sticks around in the atmosphere much longer than methane—over 100 years, methane is "only" 34 times worse for the climate. But in 100 years, unless we stop methane pollution by taking a global energy u-turn, we will be living on the equivalent for another planet.
Because methane is so potent in the short term, our stinky little asthma-inducing bad neighbor has emerged as the top priority for preventing climate chaos. If we reduce carbon dioxide today, from burning coal, oil and natural gas, then we begin reducing global warming impacts in 40 years. If we reduce methane now, we reduce global warming now.
The Obama Administration acknowledges this. It's the reason why they've proposed new rules to cover methane pollution from a subset of new oil and gas operations. But in order to address this problem, they need to address all oil and gas methane pollution. And that means, ultimately, keeping it in the ground.
YOU MIGHT ALSO LIKE
And the Climate Pretender Award Goes to …
New Yorkers Celebrate One-Year Anniversary of Fracking Ban
Confirmed: 4.6-Magnitude Earthquake in British Columbia Caused by Fracking (Likely World's Largest)
Katahdin Woods and Waters. National Parks Conservation Association.
Looks like you'll have to trust your map if you want to find the newly designated Katahdin Woods and Waters National Monument in Maine.
Gov. Paul LePage has refused to put up any official signs along the four main roads to the 87,500-acre preserve, which is on the list of 27 national monuments under Interior Sec. Ryan Zinke's review.
Keep reading...
Show less
Keep reading...
Show less
More than 58 percent of Swiss voters supported a measure to phase out nuclear power in favor of renewable energy.
The plan provides billions in subsidies for renewable energy, bans the construction of new nuclear plants and decommissions Switzerland's five aging reactors. There is no clear date when the plants will close.

Keep reading...
Show less
iStock
By Alex Kirby
An ambitious scientific expedition is due to start work on May 22 on Bolivia's second-highest mountain, Illimani. The researchers plan to drill three ice cores from the Illimani glacier, and to store two of them in Antarctica as the start of the world's first ice archive.
Keep reading...
Show less
CC-BY-SA-2.5 and GNU FDL
Although not on most people's radar here, New York is one step closer to becoming the first state to have genetically modified, non-sterile insects released outside without cages.

Keep reading...
Show less
Photo credit: Michael Fujiwara/YouTube
The viral video of a young girl snatched off a Richmond, British Columbia dock by a sea lion is another reminder that people shouldn't get too close to wild animals.
Port officials in Canada have sharply criticized the family for putting themselves at risk for feeding the large animal, especially since there are several signs in the area warning people not to do so.
Keep reading...
Show less
Bears Ears National Monument. Tim Peterson
An anti-public lands official in Utah said Interior Sec. Ryan Zinke has already made up his mind to repeal Bears Ears National Monument, a move experts say could be against the law.
Keep reading...
Show less
The Crop Trust
Flooding breached a supposedly impregnable Arctic "doomsday" vault containing a collection of seeds stored for an apocalypse scenario last week, after warmer-than-average temperatures caused a layer of permafrost to thaw.
Keep reading...
Show less