Fracking Literally Makes People Sick, New Study Finds
A new study provided more ammunition for what public health experts and environmental activists have been saying since fracking became widespread in the last half decade: chemicals used in the natural gas drilling process can be hazardous to health.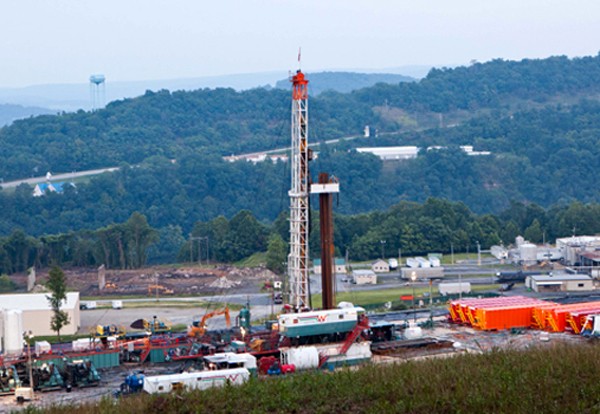 The study "Proximity to Natural Gas Wells and Reported  Health Status: Results of a Household Survey in Washington County, Pennsylvania," published yesterday in Environmental Health Perspectives, found that people who live near fracking sites have more health problems than those who don't.
The Yale-based research team that produced the study looked at families in southwestern Pennsylvania's Marcellus shale region who use ground-fed water wells. Surveying 492 individuals in 180 households, researchers found a significantly greater number of skin and respiratory problems among those who lived within one kilometer of a natural gas well than those who lived two kilometers away.
Washington County has 624 active gas wells with 95 percent of those fracked.
"Despite assurances by the drilling industry and numerous government officials that fracking chemicals do not pose a risk to nearby populations, scientists and environmentalists have repeatedly voiced concern over the high volume of chemicals used in the process and the potential for both groundwater and airborne contamination," writes Lauren McCauley at Common Dreams.
The researchers explained the impetus for the studying saying, "Little is known about the environmental and public health impact of unconventional natural gas extraction activities including hydraulic fracturing that occur near residential areas."
"While much of the hydraulic fracturing process takes place deep underground, there are a number of potential mechanisms for chemicals used in the fracturing process as well as naturally occurring minerals, petroleum compounds, and other substances of flow back water to enter drinking water supplies," they warned. "If contaminants from hydraulic fracturing activities were able to enter drinking water supplies or surface water bodies, humans could be exposed to such contaminants through drinking, cooking, showering, and swimming."
They also suggested that there could be airborn contamination through flaring, operation of diesel equipment, and leakage. And with stress from the noise and other activities around the wells mentioned by many respondents, they suggested this could be impacting health outcomes as well.
Their conclusion: "While these results should be viewed as hypothesis generating, and the population studied was limited to households with a ground-fed water supply, proximity of natural gas wells may be associated with the prevalence of health symptoms including dermal and respiratory conditions in residents living near natural gas extraction activities. Further study of these associations, including the role of specific air and water exposures, is warranted."
They also warned of even greater potential danger lurking down the road. Since most of the wells are only five or six years old, they said, "one would not yet expect to see associations with diseases with long latency, such as cancer. Furthermore, if some of the impact of natural gas extraction on ground water happens over a number of years, this initial survey could have failed to detect health consequences of delayed contamination."
YOU MIGHT ALSO LIKE
New Study Shows Proximity to Fracking Sites Increases Risk of Birth Defects
Unprecedented Investigation Finds PA Prioritizes Fracking at Expense of Health, Environment & Law
Katahdin Woods and Waters. National Parks Conservation Association.
Looks like you'll have to trust your map if you want to find the newly designated Katahdin Woods and Waters National Monument in Maine.
Gov. Paul LePage has refused to put up any official signs along the four main roads to the 87,500-acre preserve, which is on the list of 27 national monuments under Interior Sec. Ryan Zinke's review.
Keep reading...
Show less
Keep reading...
Show less
More than 58 percent of Swiss voters supported a measure to phase out nuclear power in favor of renewable energy.
The plan provides billions in subsidies for renewable energy, bans the construction of new nuclear plants and decommissions Switzerland's five aging reactors. There is no clear date when the plants will close.

Keep reading...
Show less
iStock
By Alex Kirby
An ambitious scientific expedition is due to start work on May 22 on Bolivia's second-highest mountain, Illimani. The researchers plan to drill three ice cores from the Illimani glacier, and to store two of them in Antarctica as the start of the world's first ice archive.
Keep reading...
Show less
CC-BY-SA-2.5 and GNU FDL
Although not on most people's radar here, New York is one step closer to becoming the first state to have genetically modified, non-sterile insects released outside without cages.

Keep reading...
Show less
Photo credit: Michael Fujiwara/YouTube
The viral video of a young girl snatched off a Richmond, British Columbia dock by a sea lion is another reminder that people shouldn't get too close to wild animals.
Port officials in Canada have sharply criticized the family for putting themselves at risk for feeding the large animal, especially since there are several signs in the area warning people not to do so.
Keep reading...
Show less
Bears Ears National Monument. Tim Peterson
An anti-public lands official in Utah said Interior Sec. Ryan Zinke has already made up his mind to repeal Bears Ears National Monument, a move experts say could be against the law.
Keep reading...
Show less
The Crop Trust
Flooding breached a supposedly impregnable Arctic "doomsday" vault containing a collection of seeds stored for an apocalypse scenario last week, after warmer-than-average temperatures caused a layer of permafrost to thaw.
Keep reading...
Show less