Fracking Exports Will Leave U.S. Communities in the Dark


Last month, thirty Senate Democrats—members of the "climate caucus"—stayed Up All Night on the Senate floor to speak out about climate change. This was an important moment to highlight the most critical environmental issue of our time. What was not mentioned however, was the massive threat to our planet posed by exporting liquefied natural gas (LNG) extracted through the increasingly controversial process known as fracking. Yet legislation authored by one of their own—Sen. Mark Udall (D-CO) and a House bill by Congressman Cory Gardner (R-CO), would tear down barriers to the export of LNG, potentially spurring a massive increase in fracking, exacerbating the problems the senators spoke out against.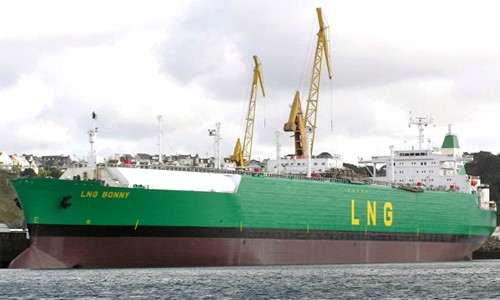 Ever since the crisis in Ukraine erupted, the oil and gas industry and its friends in Congress have been pushing exports of gas. While many justifications have been offered to explain this push for LNG exports, in reality, this has nothing to do with lofty foreign policy objectives and everything to do with the oil and gas industry using a crisis to ram its agenda through Congress—shock doctrine style. It calls to mind the Bush Administration's use of the tragedies of Sept. 11 to justify invading Iraq, and the Obama administration's use of the mortgage crisis to bail out the financial sector.
But let's be clear about three things.
First, this push for exports has nothing to do with the crisis in Ukraine. Even if LNG exports approvals are fast tracked, there is currently no infrastructure to export the gas until at least 2016. This push reflects an industry agenda that existed before the crisis erupted in Ukraine, and under no circumstances can LNG exports help alleviate it.
Second, once the infrastructure is built, U.S. LNG exports will likely go to Asia, where industry can fetch the highest price, not to Europe. The legislation under discussion would deem all exports in the public interest if the gas is sent to a member nation of the WTO. This includes most countries in the world, including China, India, Japan, Brazil and, ironically, Russia. The oil and gas industry wants these export approvals to drive up their profit margins by selling gas overseas, which ultimately will increase the price of gas for U.S. consumers.
Third, exports will drive additional drilling and fracking and exacerbate climate change. The International Panel for Climate Change recently released a report highlighting the dire consequences yet to come from climate change if action is not taken. Last fall, the IPCC found that methane is even worse for the climate than previously thought: Over a 100-year time scale, methane is 34 times more potent in the atmosphere than CO2; over 20 years, 86 times more potent. We know that methane is emitted during oil and gas drilling, fracking and distribution. Climate scientists warn that we must leave fossil fuels in the ground and aggressively transition to renewable energy to avert catastrophic climate change. The energy policy of exporting U.S. fracked gas all over the world will further contribute to climate change
The move to export LNG is not about national security, but rather politics and oil and gas industry profits. In Colorado, this issue has become entwined with state politics and the battle over control of the Senate. The House bill to open up exports is authored by Rep. Cory Gardner, a Republican who is running for Senate from Colorado. Sen. Mark Udall, who is defending his seat against Gardner, authored the Senate bill. Republicans want to use this issue to their benefit in Colorado, and some Democrats hope the bill will protect Udall's seat, despite the strong and growing movement to protect communities against fracking in Colorado.
But climate change, water pollution and the health and vitality of American communities should not be treated as a political football. There are many in Congress who have spoken out forcefully about climate change, but we are at a point of crisis, and we need more than talk. Senate leader Harry Reid and members of the Senate should take a stand against big oil and gas interests and for communities across the U.S. They should say "no" to fracking and "no" to exports, and instead focus on investing in a truly renewable energy future.
Tell your member of Congress to oppose LNG exports here.
——–
YOU ALSO MIGHT LIKE
Large LNG Explosion Displaces Hundreds in Washington
Congress to EPA: Investigate and Address Water Contamination From Fracking
Feds Greenlight LNG Exports From Controversial Jordan Cove Project in Oregon
——– 
Katahdin Woods and Waters. National Parks Conservation Association.
Looks like you'll have to trust your map if you want to find the newly designated Katahdin Woods and Waters National Monument in Maine.
Gov. Paul LePage has refused to put up any official signs along the four main roads to the 87,500-acre preserve, which is on the list of 27 national monuments under Interior Sec. Ryan Zinke's review.
Keep reading...
Show less
Keep reading...
Show less
More than 58 percent of Swiss voters supported a measure to phase out nuclear power in favor of renewable energy.
The plan provides billions in subsidies for renewable energy, bans the construction of new nuclear plants and decommissions Switzerland's five aging reactors. There is no clear date when the plants will close.

Keep reading...
Show less
iStock
By Alex Kirby
An ambitious scientific expedition is due to start work on May 22 on Bolivia's second-highest mountain, Illimani. The researchers plan to drill three ice cores from the Illimani glacier, and to store two of them in Antarctica as the start of the world's first ice archive.
Keep reading...
Show less
CC-BY-SA-2.5 and GNU FDL
Although not on most people's radar here, New York is one step closer to becoming the first state to have genetically modified, non-sterile insects released outside without cages.

Keep reading...
Show less
Photo credit: Michael Fujiwara/YouTube
The viral video of a young girl snatched off a Richmond, British Columbia dock by a sea lion is another reminder that people shouldn't get too close to wild animals.
Port officials in Canada have sharply criticized the family for putting themselves at risk for feeding the large animal, especially since there are several signs in the area warning people not to do so.
Keep reading...
Show less
Bears Ears National Monument. Tim Peterson
An anti-public lands official in Utah said Interior Sec. Ryan Zinke has already made up his mind to repeal Bears Ears National Monument, a move experts say could be against the law.
Keep reading...
Show less
The Crop Trust
Flooding breached a supposedly impregnable Arctic "doomsday" vault containing a collection of seeds stored for an apocalypse scenario last week, after warmer-than-average temperatures caused a layer of permafrost to thaw.
Keep reading...
Show less