Exxon Sues Massachusetts Attorney General to Block Climate Fraud Investigation
ExxonMobil filed a lawsuit against Massachusetts Attorney General Maura Healey in an effort to block a subpoena that would require the oil and gas giant to hand over 40 years of internal communications relating to whether the company misrepresented its knowledge of climate change to investors.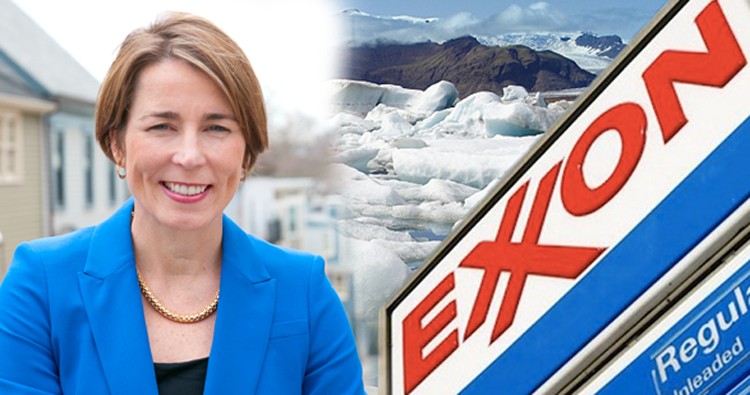 The 33-page injunction was filed in federal district court in Fort Worth, Texas on Wednesday.
In the searing complaint, Exxon called the investigation a "fishing expedition" that is "nothing more than a weak pretext for an unlawful exercise of government power to further political objectives."
"Attorney General Healey is abusing the power of government to silence a speaker she disfavors," the complaint states.
Exxon believes Healey's April 19 subpoena violates its constitutional rights on free speech, unreasonable search and seizure and equal protection, Reuters reported. The company seeks either an injunction to halt the investigation or for the court to rule that the investigation is without legal merit.
In response to the lawsuit, Healey's office said that its investigation is "based not on speculation, but on inconsistencies about climate change in Exxon documents which have been made public."
"The First Amendment does not protect false and misleading statements in the marketplace," Healey's communications director Cyndi Roy Gonzalez said in a statement provided to EcoWatch.
The Boston Herald reported that Healey's broad subpoena is also 
demanding communications between Exxon and 12 think tanks that are critical of climate change, as well as information on whether Exxon funded the groups.
According to the Herald, Exxon does not believe it should respond to the subpoena because of a four-year statute of limitations on Healey's claims. It also has not sold fuel, owned a retail location or sold securities in Massachusetts during that time.
"Exxon's assertion that we cannot investigate it because the company has not engaged in business here in Massachusetts is completely preposterous and is a clear attempt to delay and distract from the real issues," Gonzalez countered. "We will continue to fight aggressively on the basis of our clear legal authority to obtain the information that we need to ensure the Massachusetts public is protected."
Exxon has brought a similar suit against Virgin Islands Attorney General Claude Walker in the same Fort Worth district court. The company also says that Walker's subpoena demanding internal climate change-related records violates its free speech and should be protected from unreasonable searches and seizures.
"For many months, Exxon Mobil has engaged in an unprecedented effort to limit the ability of state attorneys general to investigate fraud and unfair business practices and to protect Massachusetts consumers, investors and the public," Gonzalez said.
Healey and Walker are among 20 state Attorneys General that have launched a multi-state effort to investigate and prosecute Exxon and other industry giants for fraud and suppression of key climate science.
The coalition was convened by New York Attorney General Eric Schneiderman, who in November announced a state investigation into Exxon after reporting revealed that the oil giant had for decades known and suppressed evidence about the dangers that fossil fuels posed to the environment and then purposely disseminated false information in order to boost its profits.
InsideClimate News reported that Exxon has been cooperating with Schneiderman's own subpoena, and has turned over thousands of pages of documents.
"It is deeply troubling that Exxon has taken the extraordinary step of refusing to comply with a lawful subpoena sent in the course of a serious fraud investigation," Schneiderman spokesman Matt Mittenthal told EcoWatch in response to the suit against Healey. "The law is clear: The First Amendment does not give any corporation the right to commit fraud."
YOU MIGHT ALSO LIKE
Here's How We Get to 100% Renewable Energy
Wall Street Journal Willing to Print Truth About Climate Change if You Pay Them
World's Biggest Banks Are Driving Climate Change, Pumping Billions Into Extreme Fossil Fuels
Court Documents Show Peabody Energy Funded Dozens of Climate Denial Groups
Katahdin Woods and Waters. National Parks Conservation Association.
Looks like you'll have to trust your map if you want to find the newly designated Katahdin Woods and Waters National Monument in Maine.
Gov. Paul LePage has refused to put up any official signs along the four main roads to the 87,500-acre preserve, which is on the list of 27 national monuments under Interior Sec. Ryan Zinke's review.
Keep reading...
Show less
Keep reading...
Show less
More than 58 percent of Swiss voters supported a measure to phase out nuclear power in favor of renewable energy.
The plan provides billions in subsidies for renewable energy, bans the construction of new nuclear plants and decommissions Switzerland's five aging reactors. There is no clear date when the plants will close.

Keep reading...
Show less
iStock
By Alex Kirby
An ambitious scientific expedition is due to start work on May 22 on Bolivia's second-highest mountain, Illimani. The researchers plan to drill three ice cores from the Illimani glacier, and to store two of them in Antarctica as the start of the world's first ice archive.
Keep reading...
Show less
CC-BY-SA-2.5 and GNU FDL
Although not on most people's radar here, New York is one step closer to becoming the first state to have genetically modified, non-sterile insects released outside without cages.

Keep reading...
Show less
Photo credit: Michael Fujiwara/YouTube
The viral video of a young girl snatched off a Richmond, British Columbia dock by a sea lion is another reminder that people shouldn't get too close to wild animals.
Port officials in Canada have sharply criticized the family for putting themselves at risk for feeding the large animal, especially since there are several signs in the area warning people not to do so.
Keep reading...
Show less
Bears Ears National Monument. Tim Peterson
An anti-public lands official in Utah said Interior Sec. Ryan Zinke has already made up his mind to repeal Bears Ears National Monument, a move experts say could be against the law.
Keep reading...
Show less
The Crop Trust
Flooding breached a supposedly impregnable Arctic "doomsday" vault containing a collection of seeds stored for an apocalypse scenario last week, after warmer-than-average temperatures caused a layer of permafrost to thaw.
Keep reading...
Show less