Could Drones Be Used to Combat Wildlife Poaching?
Picture a band of rhino poachers toting high-caliber rifles and axes, creeping stealthily through an African wildlife preserve under cover of darkest night. As the poachers draw closer, they're spotted by a lone sentinel who has vigilantly been keeping watch over the endangered animals. First this sentinel sends an encrypted text message to park rangers stationed miles away at their headquarters, alerting them to the presence of the intruders. The rangers board a helicopter and fly out to intercept the marauding horde. Meanwhile, the rhinos' guardian races toward the poachers and keeps them at bay by flashing bright lights to frighten and distract them.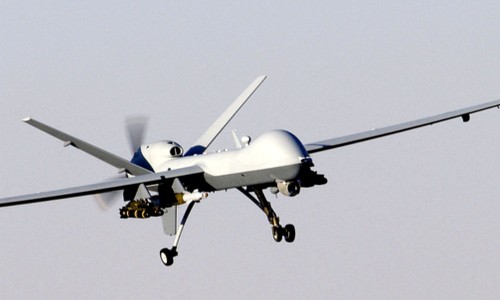 Presently the rangers arrive, and the poachers are apprehended. The rhinos are safe. And the brave sentinel—a small, unmanned aerial vehicle (UAV) more commonly known as a "drone"—zooms through the midnight air back to the rhino herd, over which it will continue to hover, watchfully and faithfully.
The scenario is hypothetical for now. But it may not be in a year's time. Usually associated with lethal military operations, drones are getting a chance to earn a kinder, gentler reputation as protectors of wildlife. As the poaching of rhinos, elephants and other animals has skyrocketed throughout Africa, conservationists are joining forces with drone technology specialists to combat this heinous crime. Now these groups say they may have hit upon the holy grail of counterpoaching: a practical, affordable and effective strategy that will help stem the tide.
The global trade in illegal wildlife is valued at between $8 billion and $10 billion a year, according to the World Wildlife Fund. In 2012, poachers killed an estimated 22,000 elephants across the African continent. Last year, they killed more than a thousand rhinos in South Africa alone, compared with just 13 in 2007. The market for the slaughtered animals is mainly in Asia, where the keratin in rhino horn has long been prized for its (scientifically unsubstantiated) medicinal value. In January, two rhino horns were intercepted by customs officials in Prague before they could make their way to Southeast Asia; the black market value of the pair was estimated at $360,000.
Last year, these worrisome trend lines prompted a novel response by conservationists: hold a contest. The Wildlife Conservation UAV Challenge aims to decrease the cost of developing and producing small drones and to increase their role as benevolent watchdogs. So far, 137 teams from 29 countries have signed up to design and construct the best, most cost-effective model. The winning entry will be announced this fall at South Africa's Kruger National Park, one of the largest game reserves in Africa and the site of many brutal, and even deadly, poaching-related battles in recent years.
The UAV Challenge is in good company. In 2012, equipped with a $5 million grant from Google, the World Wildlife Fund set out to find new ways of combating poachers. In field tests conducted last fall in two Namibian national parks, the organization came to the conclusion that "while no technology is a silver bullet, UAVs really did add a number of key strengths for ranger patrolling," according to Crawford Allan, head of the fund's wildlife crime technology project. "UAVs have multiple applications, like monitoring wildlife and detecting breaks in fencing, as well as tracking poachers."
A critical question, Allan admits, is whether cash-strapped conservation organizations can afford UAVs. At present, even the most bare-bones prototypes cost between $20,000 and $30,000; one of the UAV Challenge's goals is to bring that cost down. Educating rangers on proper use is another goal. "If you don't know exactly what you're doing," he says, "you could fly a drone straight into the face of a cliff." Training will have to be a major part of any UAV-based system, he adds. "It's a learning curve for everyone."
Poachers, fortunately, are likely to grasp the potential of drones intuitively. Allan says that one of the technology's biggest benefits will be its deterrent effect. Just knowing—or even suspecting—that UAVs are hovering up there in the night sky, he says, will probably be enough to make many of the bad guys decide to stay home. 
This article was originally posted in Natural Resources Defense Council's OnEarth.
--------
YOU MIGHT ALSO LIKE
Ivory Traders Arrested in Indonesia 
Labradors Trained to Detect Illegally Trafficked Wildlife Products
NBA Athletes Launch Campaign Against Ivory and Rhino Horn Poaching
--------

Katahdin Woods and Waters. National Parks Conservation Association.
Looks like you'll have to trust your map if you want to find the newly designated Katahdin Woods and Waters National Monument in Maine.
Gov. Paul LePage has refused to put up any official signs along the four main roads to the 87,500-acre preserve, which is on the list of 27 national monuments under Interior Sec. Ryan Zinke's review.
Keep reading...
Show less
Keep reading...
Show less
More than 58 percent of Swiss voters supported a measure to phase out nuclear power in favor of renewable energy.
The plan provides billions in subsidies for renewable energy, bans the construction of new nuclear plants and decommissions Switzerland's five aging reactors. There is no clear date when the plants will close.

Keep reading...
Show less
iStock
By Alex Kirby
An ambitious scientific expedition is due to start work on May 22 on Bolivia's second-highest mountain, Illimani. The researchers plan to drill three ice cores from the Illimani glacier, and to store two of them in Antarctica as the start of the world's first ice archive.
Keep reading...
Show less
CC-BY-SA-2.5 and GNU FDL
Although not on most people's radar here, New York is one step closer to becoming the first state to have genetically modified, non-sterile insects released outside without cages.

Keep reading...
Show less
Photo credit: Michael Fujiwara/YouTube
The viral video of a young girl snatched off a Richmond, British Columbia dock by a sea lion is another reminder that people shouldn't get too close to wild animals.
Port officials in Canada have sharply criticized the family for putting themselves at risk for feeding the large animal, especially since there are several signs in the area warning people not to do so.
Keep reading...
Show less
Bears Ears National Monument. Tim Peterson
An anti-public lands official in Utah said Interior Sec. Ryan Zinke has already made up his mind to repeal Bears Ears National Monument, a move experts say could be against the law.
Keep reading...
Show less
The Crop Trust
Flooding breached a supposedly impregnable Arctic "doomsday" vault containing a collection of seeds stored for an apocalypse scenario last week, after warmer-than-average temperatures caused a layer of permafrost to thaw.
Keep reading...
Show less