Coral Reefs Face Point of No Return
Without deep cuts in carbon dioxide emissions, the planet's coral reefs could be in serious trouble. In a world in which humans continue to burn fossil fuels unchecked, ocean conditions will become ultimately inhospitable, according to U.S. scientists.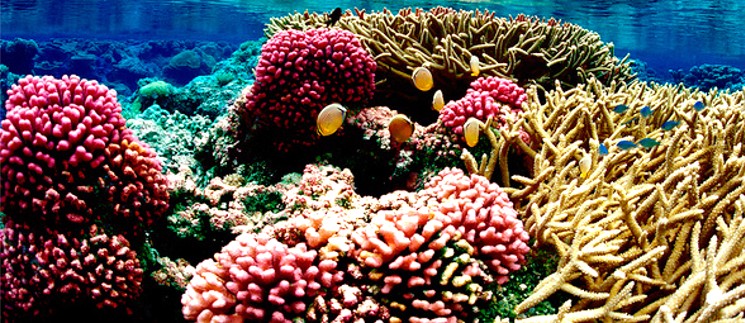 Katharine Ricke and Ken Caldeira of the Carnegie Institution in Washington and colleagues make their sombre prediction in Environmental Research Letters. Their argument on the face of it seems inconsistent with other recent research on reef response to climate change, which in one case suggests that some corals could vanish, and in another that some corals might adapt, very slowly.
But the debate in all three cases is about the rate of warming, the levels of carbon dioxide in the atmosphere and the ultimate impact of changes in the pH levels of the seas.
Ricke and Caldeira looked not so much at the warming of the seas–tropical corals are very sensitive to temperature–nor at the levels of acidification as such (because rain dissolves carbon dioxide to form a weak carbonic acid and inevitably affects the ocean's pH levels), but at the chemical circumstances in which crystals of aragonite can form.
All fossil reefs and shell and bone sediments are ultimately calcium carbonate in the form of limestone or chalk. However, calcium carbonate, or CaCO3, exists in two crystal structures, calcite and aragonite, and these fossilized sediments must once have been mostly aragonite.
That is because marine life, in the form of corals, fish and mollusc shells, mainly begins with aragonite. The biochemical availability of aragonite depends on the pH values of the water.
An End to Dumping
Ricke and Caldeira used computer models to calculate ocean chemical conditions under a range of carbon dioxide scenarios, looking for the necessary conditions to support aragonite formation and shell and bone growth, and set a potential aragonite saturation threshold.
In pre-industrial times, 99.9 percent of the oceans that washed over coral reefs were comfortably above this threshold. Under the notorious business-as-usual threshold, in which fossil fuel use continues to grow, ultimately the water surrounding the 6,000 coral reefs they used as a database for their research would be significantly below the threshold.
There would be a point at which the resilience and capacity to adapt that must be inherent in corals would be overwhelmed. The conclusion is a bleak one.
"Our results show that if we continue on our current emissions path, by the end of the century there will be no water left in the ocean with the chemical properties that have supported coral reef growth in the past. We can't say with 100 percent certainty that all shallow water coral reefs will die, but it is a pretty good bet," said Ricke.
"To save coral reefs, we need to transform our energy system into one that does not use the atmosphere and ocean as waste dumps for carbon dioxide pollution," Caldeira added.
Visit EcoWatch's WATER and BIODIVERSITY pages for more related news on this topic.
———

On the eve of World Turtle Day, the world's largest travel website—TripAdvisor—removed the sale of tickets to the Cayman Turtle Centre, where more than 5,000 endangered sea turtles live in horrific conditions.
Keep reading...
Show less
The Dakota Access Pipeline under construction. Photo credit: Flickr
The Dakota Access Pipeline (DAPL) system leaked more than 100 gallons of oil in two separate incidents in North Dakota in March.

This is the $3.8 billion project's third known leak. The controversial pipeline, which is not yet finished and not yet operational, also spilled 84 gallons of oil in South Dakota on April 4.

Keep reading...
Show less
Robin Loznak
After numerous legal efforts trying to get a federal district court in Oregon to throw out a climate lawsuit brought by 21 young people, a defeated National Association of Manufacturers (NAM) filed a motion Monday requesting the court's permission to withdraw from the litigation.
Keep reading...
Show less
Greenland ice sheet melt in action. Sara Penrhyn-Jones
The Department of Interior edited a news release on a study coauthored by government scientists to remove a mention of climate change, the Washington Post reported.
Keep reading...
Show less
Hurricane Sandy floods a street in Lindenhurst, Long Island. Jason DeCrow/CC BY SA/2.5
By Robert McSweeney
Billions of people across the world could see climates they've never experienced before by the middle of the century, a new study said.
Keep reading...
Show less
Buyers look through frozen tuna on sale at the fish market in Tokyo's Tsukiji district. Rob Gihooly
By Tony Long
Japan, one of the world's largest fish importers, has joined 47 other governments in ratifying the Port State Measures Agreement (PSMA)—an international treaty designed to stop illegal, unreported and unregulated (IUU) fishing.
Keep reading...
Show less
Katahdin Woods and Waters. National Parks Conservation Association.
Looks like you'll have to trust your map if you want to find the newly designated Katahdin Woods and Waters National Monument in Maine.
Gov. Paul LePage has refused to put up any official signs along the four main roads to the 87,500-acre preserve, which is on the list of 27 national monuments under Interior Sec. Ryan Zinke's review.
Keep reading...
Show less
Keep reading...
Show less


Get EcoWatch in your inbox