Cool Interactive Tool Shows You How Taxpayer Money Could Be Spent Instead of Subsidizing Big Oil
As the new Republican-led Congress gets underway, we're hearing a lot of rhetoric about cutting the social safety net programs that throw a lifeline to those in need and help people climb out of poverty—things like food assistance, free school lunches and Pell Grants that pay for college. And while some in Congress have ripped the veil off their underlying meanness, saying that giving any assistance to those in poverty makes them "dependent" and "lazy," many are still hewing to the party line that they're just too expensive.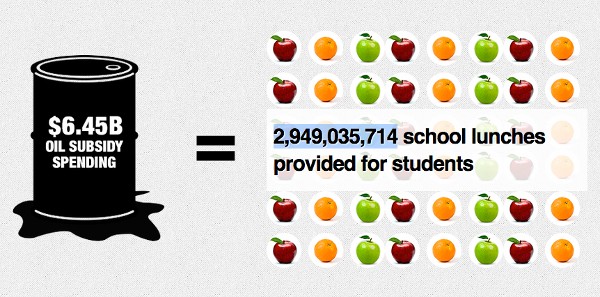 A new interactive tool called Big Oil Giveaways demonstrates what is really expensive: subsidies and tax breaks for Big Oil and Gas, worth $6.45 billion annually.
"What's the tradeoff for your tax dollars?" it asks. "Each year, billions of dollars do not make it to the U.S. Treasury, but rather stay in the pockets of the oil and gas industry in the form of subsidies and tax breaks. Millions more are wasted on special handouts for Big Oil. Find out some of the things those revenues could pay for."
Big Oil Giveaways lets you do just that. You can select from among five lucrative subsidies and tax breaks given to oil and gas companies and then learn what it could be paying for if it were redirected to ten other programs. Find out what accounting tricks like the percentage depletion allowance and the intangible drilling cost deduction, tax breaks like the manufacturing tax credit and money allocated to the government fossil fuel research and development program are diverting from uses that would benefit far more people.
For instance, you can learn that the annual $2,480,407,500 lost by allowing gas and oil companies to drill without paying royalties could fund 1,143,044,931 school lunches. It could provide health insurance for 2,120,066 children or health care for 837,976 veterans. With that amount, 432,881 students could receive a Pell Grant to help them attend college. And it could pay the salaries of 41,977 epidemiologists for a year, which would have been a better approach to containing ebola than scaring the pants off everyone. And all five special breaks for Big Oil and Gas could together pay for 2,949,035,714 school lunches. That's a lot of children who aren't too hungry to focus on their education.
The tool is sponsored by Friends of the Earth, along with 13 other organizations including Public Citizen, Institute for Policy Studies, Interfaith Power & Light, Rebuild the Dream, Physicians for Social Responsibility, People for the American Way, Peace Action, Oxfam America, Labor Network For Sustainability, Green for All, Corporate Accountability International and Oil Change International.
YOU MIGHT ALSO LIKE
The $88 Billion Fossil Fuel Bailout for Oil, Gas and Coal Exploration
Thousands Call on Gov. Brown to Stand Up to Big Oil and Support 100% Renewable Energy
Katahdin Woods and Waters. National Parks Conservation Association.
Looks like you'll have to trust your map if you want to find the newly designated Katahdin Woods and Waters National Monument in Maine.
Gov. Paul LePage has refused to put up any official signs along the four main roads to the 87,500-acre preserve, which is on the list of 27 national monuments under Interior Sec. Ryan Zinke's review.
Keep reading...
Show less
Keep reading...
Show less
More than 58 percent of Swiss voters supported a measure to phase out nuclear power in favor of renewable energy.
The plan provides billions in subsidies for renewable energy, bans the construction of new nuclear plants and decommissions Switzerland's five aging reactors. There is no clear date when the plants will close.

Keep reading...
Show less
iStock
By Alex Kirby
An ambitious scientific expedition is due to start work on May 22 on Bolivia's second-highest mountain, Illimani. The researchers plan to drill three ice cores from the Illimani glacier, and to store two of them in Antarctica as the start of the world's first ice archive.
Keep reading...
Show less
CC-BY-SA-2.5 and GNU FDL
Although not on most people's radar here, New York is one step closer to becoming the first state to have genetically modified, non-sterile insects released outside without cages.

Keep reading...
Show less
Photo credit: Michael Fujiwara/YouTube
The viral video of a young girl snatched off a Richmond, British Columbia dock by a sea lion is another reminder that people shouldn't get too close to wild animals.
Port officials in Canada have sharply criticized the family for putting themselves at risk for feeding the large animal, especially since there are several signs in the area warning people not to do so.
Keep reading...
Show less
Bears Ears National Monument. Tim Peterson
An anti-public lands official in Utah said Interior Sec. Ryan Zinke has already made up his mind to repeal Bears Ears National Monument, a move experts say could be against the law.
Keep reading...
Show less
The Crop Trust
Flooding breached a supposedly impregnable Arctic "doomsday" vault containing a collection of seeds stored for an apocalypse scenario last week, after warmer-than-average temperatures caused a layer of permafrost to thaw.
Keep reading...
Show less