Connecticut Senate Preemptively Bans GE Grass Seed
Connecticut State Senate bill no. 443, an act that bans the sale of genetically engineered (GE) grass seeds, passed the state Senate on Wednesday by a vote of 25-11. The bill shows Connecticut legislators are taking seriously the risks that increased pesticide use in residential areas pose to the health of the states residents, especially children and pets.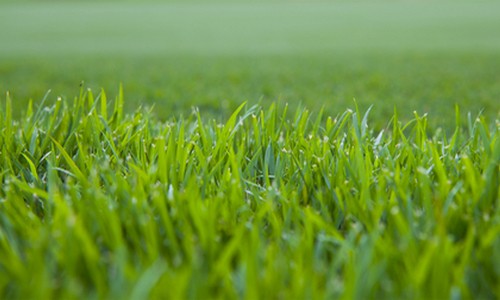 Photo courtesy of Shutterstock
The bill will ban the sale, use and marketing of lawn or turf seeds that are genetically engineered to be resistant to pesticides. The GE grass seed that is being developed by Monsanto and Scotts is currently not available in consumer markets and is being tested by Scotts employees in their front yards. The bill may face stronger challenges from Connecticut's House as it is unclear if the House speaker, J. Brendan Sharkey (D-Hamden) will call for a vote on the bill before the session ends May 7.
One of the major concerns the bill addresses is that allowing GE grass seeds for consumer use would lead to dramatic increases in residential pesticide use.
"So you will spread this pesticide all across your lawn, back and forth, on your lawn," said Sen. Edward Meyer (D-Guilford) as quoted in a The Day article. "The more you pour it onto the land, the more it is going to affect the water supply, the Long Island Sound and our well water."
Increasing use of glyphosate in herbicide-tolerant crops has also led to increased herbicide resistance. A study published by Washington State University's research professor Charles Benbrook, PhD, found that the use of herbicides in the production of three GE crops—cotton, soybeans and corn—had increased. Heavy reliance on the herbicide Roundup, whose active ingredient is glyphosate, has placed weed populations under progressively intense and unprecedented selection pressure, triggering a perfect storm for the emergence of glyphosate-resistant weeds.
"Resistant weeds have become a major problem for many farmers reliant on GE crops, and are now driving up the volume of herbicide needed each year by about 25 percent," said Dr. Benbrook.
"Blanketing lawns, parks and athletic fields in these dangerous chemicals will endanger the children and pets that play on them, while eventually risking the development of weeds that are resistant to current herbicides and pesticides, requiring even more toxic substances be used," said Sen. Meyer, quoted by the Connecticut Mirror.
Aside from the likely increase in residential herbicide applications as a result of home plantings, allowance of the GE bluegrass presents the potential for increased difficulties for organic farmers and ranchers. Because of the popularity of the grass in yards, pastures,and prairies, its use is expected to be quite widespread. This will make conversion of new land to organic food production more difficult as, according to Animal and Plant Health Inspection Service's (APHIS) fact sheet on the decision, "Once established, GE Kentucky bluegrass may prevent transition to organic status unless eradicated from the acreage to be transitioned."
GE grass seed was deregulated by the U.S. Department of Agriculture (USDA) in 2011. The agency issued a decision stating that it does not consider genetically engineered turf grass to be subject to federal regulations. In the decision announced by the USDA's APHIS, the agency stated that it does not have the authority to regulate introduction or transportation of the GE grass seed under the provisions of the Plant Protection Act.
While the original bill included a provision that would ban the use of toxic pesticides on high school grounds and parks, playgrounds and playing fields, the final bill was amended to only include the ban on GE grass. Thus, SB 68 has been amended to include this original language. Beyond Pesticides has worked to gain support for these important protections, and we strongly encourage concerned Connecticut residents to visit the ConnFACT's action alert page on this issue, where you can find out how to contact key members of the legislature and voice support.
--------
YOU MIGHT ALSO LIKE
Earthworms Detoxify Pesticides From Soil at Significant Cost
16-Year Study Blames Pesticides for Significant Sperm Decline
Organic Farmer Taken to Court for Refusing to Spray Pesticides
--------
Katahdin Woods and Waters. National Parks Conservation Association.
Looks like you'll have to trust your map if you want to find the newly designated Katahdin Woods and Waters National Monument in Maine.
Gov. Paul LePage has refused to put up any official signs along the four main roads to the 87,500-acre preserve, which is on the list of 27 national monuments under Interior Sec. Ryan Zinke's review.
Keep reading...
Show less
Keep reading...
Show less
More than 58 percent of Swiss voters supported a measure to phase out nuclear power in favor of renewable energy.
The plan provides billions in subsidies for renewable energy, bans the construction of new nuclear plants and decommissions Switzerland's five aging reactors. There is no clear date when the plants will close.

Keep reading...
Show less
iStock
By Alex Kirby
An ambitious scientific expedition is due to start work on May 22 on Bolivia's second-highest mountain, Illimani. The researchers plan to drill three ice cores from the Illimani glacier, and to store two of them in Antarctica as the start of the world's first ice archive.
Keep reading...
Show less
CC-BY-SA-2.5 and GNU FDL
Although not on most people's radar here, New York is one step closer to becoming the first state to have genetically modified, non-sterile insects released outside without cages.

Keep reading...
Show less
Photo credit: Michael Fujiwara/YouTube
The viral video of a young girl snatched off a Richmond, British Columbia dock by a sea lion is another reminder that people shouldn't get too close to wild animals.
Port officials in Canada have sharply criticized the family for putting themselves at risk for feeding the large animal, especially since there are several signs in the area warning people not to do so.
Keep reading...
Show less
Bears Ears National Monument. Tim Peterson
An anti-public lands official in Utah said Interior Sec. Ryan Zinke has already made up his mind to repeal Bears Ears National Monument, a move experts say could be against the law.
Keep reading...
Show less
The Crop Trust
Flooding breached a supposedly impregnable Arctic "doomsday" vault containing a collection of seeds stored for an apocalypse scenario last week, after warmer-than-average temperatures caused a layer of permafrost to thaw.
Keep reading...
Show less