Chevron Hides Evidence That Proves Guilt in Ecuador Rainforest Contamination Case
In the wake of a controversial U.S. court ruling that a $9.5 billion Ecuador judgment against Chevron is fraudulent, the oil giant has been touting loudly its innocence of any environmental crimes in the South American country.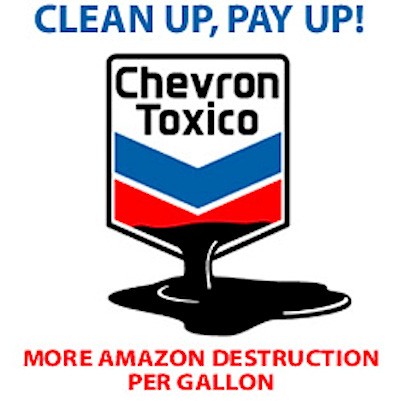 Chevron's lawyers even successfully pressured some CBS News corporate suits to yank a damning 60 Minutes piece from the network's website about the deliberate contamination of the Ecuador rainforest from 1964 to 1992 by Texaco, which Chevron later bought.
(See the dead link here. You can see the segment on my company's web site. So sue me, CBS.)
Instead of succumbing to Chevron's pressure tactics, CBS' lawyers should grow a backbone and demand to see contamination "playbook" documents that Chevron has been forced to produce in an international arbitration proceeding.
They are explosive and prove 60 Minutes got it right, and the U.S. judge got it wrong.
The playbook details how the company hid evidence of contamination during an eight-year Ecuador trial resulting in a $9.5 billion damage award that the Ecuadorians are waiting for Chevron to pay.
Meanwhile, Chevron is claiming in arbitration that the Republic of Ecuador should pay the judgment, and the two parties are duking it out before a panel of corporate trade lawyers who rent office space at The Hague and act as "judges"—more about them later.
The playbook took center stage in a recent arbitration filing by Ecuador. It appears the country's lawyers have gotten their hands on much of, if not the entire, playbook, but the corporate trade lawyers are requiring Ecuador to redact or cover up the really damning evidence.
Even so, a recent rejoinder filed by Ecuador reveals enough to demonstrate what a morally bankrupt company Chevron is.
Here's what we know about the playbook, pieced together from the filings of both the Ecuadorians in U.S. court and the Republic of Ecuador in arbitration.
In 2011, the Ecuadorians obtained a few pages from the playbook and tried to enter them into evidence during Chevron's "fraud" trial, but Federal Judge Lewis Kaplan refused to allow any evidence of contamination into the record, including the small excerpt from Chevron's playbook.
(See my recent blog about this legal travesty, and this earlier 2011 press release about the playbook)
During the Ecuador trial Chevron's paid experts wrote the playbook to document how to handle the contamination they found at the well sites in soil and water tests.
Without the knowledge of the Ecuador court, Chevron's experts conducted unofficial and secret pre-inspections of the sites so they could avoid the badly contaminated areas during the official judicial inspections. (page 63 in the rejoinder)
Their pre-inspection findings would have been devastating to their case had they been turned over to the court. So they never were. (page 63)
Instead, they used the results to avoid the contaminated areas and test at clean spots, usually from soil and water at elevations higher than the huge, unlined and open pits Texaco built to store permanently pure crude and toxic water.
Quick backgrounder: Texaco explored for oil in Ecuador from 1964 to 1992 and was the sole operator of the well sites during that time. The Ecuadorians filed their original lawsuit in the U.S. against Texaco in 1993, one year after Texaco left Ecuador. A U.S. judge dismissed their lawsuit ruling in 2001 at Texaco's urging the litigation should be heard in Ecuador. That year, Chevron bought Texaco. In 2003, the Ecuadorians re-filed their case in Ecuador but not before the U.S. 2nd Circuit Court of Appeals instructed Chevron that it must accept Ecuador's jurisdiction, which it did.
Chevron routinely used deceptive methods, such as mixing clean soil with dirty and undercounting hydrocarbons, to hide or reduce toxic chemicals in samplings. (pages 66-72)
This table below, taken from the arbitration filing, reflects just a few of the thousands of pages of playbook notes Chevron's experts and field personnel took, describing the contamination and advising the company about ways to avoid it during the official judicial inspection: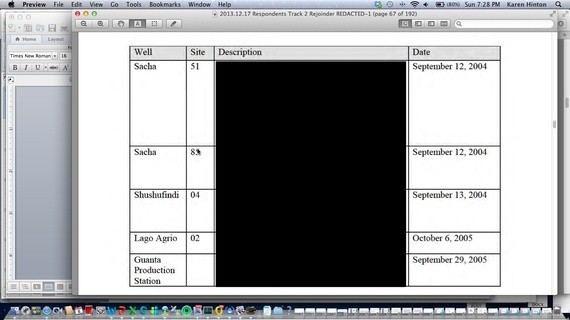 It's heavily redacted. If it's true—as Chevron says it is—that the oil giant is innocent, and the truth is what it seeks, then why won't Chevron release the un-redacted, unedited playbook for all to see?
Maybe it has something to do with the 1995 remediation agreement that Chevron argues is its get-out-of-jail-free card.
The agreement, between Texaco and the Republic of Ecuador, released Texaco from government liability in exchange for a cleanup of a relatively small number of pits. It did not, however, release Texaco from third-party claims.
During the Ecuador trial, tests found contamination levels at the so-called remediated Texaco pits as high or higher than the ones not cleaned. The Ecuadorians accused Texaco of simply throwing dirt on top of the contamination to hide it.
Chevron's playbook backs that up.
At pits Texaco said it cleaned, Chevron—according to its own playbook—found contamination during its secret pre-inspections. To avoid or reduce the contamination Chevron, during the official judicial inspection, took soil only from the top layer.
Ecuador's rejoinder references the playbook notes of Shushufindi 24, Sacha 21 and Lago Agrio 6, all three well sites that Texaco said it cleaned.
In its secret, pre-inspections Chevron discovered otherwise. (pages 68-69)
The rejoinder reads: "During the JIs (judicial inspections) Chevron's experts sought to avoid finding pollution by sampling only to depths that it knew to be clean. For example, at Shushufindi 24, the soil boring log at pit 2 shows that during its PI, (pre-inspection) REDACTED "Then at the JI, Chevron strategically chose to take surface soil samples only—avoiding the known contamination below."
Chevron: What did you find at Shushufini 24, Sacha 21 and Lago Agrio 6?
If you found little or no contamination, then all is well. If you found contamination and withheld it from the court, then your remediation agreement comes unraveled as does your entire legal case.
Chevron will say today that pre-inspections were allowed, but that's not what its attorneys said during the trial. Chevron wrongfully accused the Ecuadorians of pre-inspections, telling the court that pre-inspections were a "violation of legal security and due process of law," and "no technical team from ChevronTexaco Corporation has performed any secret tests here."
The rejoinder reads:"Yet by that time, Chevron's experts had conducted PIs at least REDACTED (number of) sites and taken over REDACTED (number of) samples." (page 65)
Chevron wants its shareholders to believe the Ecuadorians are history, even though enforcement lawsuits are underway in three countries and an appeal of the U.S. ruling is pending before the Second Circuit Court of Appeals, which reversed an earlier Kaplan attempt to stop enforcement of the Ecuador judgment.
And, while the Republic of Ecuador is aggressively fighting Chevron's arbitration claim, it is doubtful the arbitration panel will rule against the oil giant.
Brought in 2009, Chevron's arbitration action is based on alleged violations of Ecuador's Bilateral Trade Agreement with the U.S.
For some time now, multi-national corporations have been abusing these trade agreements. Allowing it to happen are the corporate trade lawyers who sit on arbitration panels as judges and then rotate off as lawyers representing corporations before panels composed of their trade lawyer buddies.
Best example is the successful claim by Phillip Morris against Australia because the country placed warning signs on cigarette packs about the dangers of smoking after Phillip Morris began selling cigarettes there. 
International arbitration is fraught with serious conflicts of interest, and some countries are considering ending bi-lateral trade agreements due to numerous upside down arbitration rulings that have put the interest of corporations above a country's residents.
The Ecuadorians' best bet is in Canada, Brazil and Argentina where they have filed enforcement lawsuits to seize Chevron's assets in those countries as payment for the judgment.
Who knows? The entire Chevron playbook may see the light of day in one of those courtrooms soon. Or, 60 Minutes could stand by its work and demand to see it.
Ironically, during Chevron's "fraud" trial, Kaplan quoted former Supreme Court Justice Louis D. Brandeis' famous maxim that "sunlight is said to be the best of disinfectants" but when it comes to the allegations leveled by the Ecuadorians and their lawyer, Steven Donziger, Kaplan and the corporate trade lawyers hanging out at the Hague prefer the dark side of the moon.
Katahdin Woods and Waters. National Parks Conservation Association.
Looks like you'll have to trust your map if you want to find the newly designated Katahdin Woods and Waters National Monument in Maine.
Gov. Paul LePage has refused to put up any official signs along the four main roads to the 87,500-acre preserve, which is on the list of 27 national monuments under Interior Sec. Ryan Zinke's review.
Keep reading...
Show less
Keep reading...
Show less
More than 58 percent of Swiss voters supported a measure to phase out nuclear power in favor of renewable energy.
The plan provides billions in subsidies for renewable energy, bans the construction of new nuclear plants and decommissions Switzerland's five aging reactors. There is no clear date when the plants will close.

Keep reading...
Show less
iStock
By Alex Kirby
An ambitious scientific expedition is due to start work on May 22 on Bolivia's second-highest mountain, Illimani. The researchers plan to drill three ice cores from the Illimani glacier, and to store two of them in Antarctica as the start of the world's first ice archive.
Keep reading...
Show less
CC-BY-SA-2.5 and GNU FDL
Although not on most people's radar here, New York is one step closer to becoming the first state to have genetically modified, non-sterile insects released outside without cages.

Keep reading...
Show less
Photo credit: Michael Fujiwara/YouTube
The viral video of a young girl snatched off a Richmond, British Columbia dock by a sea lion is another reminder that people shouldn't get too close to wild animals.
Port officials in Canada have sharply criticized the family for putting themselves at risk for feeding the large animal, especially since there are several signs in the area warning people not to do so.
Keep reading...
Show less
Bears Ears National Monument. Tim Peterson
An anti-public lands official in Utah said Interior Sec. Ryan Zinke has already made up his mind to repeal Bears Ears National Monument, a move experts say could be against the law.
Keep reading...
Show less
The Crop Trust
Flooding breached a supposedly impregnable Arctic "doomsday" vault containing a collection of seeds stored for an apocalypse scenario last week, after warmer-than-average temperatures caused a layer of permafrost to thaw.
Keep reading...
Show less