Buy Organic Bananas, Save Crocodiles
Chemicals sprayed on bananas to control pests and disease are making their way into the bodies of the emaciated crocodiles who live near banana plantations in Costa Rica, says a new study that illustrates the environmental impact of pesticide use—and gives another reason to buy organic foods, even those with inedible peels.
Crocodiles who live near Costa Rican banana plantations are sickly, and researchers suspect pesticides are either directly responsible or impacting the crocs' environment enough—by killing off or reducing their food supply—to make them ill.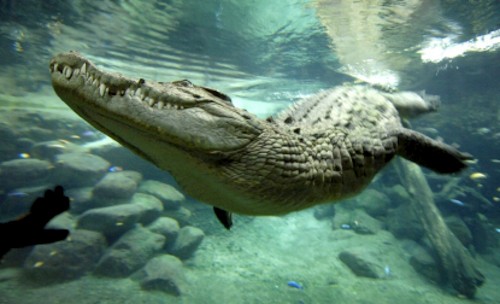 "The animals are very, very thin—about 50 percent thinner than those away from the plantations," said study co-author Peter Ross, an aquatic ecotoxicologist and associate professor at the University of Victoria in British Columbia, in a National Geographic story. The study found that crocodiles that live closest to the plantations had the highest concentration of pesticides in their body, and those that live further away had less.
Costa Rica is a prime location for banana production and as a key export, bananas play an important role in the nation's economy. In 2011, Costa Rica exported 2 million tons of bananas, valued at more than $700 million.
Demand for the fruit is increasing, and so is pesticide use.
Bananas, which lack the genetic diversity to fight off pests, receive some of the heaviest doses of any crop in the world. In the last two decades, pesticide use in Central America has doubled, and Costa Rica ranks second in the world for intensity of pesticide use. 
Lack of infrastructure and enforcement regulating the use of these chemicals have contributed to environmental contamination in Costa Rica. The country's frequent heavy rains wash the pesticides from areas such as banana plantations into nearby waterways.
The crocodiles studied in the research are spectacled caiman, fish-eating crocodilians that inhabit freshwater habitats in tropical regions of the Americas. The authors say their results indicate that pesticide use in banana plantations is impacting a high-in-the-food-chain species inhabiting one of the most important wilderness areas in Costa Rica.
The fact that caiman are being impacted indicates other aquatic organisms are going to be affected as well, said Paul Grant, the study's lead author. "There's fairly strong evidence that pesticides, whether it's indirect or directly, are eroding caiman habitat."
The study was published in the November issue of the journal Environmental Toxicology and Chemistry.
Katahdin Woods and Waters. National Parks Conservation Association.
Looks like you'll have to trust your map if you want to find the newly designated Katahdin Woods and Waters National Monument in Maine.
Gov. Paul LePage has refused to put up any official signs along the four main roads to the 87,500-acre preserve, which is on the list of 27 national monuments under Interior Sec. Ryan Zinke's review.
Keep reading...
Show less
Keep reading...
Show less
More than 58 percent of Swiss voters supported a measure to phase out nuclear power in favor of renewable energy.
The plan provides billions in subsidies for renewable energy, bans the construction of new nuclear plants and decommissions Switzerland's five aging reactors. There is no clear date when the plants will close.

Keep reading...
Show less
iStock
By Alex Kirby
An ambitious scientific expedition is due to start work on May 22 on Bolivia's second-highest mountain, Illimani. The researchers plan to drill three ice cores from the Illimani glacier, and to store two of them in Antarctica as the start of the world's first ice archive.
Keep reading...
Show less
CC-BY-SA-2.5 and GNU FDL
Although not on most people's radar here, New York is one step closer to becoming the first state to have genetically modified, non-sterile insects released outside without cages.

Keep reading...
Show less
Photo credit: Michael Fujiwara/YouTube
The viral video of a young girl snatched off a Richmond, British Columbia dock by a sea lion is another reminder that people shouldn't get too close to wild animals.
Port officials in Canada have sharply criticized the family for putting themselves at risk for feeding the large animal, especially since there are several signs in the area warning people not to do so.
Keep reading...
Show less
Bears Ears National Monument. Tim Peterson
An anti-public lands official in Utah said Interior Sec. Ryan Zinke has already made up his mind to repeal Bears Ears National Monument, a move experts say could be against the law.
Keep reading...
Show less
The Crop Trust
Flooding breached a supposedly impregnable Arctic "doomsday" vault containing a collection of seeds stored for an apocalypse scenario last week, after warmer-than-average temperatures caused a layer of permafrost to thaw.
Keep reading...
Show less